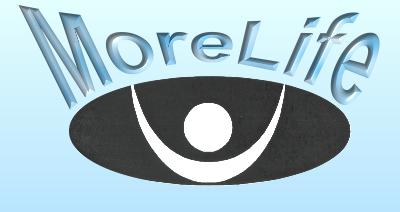 2002 UK trip
Wales to Manchester
---
On Wednesday morning April 24, 2002 we left Snowdon Ranger Hostel in Snowdonia National Park and started our meandering trip to Manchester where we would depart for Toronto the next morning. See map of north western Wales for reference.
A scene Kitty was hopeful of finding made itself available within the first half-hour - sheep dogs at work.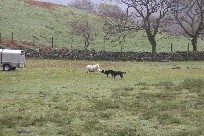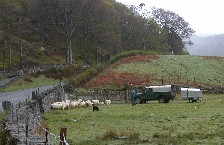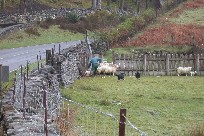 The purpose of penning up the sheep appears to be to mark them individually with different colored spray paint, which we theorized identifies different owners.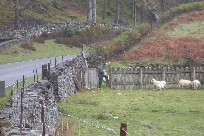 The scenic outlook on the east side of Mt. Snowden presents lovely views even in the mist.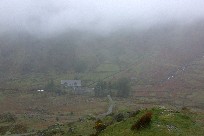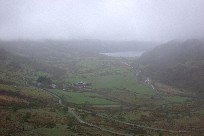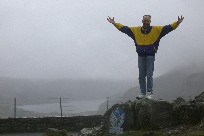 We came across this lovely park near town of Betws-y-Coed (Com-y-Coed) and couldn't resist a hike in the mostly blue sky and cool dry temperature.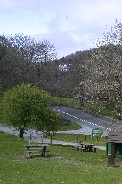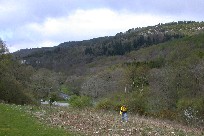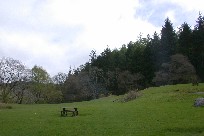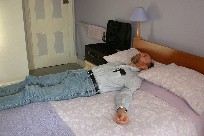 Somewhere about 4pm we pulled into the Kempton House Hotel in the Chorlton-Cum-Hardy section of Manchester. After Tom made sure that the bed was comfortable, we strolled the ethnic neighborhood and enjoyed a middle eastern supper. We also took in a scrumptious dessert at a quaint shop before crashing for the night.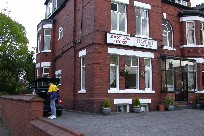 After an early breakfast we packed up the rental car and were off for the airport. We managed to avoid a traffic jam and made only one wrong turn before we got the car returned and a few once inside the airport. With all that rushing, though, we then had to wait because of computer outages at Air Canada. Thank goodness it was a direct flight to Toronto with no concerns for missed connections. Even so, it took us a couple days once back home to feel ourselves again.
Thus ends the saga of our first joint trip to England (Tom had been there in the '70s) and the first for both of us to Wales. A return trip in the future would be nice since there was so much we didn't see. We'd then know what to expect and how to avoid most problems. ;>)
---

---
This website is not copyright because its creators do not agree with government copyright laws. Readers are welcome to copy and distribute any text within the site as long as they do not modify the text and they provide a link to this website as its clear source.
---
MoreLife is Always "Under Construction"
Webpage last updated 12/31/02
If you have questions, comments or suggestions contact Kitty Antonik Wakfer