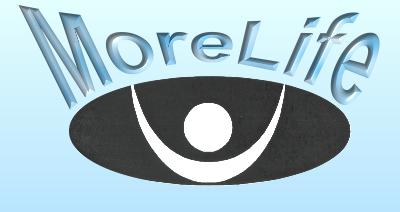 May-June 2002
Cottage, Toronto Harbor Front, & Misc
---
These are some photos that Kitty snapped after our trip to the UK in April 2002 and before our attendance at the Sixth International Symposium on Neurobiology and Neuroendocrinology of Aging from July 21-26, 2002 in Kloster Mehrerau, Bregenz, Austria with before and after pleasure adventures.
---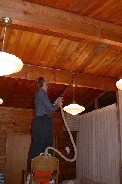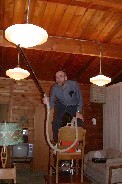 Tom (Paul) has a great dislike for flying insects, especially if they are inside our home. On our first trip to the cottage after our UK trip, he took out the vacuum cleaner and went after a large number of ladybugs that had either found their way in during our absence or hid before we left from a visit several weeks previously. He also managed to suck up some flies at the same time.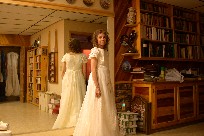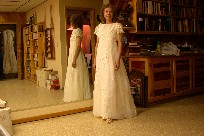 Kitty made a trip to her house in Arizona in late May and decided to see how she fit into the wedding gown she wore in July 1969. It fits with plenty of room considering that she weighed 10 lbs more than she does now; and 30 lbs less than 2 years ago.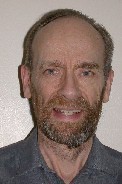 We both prefer the shorter length of beard - left on the picture; Tom (Paul) especially prefers it in the warm months.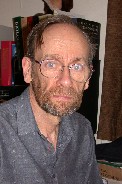 Kitty has a great delight in snapping pictures of Tom (Paul), even when he's not expecting it. This time he was deep in online work when asked to look her way.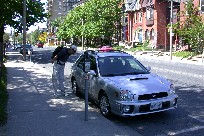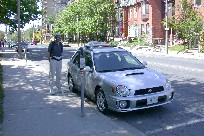 After considerable investigation, Tom (Paul) has decided (with Kitty's agreement) that our next car will be a Subaru WRX, just like this one that we came across just 2 blocks from our apartment.
The walk (and ride on the subway) we were taking when we saw the Subaru above, was to Toronto's Harbor Front - a real mecca in the warm months with it's cooler breezes, outdoor shops, and often free performances.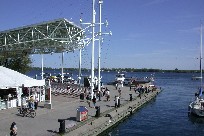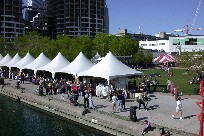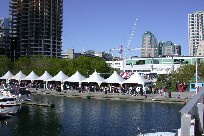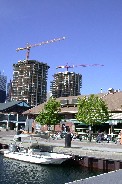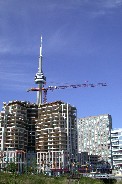 Toronto like all vibrant cities has an abundance of cranes; and the harbor front is definitely bustling.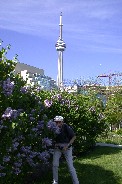 Lilac is one of our favorite plants in the Music Garden at the Harbor Front. That's really Tom (Paul) burying his head for a really good sniff. (Toronto's famed CN tower in the rear.)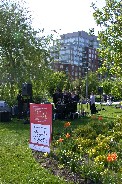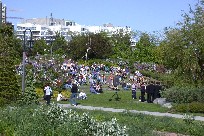 A free choral performance greeted us this particular Sunday afternoon in the Music Garden at the Harbor Front. After a few minutes of listening we completed our walk along part of Toronto's harbor front and headed to the streetcar stop, for an above-ground ride back north, approximately 2.5 miles to our apartment. We were low on time and "rationed" ourselves to only walking the most enjoyable portion - the Harbor Front.
---

---
This website is not copyright because its creators do not agree with government copyright laws. Readers are welcome to copy and distribute any text within the site as long as they do not modify the text and they provide a link to this website as its clear source.
---
MoreLife is Always "Under Construction"
Webpage last updated 12/31/02
If you have questions, comments or suggestions contact Kitty Antonik Wakfer