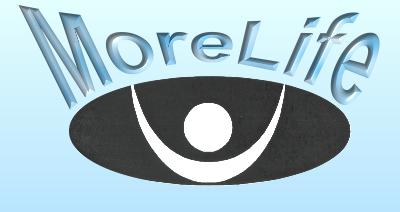 2002 Europe Trip
Austrian and Italian Alps
---
We left Innsbruck before 10am Saturday July 27, 2002 on the route that Tom (Paul) had mapped out the evening before - expressway till the first eastbound major highway in Italy, then mainly minor roads south to Asiago, which lies east of Rovereto and north of Vicenza. A map of the route is provided for reference; route in purple on map, sites of photos in () below.
---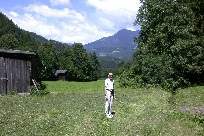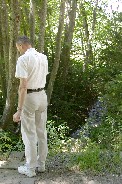 (A) A valley on the Italian side of the border near Ehrenberg, had much productive farm land. The land where Tom (Paul) is standing had recently had hay cut, presumably stored closer to grazing animals for the winter. The numerous mountain streams run into a brook which can be seen to the right in the same photo and which Tom (Paul) is examining in the near pic.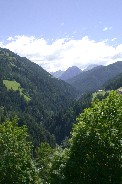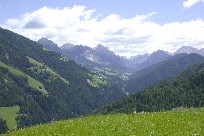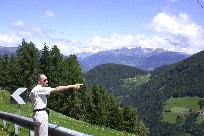 (B) Despite directions from a very willing and cheerful older woman (trilingual too) near Ehrenberg, we got ourself lost looking for route 244 going south to Zwischenwasser. Although we were able to enjoy some beautiful views from ever climbing roads, we finally headed back to a "sure" point in order to get to the valley Tom (Paul) is indicating is the one where he thinks we should find our intermediary goal. Later when we actually reached Zwischenwasser, we saw signs for the area into which we wandered. Our map was just too gross in scale to show the much lesser roads actually present.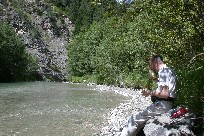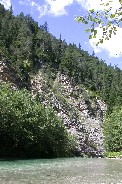 (C) Once we knew we were on route 244 heading south, we stopped alongside a pleasant small river to enjoy lunch. Our map does not list a name but shows that it flows north into the Reinz.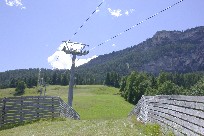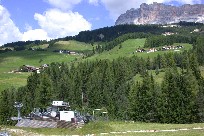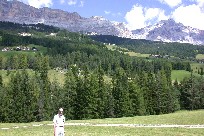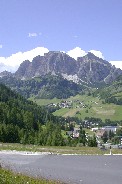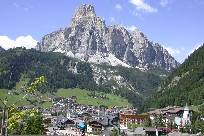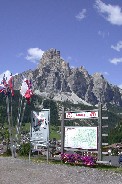 (D) This area near Corvara, like much of the Alps, is a real haven for skiers. Ski lifts and tourist accommodations abound. The upcoming Men's World Cup has trials scheduled for the area and a map is proudly posted.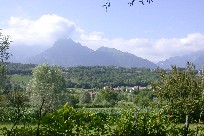 (E) This valley in the Alps foothills approaching Feltre was filled with corn and grapes - and some lovely homes too.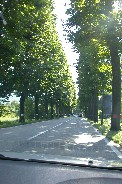 (F) We didn't stop to examine these trees for type, but they made for an impressive sight lining the road as we left Feltre on route 50.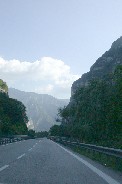 (G) We headed south on route 47 which travels along the Brenta River several miles before we realized we had somehow missed our turn off for Enego. At our first opportunity, we turned around and found our way to the minor road for the day's destination - Asiago, via Enego.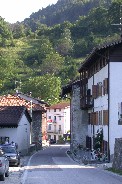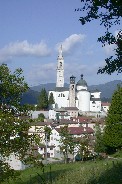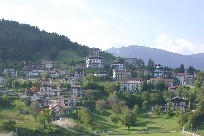 (H) The village of Enego, typical of the many that we drove through on our way to Asiago.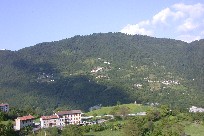 (H) Part of Enego is in the foreground and another small village can be seen across a gorge to the east. The 4 lane highway we'd been on in error earlier and a river are 1500 feet below us at the bottom of that gorge.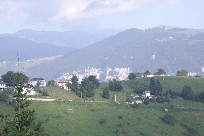 These last 2 pics were taken after making 16 hair pin turns; another 3 were necessary before reaching the top. And these don't count the simple turns, those less than 180&deg !!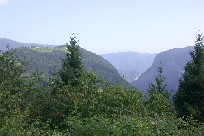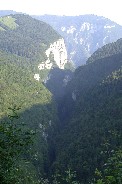 (I) Majestic view on the way down mountain top from Enego toward Asiago. Hill top homes and also some in far valley seen through the gorge can be seen on a close look at the first picture. Sheer cliffs in near gorge make it clear why the road we travelled went *over* the mountain - just no pass through this way.
The remainder of the drive to Asiago was taken up with finding the hostel at which we had reservations. The local "map" provided on their website (part of the overall Italian hostel organization) turned out to be very misleading. After more than 2 hours of driving in the general area, failure of the car to restart at a phone booth - thankfully there was room to push start the manual shift - then seeing/losing "Hostel Ekar" signs, and finally getting directions (with hand drawn map) from a kind gentleman who spoke some English (whom Kitty recruited from a bar) and, we found the hostel a good 5 road miles SE of Asiago and closer to Gallio. We arrived just as the sun approached the horizon; we'd have had even more trouble in the dark! What a day!!
---

| | | |
| --- | --- | --- |
| | | |
---
This website is not copyright because its creators do not agree with government copyright laws. Readers are welcome to copy and distribute any text within the site as long as they do not modify the text and they provide a link to this website as its clear source.
---
MoreLife is Always "Under Construction"
Webpage last updated 12/31/02
If you have questions, comments or suggestions contact Kitty Antonik Wakfer