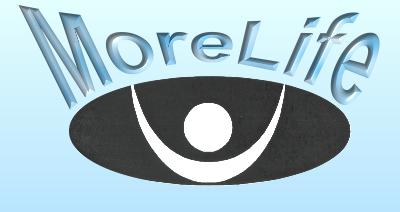 2002 Europe Trip
Asiago to Milan
---
We departed Asiago Italy on Monday July 29, 2002 driving through the town and west towards Roana and then Rotzo (see Asiago area map; route in purple). We were concerned about being able to restart the car if we stopped and wanted to get to the Renault dealer listed in Riva del Garda. The relatively few pictures taken are marked on the larger map of Asiago to Milan (route & pic sites in purple).
---
(A)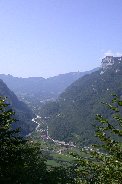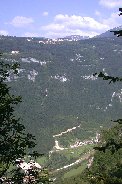 Paul kept the car going while Kitty took these shots of the gorge west of Rotzo, looking first further towards the south, and then straight across; we were to head north. On our way down into the valley, making many hairpin curves, we passed a roller blade skier - going uphill!
(B)
Falling rocks are a real hazard on these narrow roads cut out of the moutainsides. Wire mesh, being put in place here, is one way to keep them off cars.
(C)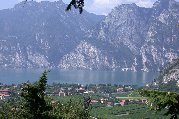 The peek we had of the views of the north end of Lago di Garda, the largest Italian Alps lake in the area, were magnificent and worth a quick stop to capture them. We really wished we'd not had the problems of the car to be concerned with so that we could have taken more time to enjoy them (the views, not the car troubles ;>).
When we found the Renault dealer in Riga di Garda (located at the north end of the lake), all the mechanics had just started their 2 hour lunch break; we were told to "come back later". We decided to just keep on going to Milan after taking a break for lunch ourselves.
(D)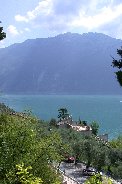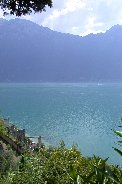 This scenic spot was located immediately before one of the many tunnels that break up the lakeside highway. Kitty snapped photos while Paul readied our lunch. We realized that again we saw no water skiers on this European lake, despite the vast amount of unobstructed water .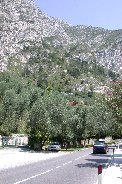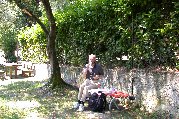 We had found a spot to park that would allow us room to push the car if necessary. Kitty took the pics above and then we concentrated on enjoying a roadside lunch.
The drive after this was straight on to Milan, making use of the expressway, where we were "treated" to the courtesies of rush hour Italian drivers - probably not that different from some of their North American counterparts.
---

---
This website is not copyright because its creators do not agree with government copyright laws. Readers are welcome to copy and distribute any text within the site as long as they do not modify the text and they provide a link to this website as its clear source.
---
MoreLife is Always "Under Construction"
Webpage last updated 12/31/02
If you have questions, comments or suggestions contact Kitty Antonik Wakfer