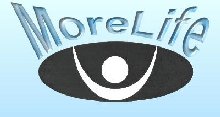 2002 Europe Trip
Return to Zurich Airport
---
Our departure from Schaan Lichtenstein was almost per schedule - not more that 1/2 hour later than we had planned the night before. The map of the area between Liechtenstein and Zurich shows our route from Schaan back to the Zurich Airport; locations of photos below are indicated on the map in purple by use of the photo tags in parenthesis below.
(B)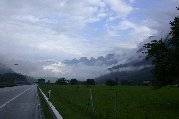 It was sprinkling during much of drive from Schaan, but at this point a magnificent ridge of mountains to the north of the Walensee (lake a few km drive yet beyond this point) could be seen peeking through the shrouding of clouds.
The town of Weesen can be seen on the far side of the Walensee; a truly beautiful spot, but we had little time to really investigate. Maybe on a future visit.
(D)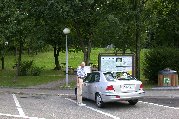 We took an opportunity to stop for a snack and a little leg stretching at a rest stop on Super Highway 3. It turned out to have a pedestrian access to the local area beyond and allowed us to get in a bit more sightseeing on this, our last morning in Switzerland.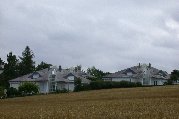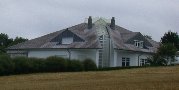 These homes were most interesting in their design, different than any we'd seen in Canada or the US. They appeared to be a group of duplexes, with the structures divided into separate triangular shaped residences - across opposite corners by an atrium - rather than the typical rectangles. Unfortunately we didn't have time to wander over for a closer look.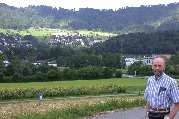 A large crop of sunflowers greeted us on our walk. Whether they inhabited the now cleared area beside Paul in addition to that behind him was not clear.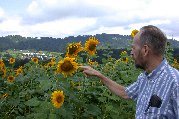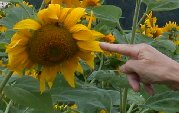 These giant sunflowers were available for picking; boxes for the receipt of money were located at several places in front of the remaining stand of flowers. As in Zurich with the tram fares, we were delighted to see a society where such an honor system works. Paul points out a bubble bee that had landed on one of the flowers.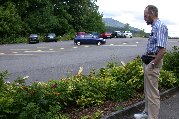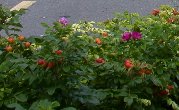 As we headed back towards the rest stop itself, Paul noticed these miniature roses that had the largest hips he'd ever remembered seeing; and there were so many.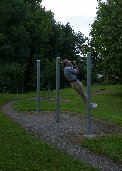 The rest stop had an exercise route - to keep drivers alert possibly. Kitty wondered aloud whether Paul could manage a pull up so he gave it a try. He did manage to complete one, which was more than Kitty could do ;>)
From here it was on to Zurich and the airport. We were fortunate that it was a holiday in Switzerland since much of the highway through Zurich was under construction at the west end. The lack of commuter traffic on the local streets - there is no direct autobahn in this direction - allowed us to still make good time and reach the airport in plenty of time to return the car - including some hassle about a rear backup light that appeared damaged to the rental agency (we returned it in the condition in which we received it) - and make our flight back to Toronto via London.
---

---
---
MoreLife is Always "Under Construction"
Webpage last updated 12/17/03
If you have questions, comments or suggestions contact Kitty Antonik Wakfer