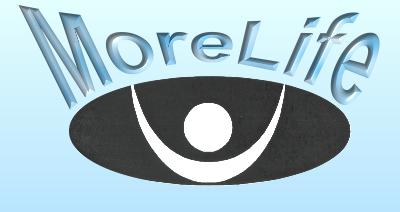 2002 UK trip
Kitty's sister Mary's wedding
---
6/11/02: Well, having a digital camera has not given Kitty any more time to get photos uploaded than she had before. Lots of lovely pics have been sitting on her hard drive after weeks on her camera's memory chip, but without the time to get them onto this page. (Glossary "G" words had precedence after numerous pressing tasks and a couple of major disturbances.) Now the time has come!
This particular page is devoted to Kitty's "baby" (6 years younger) sister Mary's wedding on April 20, 2002 in Mellor England - a lovely area where she is now living with her husband Graham.
---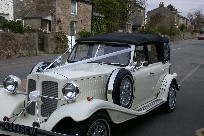 Mary and Graham arrived at the Millstone Inn after the wedding (I forgot my camera for the church shots :<( ) in a stunning Beauford.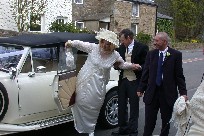 Graham leads the way as chauffeur assists Mary to escape the clutches of Beauford.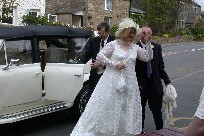 And then recovers her composure as well as her lovely hat.
In a lovely secluded garden area across from the Inn on that brisk overcast afternoon, photos were taken by the professional photographer and Kitty also made good use of her camera. We also loaned it to others to take pics of us too.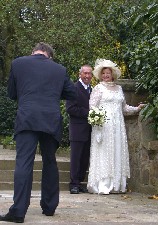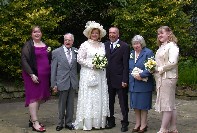 Mary with her new English family - husband Graham, his parents and daughters.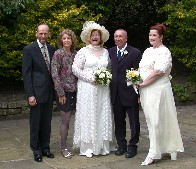 Mary and Graham with part of his new No. American family - her daughter, Stephanie, and of course Kitty and Tom.
Mary and Graham had arranged a delightful dinner in the very picturesque Millstone Inn.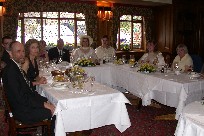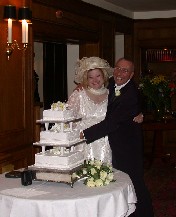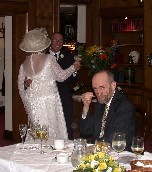 After everyone else left, we visited a couple hours with Mary and Graham before the wedding couple retreated to the Inn's honeymoon suite.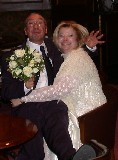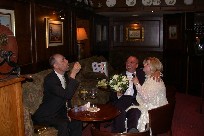 We gave Mary and Graham 2 of the 4 bottles of soap bubbles we received from a longtime good friend of Kitty's at our own wedding.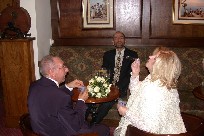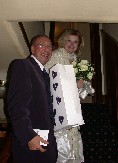 The next morning, we joined Mary, Graham and Stephanie for breakfast at the Millstone Inn. The wedding couple had 2 days of "rest" while they prepared for their 2 week honeymoon to Crete. Stephanie was returning the next day to the US and we were off immediately to northern Wales.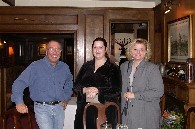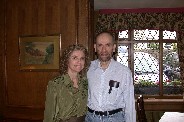 ---

---
This website is not copyright because its creators do not agree with government copyright laws. Readers are welcome to copy and distribute any text within the site as long as they do not modify the text and they provide a link to this website as its clear source.
---
MoreLife is Always "Under Construction"
Webpage last updated 12/31/02
If you have questions, comments or suggestions contact Kitty Antonik Wakfer