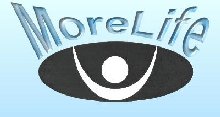 February 2005
Snir Family Visit with Us in Arizona
(pg. 3)
---
Micky, Adi, Yaam, Rom, Ofek and Shoshan spent the majority of Thursday 2/24/05 on a day trip to the Superstition Mountains, east and slightly north of Apache Junction which lies east of Mesa Arizona. Adi declined the offer of Kitty's camera for the excursion, so it can only be recorded here that they visited a "tourist" gold mine and came back well after sundown, pleasantly tired.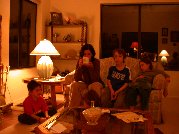 Some fruit tea after a long day sightseeing was just what Adi wanted soon after they arrived back sometime around 8:30pm. Rom and Yaam, usually quite bright and alert, show their exhaustion.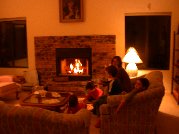 Some wind-down time by the fire after returning from sightseeing put the two older kids, Yaam and Rom in the mood for sleep. The two younger, Ofek and Shoshan, had napped in the car on the return drive and were alert again upon awakening - here playing on the floor.
Once the two older children had retired for the evening, Micky and Adi enjoyed some of the achiote cooked salmon, yam and collards that Kitty and Paul had prepared for their own dinner earlier. They both enjoyed it - cleaning their plates of the entire full servings. Paul and Kitty joined them with their own small 3rd meal and a 4-way toast with pomegrante juice to "The next visit". Unfortunately, Kitty had failed to ensure that her spare battery was fully charged and so when the in-camera battery was depleted, she had no replacement for it to catch the four of them at the dinner table. Oh well, better planning for the next visit...;>)
With Shoshan asleep downstairs and Ofek dozing on the living room floor, conversation continued in the living room once again as on previous nights. There was much to talk about, as the four of us (and with Jack when he was there earlier in the week) were very open with past experiences, ideas, and feelings. It made for a very mutually beneficial exchange between individuals who were in agreement on the concepts described in the Social Meta-Needs essay and generally its implementation in the draft framework, the Natural Social Contract.
---
The next morning, Friday 2/25/05, was an early one for everyone since the Snirs needed to be at the rental return office near the airport around 1:00 pm. It was the plan to meet Jack at Phoenix's Papago Park for a bit more visiting before the three of us bid farewell to Micky, Adi and kids - until next time.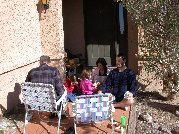 Yaam, Rom, Ofek and Shoshan had completed their breakfast on the front porch/walk of the house by the time Paul and Kitty managed to get their own breakfasts put together. (Micky did have the opportunity to witness the renowned smoothie assembled earlier in the week.) Micky told us he rarely eats anything upon arising, prefering to drink only tea for a few hours; Adi does similarly.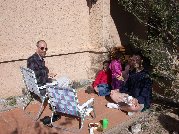 Kitty got in another photo shot before finally getting down to eating her own breakfast.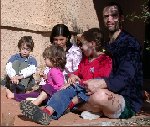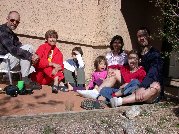 After finishing her own breakfast (finally) Kitty took a couple more groups shots.
At this point, since it was Shoshan's third birthday, we all started to sing to her - "Happy Birthday" in English. We had no sooner gotten out the "Birthday" when she broke out in sobs and buried her head in Adi's chest. We all immediately stopped; when her parents and brothers and sister then sang to her in Hebrew, equivalent well wishes, Shoshan stopped crying and was all smiles. In retrospect, it probably would have been better had they done this first and then our singing of English "Happy Birthday" would likely have evoked no unpleasant surprise. We were told that later, when the family was in the van on the way to Papago Park, they sang Happy Birthday in English and Shoshan responded with obvious delight, so it may have been merely "these strangers" suddenly singing which was the problem.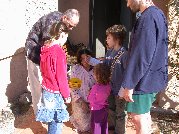 Paul offered everyone some of his "better" (also known as "medicinal chocolate") to everyone.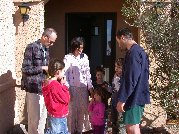 Everyone seemed to enjoy it and Rom delcared Paul's chocolate "better than the sweet stuff". Needless to say Paul was quite pleased; and Adi and Micky know how to make more for the family on their return home.
Micky and Adi organized a quick packing, and quite thorough cleaning up of the basement and other portions of the house they had used. All used linens were stacked at the foot of the stairs ready for Kitty to launder at her convenience; the stuffed animals in the living room were in new locations, delighfully with the Snir family "touch". By 10:20 we were all ready, and left for Papago Park with Kitty in the lead - making sure that she didn't lose sight of Micky behind her.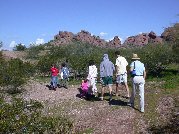 After first meeting Jack at The Desert Botanical Gardens, we all followed him to the area of Papago Park he had in mind for a bit of exploring, for those interested, and last visiting by all. We enjoyed the pleasant temperature and sun while we hiked to the farthest ramada at the base of the rocky hills.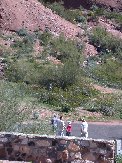 The explorers - all except Kitty, Adi and Shoshan - were off to climb the nearest hill to the cave and around.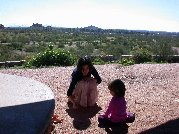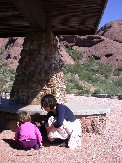 In the meantime Adi, while playing with Shoshan, and Kitty conversed at "base camp", the ramada. The "explorers" had disappeared around the hill in the distance but after about 10 minutes reappeared.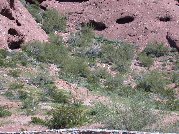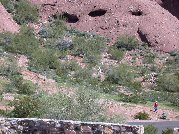 All goers were enthusiastic about the "adventure", even Yaam who's only complaint was that her skirt over her jeans inhibited good climbing.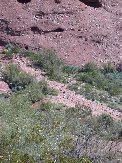 Rom wanted Adi to join him in exploring the neighboring hill.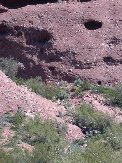 A "last" glimpse of the explorers as they proceed to "see what they can see"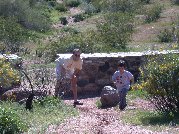 Jack and Ofek chased each other and played hide and seek in the area around the ramada - just two kids.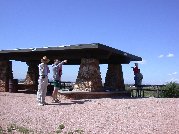 While Jack helps Yaam get a better view (of something), Micky points out to Shoshan that Adi and Rom are on their way back down the hill. Paul enjoys the warm sun but glad for his ever present Aussie hat.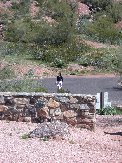 Don't know where her "guide/companion" Rom was at the time, but Adi returned none the worse for her outing.
As Paul noticed Micky in some play with Ofek, it reminded him of some gymnastic manuvers he often did with his daughter when she was young. He explained them to Micky and then guided him through them first with Ofek, and then more successfully with Rom.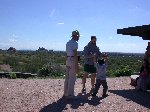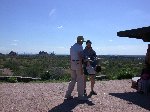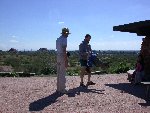 Kitty missed the best shots, when Micky and Rom got almost the entire sequence of moves. Something for them to practice and show Paul on their next visit.
Well, it was soon 12:30pm and to ensure that Micky and family got the van back to the rental agency and on to the airport in order to meet their 3:30 flight back to Washington state, we needed to get a move on. (All the government required procedures in airports have made flight check-ins a real time consuming process.)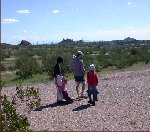 It may not have been that Shoshan didn't want to leave, just that she didn't want to walk, especially since her "baby" was getting a ride in the hood of Micky's sweatshirt.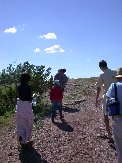 Micky, carrying Shoshan, leads the way back to the parking lot.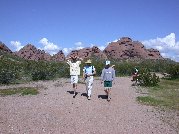 Jack, Paul and Micky make use of the last of this visit for some more philosophical discussion on the way to the parking lot - on the last day of this first "conference" of "unofficial Freemen".
When we got back to the cars, Yaam, Rom, Ofek and even Shoshan each gave Paul and Kitty (and Jack too) personal goodbyes before getting into the van. Adi repeated her earlier expressed appreciation for our hospitality, the beautiful scenery (we can't take total credit for this or the weather :) and the many thought-provoking discussions that had taken place.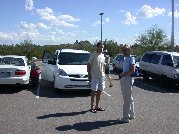 Paul and Jack make some preliminary plans for a late lunch after the Snirs are on their way.
Micky and Jack enjoyed the time they spent together - getting to know each other even better than they had during online discussions at MoreLife Yahoo regarding the Self-Sovereign Individual Project. Hopefully their plans for a visit by Jack to the Snirs in Washington this coming summer will take place with more benefit for all.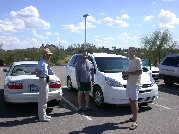 Final exchanges of thoughts on the visit were exchanged in the last few minutes. Micky, with moments earlier hugs for both Kitty and Paul, had let us know that he had known the visit would be good, but it was even better than he'd thought it could be. All four of us were on agreement with those sentiments and the additional one that we wanted more "meetings" like the one just completed, hopefully with a few more "attendees".
Micky gives Kitty a last smile as he pulls away and heads for the rental return. What can't be easily seen are all the waves and smiles from the other van occupants.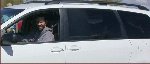 It was a quiet house that Kitty and Paul returned to in the early evening, after errands and a late lunch with Jack. The notes that the kids had written for us the day before were a pleasure to read and we look forward to correspondence with them by email and more visits by the entire family here in Arizona. In response to their invitation to visit them, maybe we'll make a couple of days layover at the Snirs in the Seattle area on a round-about trip back to Ontario when we do our mid-summer check of the house and property. Sounds like fun ;>)
---

---
---
MoreLife is Always "Under Construction"
Initially posted 3/26/05
Page last updated 6/30/05
Any questions, comments or suggestions regarding the content of this website
should be addressed at MoreLife Yahoo.
For comments on webpage format, contact Kitty Antonik Wakfer