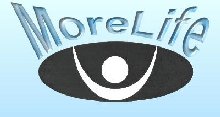 April 2006 Hiking Castle Rock in Arizona
---
Kitty and Paul had never done little more than drive into and go for an easy walk around Sedona, separately in years past before they met. Kitty and her previous husband and then young son also included a short stop those many years ago along Oak Creek that runs through a part of the area. With Olafur (Oli) Pall Olafsson's visit from Iceland, the occasion was ripe for some real exploring of the well known red rock area. David "Jack" Jackemeyer and Lindsey Sherman rounded out our group, and actually Jack was the exploration leader since he'd hiked the area several times before. We headed out from Casa Grande early on Saturday 4/2/06, with Jack and Oli starting out 40 minutes ahead in Jack's slower van. Paul, Kitty and Lindsey conversed during the 90 minute drive in the Subaru WRX up the mountains of I-17 north of Phoenix and met up with Jack and Oli at the highway turn-off for Sedona. Approximately 45 minutes later, after a pit stop at a local church hall where we also left the WRX, we were parking Jack's van at the nearest access to the Castle Rock trail.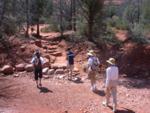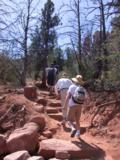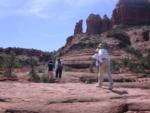 Just over 5 minutes after starting off from the parking area we were at a large open area almost entirely rock. Many of the spires of Castle Rock are visible in the far upper right.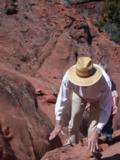 While this passage was steep it was still fairly easy going up. One just had to take some big steps and use hands as Paul did. The area had a fair number of visitors this beautiful late Saturday morning with a few groups going down as we went up.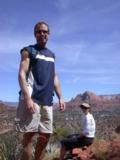 Even at this low level the view of the Sedona area is beautiful. Everywhere we looked was a mix of brilliant red rocks and lush desert growth.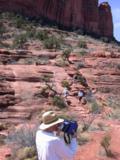 Paul takes in water before we make the climb to the next major plateau. Rock cairns covered with heavy wire (2 visible on left beyond and above Jack in the lead) mark the maintained trail to the "castle" spires, some of which are now more clearly visible.
Kitty and Paul were more interested in the scenery both near and far and told the others they'd meet up later at a higher elevation. We were rewarded with some spectacular vistas, a couple of which Kitty recorded.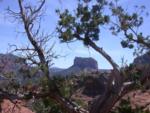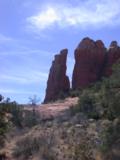 These thumbnails open into oversized large versions so everyone can get a bit more of the splendor.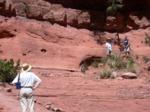 Less than 15 minutes after the last photo above, Paul and Kitty came upon Oli and Jack exploring the many crevices and small caves in the red rock sheer face at the base of the spires that are atop the elevation we climbed.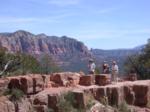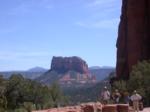 Jack took these 2 great photos of the rest of us from a narrow ledge out from the base of one of the spires - totally his idea. It was a long way down and Kitty's main thought was that he not look down and get dizzy. But the backdrop for the 4 of us sure is nice.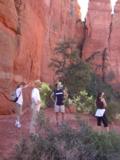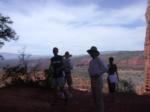 From the shade of the spires, everyone had something to look at - the distinctive red rocks surrounding us and the valley to the west far below.
The next part of the hike route Jack was leading us on went up and between two spires to the southern edge of the elevated grouping. The beginning of the trail was narrow, along the edge and was covered with loose mostly gravel-sized rocks. Unfortunately Kitty and Paul found that their shoes were short of tred and didn't supply sufficient traction for a comfortable ascent. They decided to descend, enjoy the sights along the way and then hike some of the lower trail, meeting up with Jack, Lindsey and Oli at the trail junction at 1:30 - in about 90 minutes.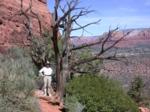 Kitty is always fascinated by locations with a variety of textures and shapes. This gnarled dead but still erect pine situated in front of pockmarked red cliffs and beside lush green vegetation was an eyecatcher. The Sedona valley and red mesas beyond provided a splendid background with Paul added for size perspective.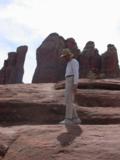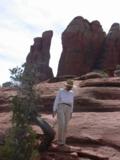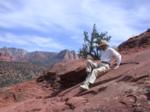 We took a slightly different route down from the Castle Rock pillars - we had been in the saddle between the two groupings. Paul playfully found that "scooching" down was sometimes easier than using his feet; most of the red residue brushed off his pants.

Another example of diverse shapes and textures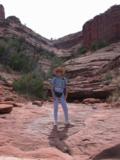 Kitty stands on a large rock shelf near the bottom of what was probably a very scenic water fall eons in the past when but now likely to see moderate flows only during brief heavy rains.
We all 5 met back up at the appointed time having enjoyed our excursions and briefly exchanged experiences and separate sights seen. Jack, Lindsey and Oli had circled a large part of the pillar base without mishap, we're glad to report. Paul and Kitty look forward to exploring more of this area in the future, maybe even what we missed around the other side of the spires - next time with heavier treded shoes ;>)
We returned to Jack's van, picked up our car and then caravaned to a supermarket in town to use the bathroom facilities and get some more cold water. Jack and Lindsey, who had not eaten as heavily at breakfast as Oli, Paul and Kitty had lunch before we headed for our next venture that Jack considered a "must" for Oli's Arizona experience - Devil's Bridge.
We left the WRX in the supermarket parking lot and again all piled into Jack's van which he managed to expertly maneuver down at least 4 miles of rough rutted road to where he remembered the parking area for trail head. Just one change in van location was needed to find the right spot, and off we trekked.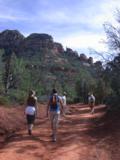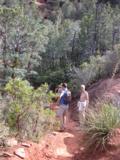 Although the temperature had risen enough for lots of bare skin, the hike was easy most of the way allowing us to really enjoy the excursion. A couple of areas had some steep rock steps, but no problems for any of us who are all in very good physical shape.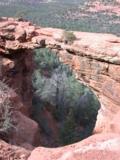 Our destination - Devil's Bridge. We reached it in less than 30 minutes of hiking, taking our time to enjoy the area.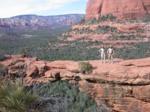 Oli and Paul are the first on the bridge, providing some size perspective.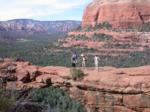 Jack and Lindsey arrived from the left, a riskier approach onto the bridge than the one Paul, Oli and most others take.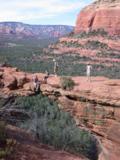 Jack thought a seat on the very edge would make for a nice group picture. Paul said his standing photo in the middle of bridge was just fine. Kitty's comment was that she'd just take the pictures, hopefully none of anyone falling.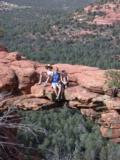 Well, the 3 of them do look nice and secure - as long as they didn't move.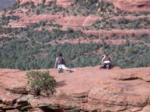 Well, when lying down one is less likely to fall off....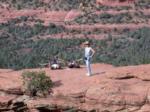 Paul did the honors of recording this venture by Kitty out onto the ledge, despite her uneasiness with heights.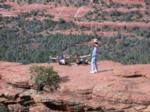 While Kitty had no intention of going any nearer to the edge, she did play the "flying game" along with Jack and Lindsey.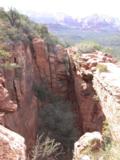 The far end of the bridge with its gap is the approach less traveled - but the one Jack and Lindsey took.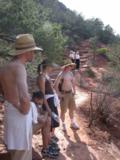 We took awhile to just enjoy the scenery. The couple in the rear were the only people we saw until we were half-way down again.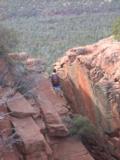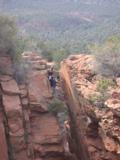 Jack wasn't satisfied with descending by way of the trail; he wanted to try the cliff crags and convinced Lindsey that it would only be a moderate challenge. Olafur, Paul and Kitty waited for them part way down the path - no mishaps occurred but Kitty decided not to record the event any further, which might encourage future risky acts.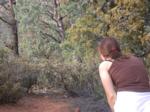 Well down on the flat area of the path, we became aware of a very noisy woodpecker and tried to spot it among the trees. Lindsey thought she caught sight of it in the pine tree but Kitty couldn't pick it up in her camera view finder.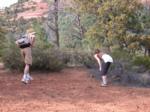 The sound then appeared lower down near the ground and both Lindsey and Olafur tried to get a better look.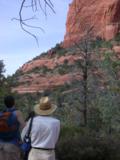 A possible hawk soaring in the distance caught our attention and adds to the impressive sight of the grained red rocks of the Sedona area.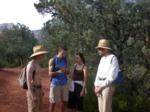 A few minutes later closer to the van, Jack stopped to show us something he'd found interesting on a previous visit to this area. He picked a couple seed pods off the higher dull green bush behind Paul and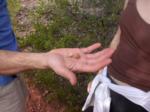 then showed us how easily they opened between finger and thumb - with a popping sound - distributing the small seeds within.
When we finally got back to the Basha's grocery store in the center of Sedona where Paul and Kitty had left their car, we were all hungry and in need of bathroom facilities. Kitty felt much better after washing her face and arms which felt layered in red dust from the several miles of dry dirt road driven to and from the hiking trail for Devil's Bridge. Paul, Olafur and Kitty then enjoyed a meal of food brought from Casa Grande while Jack and Lindsey split a rotisserie chicken, salad and beans between them. In order to see some of the sights along the way north to the town of Williams and our reserved motel room before dark set in, Paul, Olafur and Kitty needed to get moving by 6pm. We bid good bye in the parking lot to Jack and Lindsey who planned to camp out at Bloody Basin (one of the many ignominious sounding places in Arizona), and then head back to Phoenix early the next morning.
---

---
---
MoreLife is Always "Under Construction"
Initially posted 9/6/06
Page last updated 9/6/06
Any questions, comments or suggestions regarding the content of this website
should be addressed at MoreLife Yahoo.
For comments on webpage format, contact Kitty Antonik Wakfer