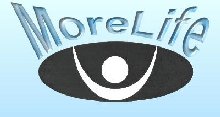 August 2010
Waterskiing After Age 70
---
Activities in and on the water are enjoyed by both Paul and Kitty Antonik Wakfer. While waterskiing is a skill that Kitty never acquired, though does enjoy watching, Paul taught himself - from a book! - over 40 years ago (soon after building our Canadian residence and purchasing a sufficiently powerful motorboat).
To get a fuller image of where these photos were taken, there is a hybrid satellite map of Little Straggle Lake online that also shows several others in Harcourt Park (some are not labeled; "Little Straggle Lake" is actually navigably connected under a bridge to the one marked on this page as "Straggle Lake", known locally as "Big Straggle") Skiing by Paul was done mainly in the center portion of the lake since the 2 ends are narrower and our neighbor Peter only goes slowly in those areas with his big boat. Our cottage is on the west facing shore of the main portion of the lake, just at the beginning of the channel that links to Big Straggle Lake.
First though, Kitty is taking this page on a "flashback" in time to August 23 2008, the last time Paul waterskied (7 months after turning 70), and the first time he had done so in probably 35 years. She thought she had already included this event in the photograph pages of activities from that summer, but realized recently that she never got further than the few photos she uploaded to MoreLife Yahoo's photo section soon after she took them. Peter pulled Paul behind the same boat then and was very willing to do so (and still is), as he says, to repay him for all the times Paul took him waterskiing when he was a youngster spending summers with his parents (15-20 years older than Paul and now deceased) at the same cottage next door to us.
Paul used one of Peter's life jackets this first time after a 35 year skiing lapse, when he used only a belt as his daughter Erika drove his relatively small outboard motorboat. Paul also decided to use Peter's skis since he thought the "boots" on his own had aged and might not hold his feet sufficiently firmly.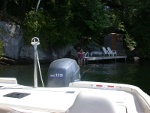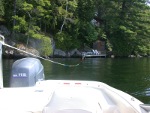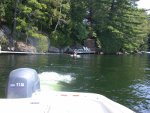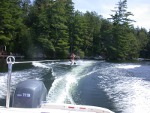 Even though it had been so very many years since Paul had been up on skis, he had no difficulty getting up the very first time. He had been concerned, but showed that it was like "riding a bike".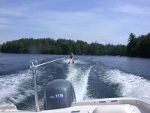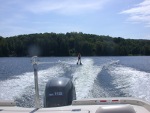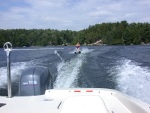 Paul later told Kitty that Peter's boat put up quite a strong wake and it was something he had not been entirely prepared for. Consequently he did not think it wise to try and get to the "outside".



Paul signaled with his head that this second go-around was enough - actually he told Kitty and Peter later that he'd indicated similarly at the end of the first time, but neither Kitty nor Peter's wife, Carol, saw it. Because Paul did not have his glasses on and he was anxious to end this first skiing in over 35 years, he dropped the tow line 1 property to the north of ours and swam the remaining distance.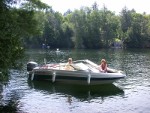 Peter told us that he was impressed that Paul was able to get up on the skis the first time after so many years. He was enthusiastic about doing this all again.


Initially and for much of the following year, Paul told Kitty, "I don't want to do that again. Peter's boat is just too big." However, by end of 2009, he was planning how increased leg and upper body strength (via stair climbing and weight-bearing activities) would put him in far better shape for skiing. "And able to get to the outside of that big wake!"
Almost exactly 2 years later and Paul was taking to the skis again. He was ready to do it by the end of July - a delay of several weeks due to an injury to his right hand - but warm clear weather and Peter's presence did not coincide. Peter had taken 2 teenage visitors water boarding just previously - or had attempted to anyway. The young fellows each tried several times and just could not get up on the single short board.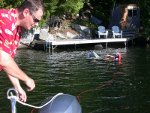 It took a few minutes, and several attempts with Paul head-down in the very deep water immediately off the front of our dock, to finally get the skis on. This time he just grabbed one of our life jackets, which unfortunately does not have straps for keeping it from rising in the back.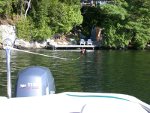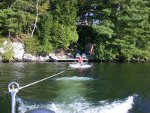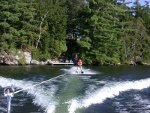 Once again Paul is up on the very first try!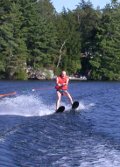 As planned, Paul moved quickly over the wake to the outside where the water is smoother. Our dock is still visible in the background immediately behind Paul, and Peter's with the yellow umbrella to the south of ours.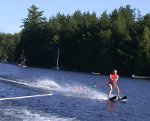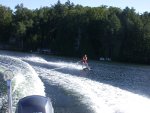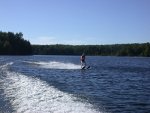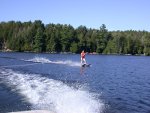 Kitty snapped a few shots of Paul's first circuit around the center portion of Little Straggle Lake.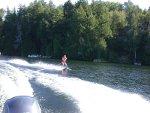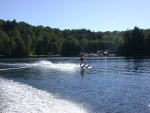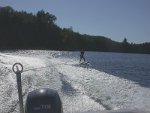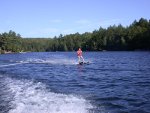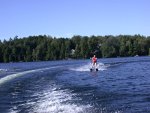 Second circuit of the lake center done without a hitch. Paul signaled after this last shot that he was ready to drop. This time he cruised right up in front of our dock.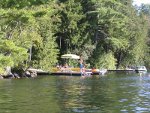 Applause and cheers from Peter's wife Carol and their visitors, including the teenagers. Peter told us later that he'd talked up Paul to them beforehand, saying that he'd show them "how it is done". And yes, Kitty confirmed that Peter had told them how old Paul is :) Well, Paul didn't disappoint anyone!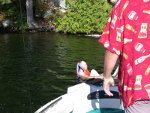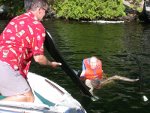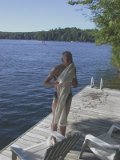 Paul said he was satisfied with 2 rounds of the lake but instead of being near petrified as he was 2 years ago, this time "it was almost fun".
Paul was mentally and physically prepared to do more skiing this year, but warm weather and Peter's presence did not coincide again for the season. Next year we're looking at an early July start and doing several wake crossings. Also, maybe next year Paul will arrange that Peter take him onto Big Straggle for at least one trip around the islands - he mentioned the possibility and Peter was all for it. More photos then :)
---

---
---
MoreLife is Always "Under Construction"
Initially posted 10/24/2010
Page last updated 10/24/2010
Any questions, comments or suggestions regarding the content of this website
should be addressed at MoreLife Yahoo.
For comments on webpage format, contact Kitty Antonik Wakfer