SuperOxide Dismutase/Catalase Mimetics
Introduction
This page is a review of the scientific evidence for health benefits from the oral use of chemicals which mimic the action of superoxide dismutase (SOD) and catalase, both major mammalian cellular enzymes which scavenge reactive oxygen species (ROS). Currently there are several such chemicals under investigation by various companies, but this review will focus on those that were first developed and investigated by Eukarion, which has since been acquired by Proteome Systems. Because of their Eukarion background, these chemicals have code names: EUK-8, EUK-134 and EUK-189, EUK-207. They are referred to as "synthetic catalytic scavengers (SCS)" and Eukarion has described their operation. (This page was no longer available online since the Eukarion site was allowed to lapse after the acquisition of Eukarion by Proteome Systems; it has been captured for local use from the Internet WayBack Machine.) "EUK-189 ... has SOD and catalase activities equivalent to those of EUK-134 but is more lipophilic, based on solvent partitioning. The catalytic activities and lipophilicities of the three compounds are compared in Table 1."R The properties of EUK-207 have not yet been fully described and contrasted with those of EUK-134 and EUK-189. Because EUK-189 is not orally bioavailable, Proteome Systems have slated EUK-189 for topical use, EUK-207 for injectable use and a new variant, EUK-418 (description not yet available), for oral use.
Safety and Interactions
"At Ámolar levels, catalytic antioxidants appear non-toxic and protect a wide variety of different types of cultured cells against the toxicity of ROS."R
Note: The numbers within [] refer to the references within the available full paper of this major review.
"The beneficial effects of catalytic antioxidants have been demonstrated in several in vivo model systems (Table 3), including models of lung fibrosis [38,39], chronic obstructive lung diseases [40], asthma [41], acute respiratory distress syndrome [42], bronchopulmonary dysplasia [43], pleurisy [44], shock [45-50], myocardial infarction [51,52], liver failure [53,54], ischemia-reperfusion [55,56], colitis [57,58], diabetes [59], transplantation [60], arthritis [61], amyotrophic lateral sclerosis [62,63], migraine [64,65], neurodegenerative diseases [66], stroke [67-70], spinal cord injury [71,72], pain [73] and dementia [74]. The efficacy of Catalytic antioxidants Catalytic antioxidants demonstrated in an incredible diversity of model systems highlights the extensive involvement of ROS in common animal models of human disease."R
Proven Benefits
Potential Benefits
Negative or Null Results and Limitations
"[I]n the absence of a superoxide generator, treatment with EUK-8 or EUK-134 did not increase life span, even at doses that were optimal for protection against pro-oxidants. Thus, an elevation of SOD activity levels sufficient to increase life span when it is limited by superoxide generators does not retard aging in the absence of superoxide generators. This suggests that C. elegans life span is not normally limited by levels of superoxide and its derivatives."R
"The superoxide dismutase mimetic EUK-8 has been reported to extend lifespan in the nematode Caenorhabditis elegans. However, in five trials administering EUK-8 in liquid culture with E. coli, and two trials using defined liquid medium, we observed no increase in C. elegans lifespan. Instead we saw a dose-dependent reduction of lifespan and fertility. We conclude that extension of C. elegans lifespan by EUK-8 may only occur under very particular culture conditions."R
Additional Reading and Reviews
---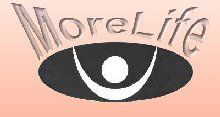 ---
MoreLife is Always "Under Construction"
Initially posted 07/01/04
Page current to 11/18/07
Error correction only on 07/22/11
Any questions, comments or suggestions regarding the content of this website
should be addressed at MoreLife Yahoo.
For comments on webpage format, contact Kitty Antonik Wakfer