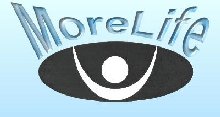 Using Text & Image Links on MoreLife
MoreLife uses Cascading Style Sheets (CSS) and is best viewed using IE 6.0 and higher and also Opera (per web reports on this browser, although we personally do not have a copy to check it). At the time of major website creation, not all features of CSS were recognized by Netscape 6 and 7.0. While we have attempted to make the major aspects of pages look "presentable" using these later browser versions of IE and Netscape, they may not all look the same. In addition, some aspects of the appearance of the site will be lost to a viewer with an older browser.
All images including the top of page icons and logos are links. Most colored (non-black) text are also links. Moving the mouse cursor over links causes the following actions:
Text, if not already underlined, will show an underline and change color.
For a picture, a note is generated which describes the picture subject.
For an image or icon, a note is generated which indicates what the link does (where it goes).
For most links, a note explaining the link will also appear in the status line (bottom of browser window).
Clicking any link (generally with the left mouse button) will cause the link action to be taken, often in a separate (smaller, but enlargeable) window.
Unfortunately, using javascript for links prevents the use of a right mouse click to bring up that linked page in a new tab/window. Instead the current page is simply duplicated in that new tab/window.
Use Browser Back to Return
---
---
MoreLife is Always "Under Construction"
Page last updated 12/20/10
Any questions, comments or suggestions regarding the content of this website
should be addressed at MoreLife Yahoo.
For comments on webpage format, contact Kitty Antonik Wakfer