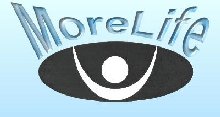 2000
Our Early Relationship
---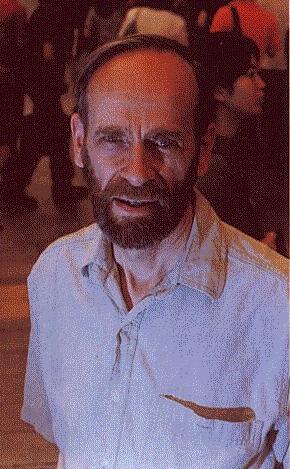 This photograph of Paul (Tom), taken by a magazine photographer, on a visit to Japan in May 1998 so impressed Kitty that she took a copy with her after her first visit (January 21-24, 2000) and had it transformed into wallpaper on her computer at work. Paul (Tom) says it was a great trip, meeting with some very motivated people, and he really enjoyed himself. He looks forward to a return visit - with Kitty as a companion this time.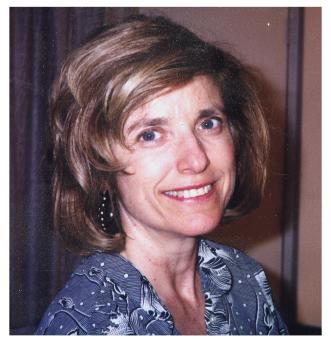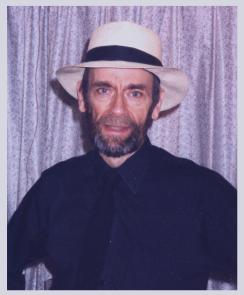 Going dancing was a "must" on at least one night of each monthly long weekend visit from Kitty's first visit in January 2000 till moving to Canada. These were taken March 26 2000 before we headed off for some high energy dancing at Toronto's dance clubs. Tom was still a little out of practice smiling here - he gets better as we go along. ;>)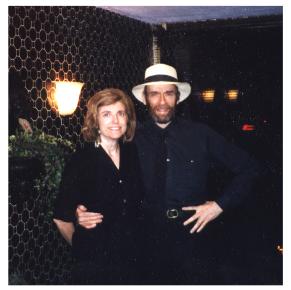 On return from dancing, on April 22, 2000 during Kitty's 4th visit, a friend took this picture of us. The black doesn't show the sweat Kitty worked up in that 90 minutes of non-stop high energy dancing. Paul (Tom) after all his many years of this type dancing rarely breaks a sweat.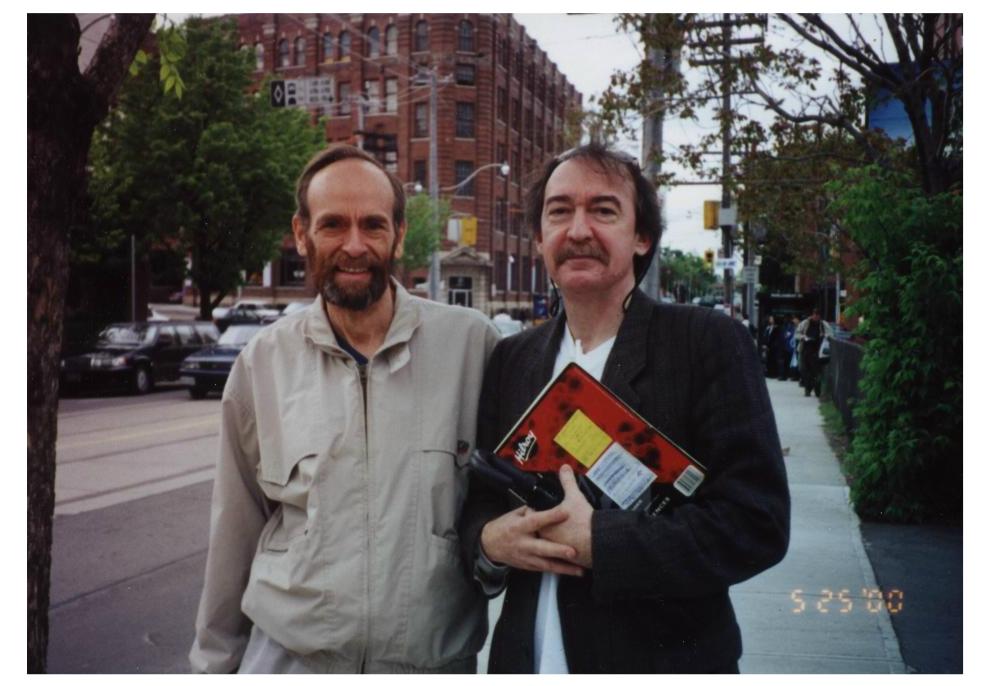 Paul (Tom) (on left, for those who might wonder ;>)) and his long-time very good friend Don, of the Morrison Audio fame, after having a couple cups of coffee and some good conversation in one of Toronto's many coffee shops. This was Kitty's first meeting with Don (May 25, 2000), who presented us with one of his favorite CD collections of love songs - by Jimmy Durante. Don has a lovable sense of humour (Canadian spelling).
We took a day trip to "cottage country" May 27,200 to show Kitty the cottage Paul (Tom) built, 35 years ago, in hopes that she would enjoy it as much. No doubts were needed - the cottage is wonderful by itself and beautiful as it sits on waterfront property of a lightly populated lake near Algonquin Provincial Park.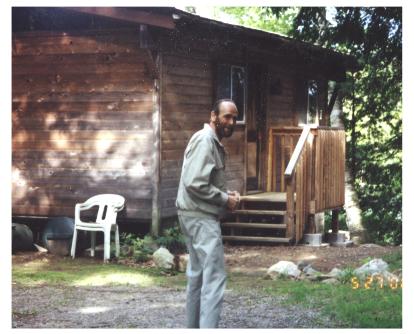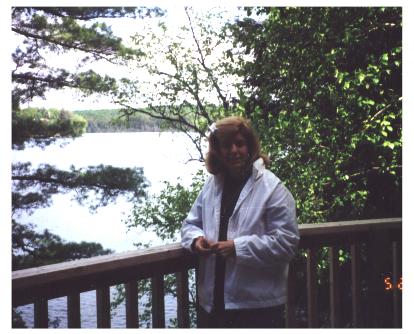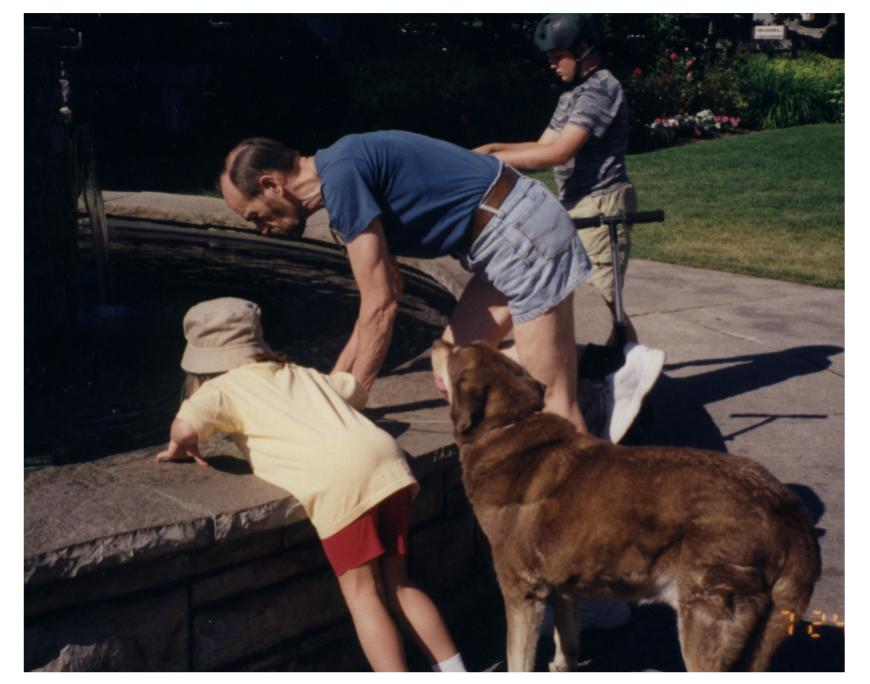 Paul (Tom) and Kitty (doing the photography) enjoyed a warm July afternoon with grandchildren, Lauren and Miles, walking to Toronto's Castle Loma and exploring the grounds. Lauren was fascinated by the coins thrown into the fountain by previous visitors, but Miles wanted to put more time on his new scooter. Moose, Paul's (Tom's) faithful canine since 1994, is always curious if there's a possibility of food.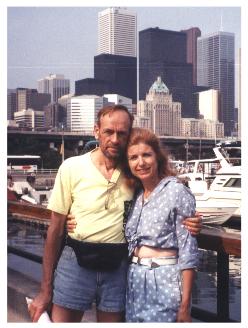 After Kitty joined Paul (Tom) in mid-August 2000, we spent a couple days every week that first month taking in the sights of Toronto. This was Labor Day Weekend with lots of festivities on the harbor front. Greg, a long time, good friend of Kitty's joined us this weekend to enjoy the sun and sights and took our picture.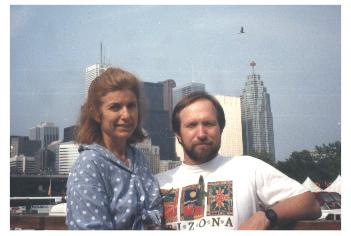 Kitty and Greg get their Toronto Harborfront visit "immortalized" by Paul (Tom).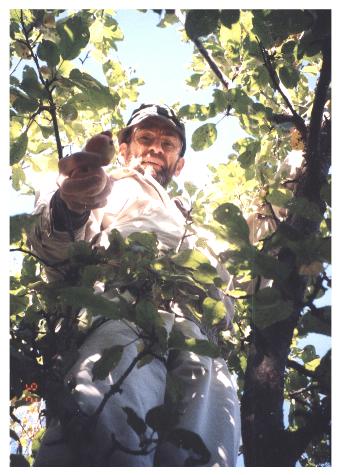 A 2 day stay at the cottage in late September 2000 included harvesting the apples from an isolated couple of trees. Paul (Tom) was determined to get every single apple, so Moose enjoyed the few that didn't make it into the bags that Kitty held open below. Four grocery bags full of apples (minus a few eaten raw) were turned into applesauce - plain and with cranberry and raisins; no sugar in either. Both varieties were a success and we look forward to doing it every fall.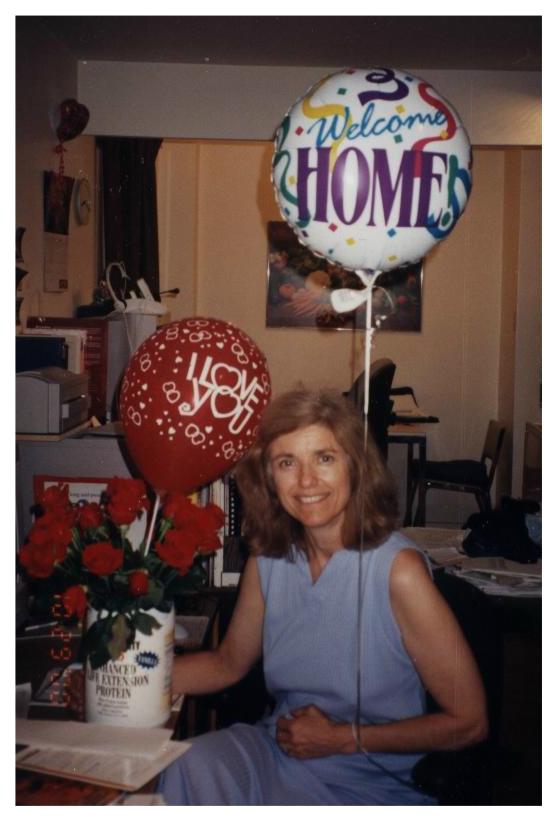 After a month in the US for shoulder surgery and post-op physical therapy, Kitty returned home October 29 2000 to a spectacular welcome!
(Note the "vase" holding the dozen roses. ;>) )
---

---
---
MoreLife is Always "Under Construction"
Webpage last updated 11/24/07
Any questions, comments or suggestions regarding the content of this website
should be addressed at MoreLife Yahoo.
For comments on webpage format, contact Kitty Antonik Wakfer