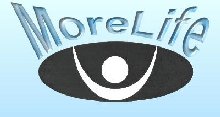 September 2002
Revisiting Some Roots
---
On September 2 2002, the day after celebrating Kitty's first grandniece Maddie's christening, we started off on a 1 day rather quick tour of some of Kitty's roots in New Jersey. This is an insertion into the Personal Photos that has sat unworked while other objectives have taken priority.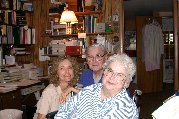 Kitty's Aunt Re' and Uncle Ed were first on our list of roots to be visited. It had been several years since Kitty had visited with her mother's younger sister; 2 other siblings (there were 8 children) were alive at the time elsewhere - the one remaining brother has since died. Paul was meeting both for the first time, though Kitty had written of him in postal messages during the preceding 2 years. Kitty had a pleasant couple hours visit catching up a bit on her aunt and uncle's 2 children and then introducing them to MoreLife on their computer.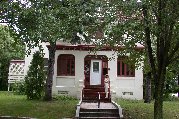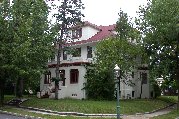 Some of the strongest childhood memories for Kitty are those associated with the home of her maternal grandparents, Thomas and Stella Wyglendowski, in South Orange. The area near Seton Hall University had not changed very much at all, although the large 3 story house is now a group home. The first floor rooms are high ceilinged and held many wonders for a young child: bay windows (at right in 2nd photo) with seats that were great places for playing hide-n-seek, a large closet under the main staircase, a butler's pantry connecting the dining room to the large kitchen with alternating large white and black tiles plus a combination wood/gas stove, and a back stairway to the cellar and the 2 upper floors.
The laundry chute from the second floor to the basement was a fascination that developed into a near catastrophe when Kitty's youngest sister Mary wound up in a pile of clothes at the bottom; the details of who put her (then only a pre-schooler) into the chute is unclear in Kitty's memory. (Her mother and grandmother's extreme upset and the scolding she and her brother and other sister (both younger than she) received are more vivid.) A more pleasant one is of her grandfather (Dziadzi in Polish) home for lunch from his furniture store and eating his typical boiled potatoes and buttermilk; Kitty was so fascinated that her grandmother (Babcia in Polish) gave her some at Dziadzi's suggestion, which she enjoyed immensely. The memories are mostly very pleasant, and a few old photos - and even some color, as well as B&W, movie footage from the early 1940s now on VHS - still exist to refresh them. Kitty's siblings, and her cousins who lived in New Jersey more years than the military Antonik family - are sure to have even more recollections associated with this old house.
We drove west from South Orange along a route that Kitty's parents took when into her late teens accompanying them on visits to family members living in the southwest Newark suburban area. Kitty's father was raised in Belleville, north of Newark, in the mixed residential/industrial area near the Passaic River; but that family house long ago was turned into a parking lot for the laundry next door. The strongest memory of that side of the family is the wonderful merry-go-round that Dziadzi Antonik had and took out of the garage upon the children's pleas on each visit. (It had been a source of additional income during the Depression, driven mainly by Kitty's father and his younger brother after school.) The music "box" was a large metal spindle with protrusions that played different melodies when its rotation location was shifted - driven by the truck motor and earlier by hand when originally pulled by a horse when the merry-go-round was purchased. It was lovely to listen to and Kitty, when in her teens and no longer interested in riding, still wanted to hear the magical music on each visit.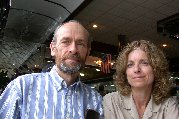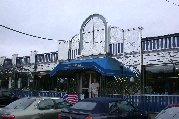 In Mt. Lakes on US46 is Paul's Diner, a favorite for periodic Sunday morning family breakfast after attending church services nearby during Kitty's teens. It looks much like it did then and we enjoyed a hearty lunch before continuing a couple miles down the road.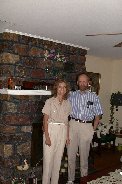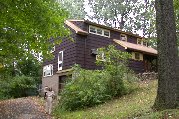 This is the house in Denville New Jersey that Kitty lived in from the age of 14 with her parents and 4 younger brothers and sisters. While the original green has been changed, the "door to nowhere" is still there from the kitchen over the garage. (A deck was the longterm plan, but always got shuffled to the bottom of more pressing projects.) Her father, with the help of her and her younger brothers, built the retaining walls that were necessary to make this very sloped property usable - no car could enter the garage until this was done. The current owner of the house was very friendly when Kitty approached him standing on the front porch and explained her connection to the house to which she and Paul were obviously taking so much interest. He gave them the grand tour and was very interested in the origins of certain items, like the stones in the fireplace which had been done by the original owner (a few years before Kitty's parent's puchase) from ones in the yard itself.
We drove through the area of Denville and Mt. Lakes, where Kitty pointed out certain landmarks - the church she attended with her parents and where her first wedding took place, St Clair's Hospital where her son was born, and the route her school bus took to the regional high school she attended further to the west.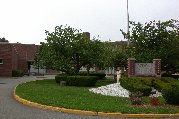 Kitty attended Morris Hills Regional High School in Rockaway New Jersey, starting there while her father was still assigned to the then US Naval Air Rocket Test Station, Dover NJ (part of Piccatinny Arsenal since about 1960) and the family lived on base. (It was reasoned by her father to school officials that the family was searching for a house in the MHRHS district and he did not want to uproot her again; Kitty had already attended 7 different grammar schools from Texas to New Jersey to Hawaii.) Many fond memories for Kitty of the high school years are centered around school plays and science classes. We took a walk around the campus while Kitty pointed out various locations in the building, from the outside, where certain classes and events took place. The school hadn't changed much at all from the last time Kitty saw it about 30 years ago; this "monument" out front at the flagpole was the only thing obvious.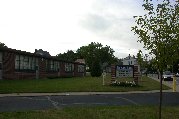 A drive through Dover took us to the small town of Wharton where Kitty and her sibilings attended St. Mary's Grammar School. (Most of the 7 grammar schools Kitty attended were Catholic which her parents thought, in addition to the religious beliefs they held as preferable, provided more continuity for frequently moving military children.) The last room in the distance was the 8th grade from which Kitty graduated second in her class of about 30.
Although the sun was dropping low in the sky, Paul and Kitty continued on to Succasunna where Kitty's first husband lived from the age of 13 and then onto Mt. Arlington on Lake Hopatcong where the two of them lived until their move to Arizona in 1975. Although a wrong turn was originally made in the area of the Dorothy Lane house, we finally found it, still looking much as it did when she last saw it about 25 years ago. From there we drove to one last place Kitty really wanted to see, in Netcong a few more miles to the west.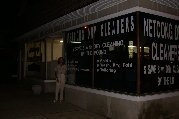 When Kitty's father retired from the US Navy in 1961, he sold life insurance for a short time while researching business opportunities. He opened a "we do it for you" automatic drycleaning store and also served as a "drop" for a professional drycleaner in Rockaway several miles to the east. In the early 70's a fire occured elsewhere in the large building and the fire marshall for the town prohibited use of the entire building for several months. Kitty's father took a part-time job as a high school janitor while serving his drop-store dry cleaning customers from his van parked on the sidewalk in front of the store. This demonstration of fortitude in the face of adversity is just one of the many reasons why Kitty holds the memory of her father in very high regard.
It was now quite dark and we started back to the motel a good hour's drive to the southeast. The next day was to start out on a drive to a part of the country that neither Paul nor Kitty had ever visited before.
---

---
---
MoreLife is Always "Under Construction"
Initially posted 2/29/04
Page last updated 2/29/04
Any questions, comments or suggestions regarding the content of this website
should be addressed at MoreLife Yahoo.
For comments on webpage format, contact Kitty Antonik Wakfer