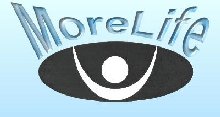 September 2002
Visiting New Hampshire
---
After visiting some of Kitty's family roots in New Jersey on September 2 2002, we headed north towards New Hampshire for a couple of days planned stay at the Greenfield Inn and some exploring of the corridor between Nashua and Concord.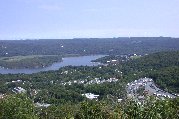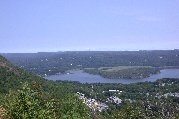 We didn't stop for any picture taking until we were well up the Palisades Interstate at an overlook of the Hudson River at West Point. The buildings of the Military Academy can be seen on the near (west) side of the river below.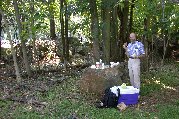 A short while later we stopped again where we could see some shade for a lunch break. Paul chomps away on a cabbage chunk, rye bread, fruit and cheese; supplements and meal cocktail can be seen among our goodies.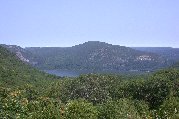 Kitty took a short stroll and caught this view of the Hudson River to the east and below.
Paul finishes his lunch; clean up was quick and we were off again once again towards NH.
We didn't stop again for anything but gas until we reached our Bed and Breakfast destination late that afternoon.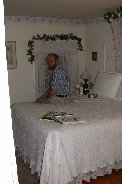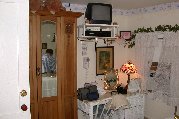 Our small neat room - referred to as "Goldilock's Room" - was on the second floor of what was once a large single family house. (This room has since been turned into an upstairs guest sitting room in the latest version of the Greenfield Inn website.)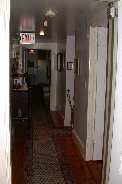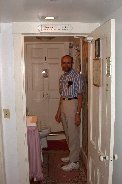 A view down the hallway in both directions - first toward the little refrigerator and the front stairway beyond, and second to the shared bathroom for the 3 end rooms. We were staying in the middle of the week and experienced no conflicts in using the facilities.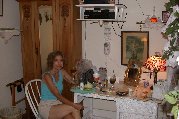 We made do with another dip into our on-the-road collection of food for a light night meal after an evening walk followed by a bit of movie watching on the VCR.
The next morning after breakfast, we set out in our Acura, parked here at the rear of the Greenfield Inn.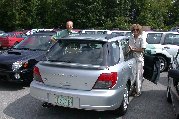 We took the opportunity when we saw a Subaru dealer to test drive a WRX wagon, the car we had been interested in to replace the aging Acura. (Later in the year we actually purchased one that looks identical to this one.)
Before heading off to Nashua/Manchester/Concord corridor, we took more of a look at a NH small town, Milford, where the above dealer was located.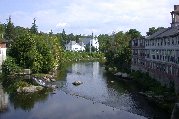 The Souhegan River runs through Milford, and at this point looked so picturesque.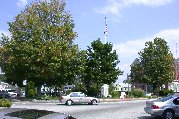 We walked around the small town square of Milford looking into store windows and noting activity on a warm summer day.
We didn't take any time for photos until we reached Concord and walked around the town center a bit.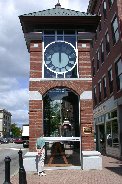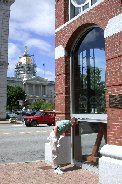 This clock had once been part of much older structure across the street in Concord which had burned down some time in the past. A group of citizens in the town collected sufficient funds to give the clock works a new home - one that could be closely viewed and admired. The state capitol building in the background contrasts coercion (government) with voluntary interaction.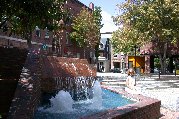 This fountain in a shopping square in Concord was a cool reprieve on a very warm day in New Hampshire.
We arrived back in Greenfield while there was still plenty of sunlight and took a walk around the surrounding area - a pleasant break after mostly driving during the day.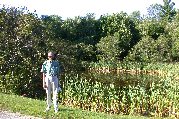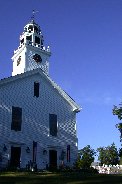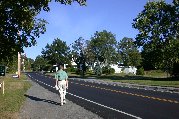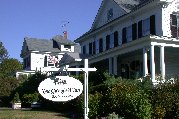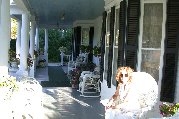 The Greenfield Inn front porch provided a nice location from which to watch what little activity there was in this "town" consisting mainly of a general store, a gas station with convenience store and the church on the hill.
We took our leave of New Hampshire the next morning driving back to Toronto.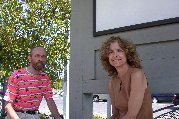 Kitty "caught" us with these time-delayed photos during our meal break during a fuel stop somewhere along the New York Turnpike. She wanted to make sure it was obvious that we were actually eating and not just sitting in the only bit of available shade for want of something better to do. ;>)
---

| | | |
| --- | --- | --- |
| | | - |
---
---
MoreLife is Always "Under Construction"
Initially posted 2/29/04
Page last updated 2/29/04
Any questions, comments or suggestions regarding the content of this website
should be addressed at MoreLife Yahoo.
For comments on webpage format, contact Kitty Antonik Wakfer