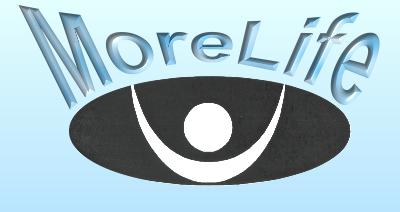 Early Summer 2001
Mostly at Cottage
---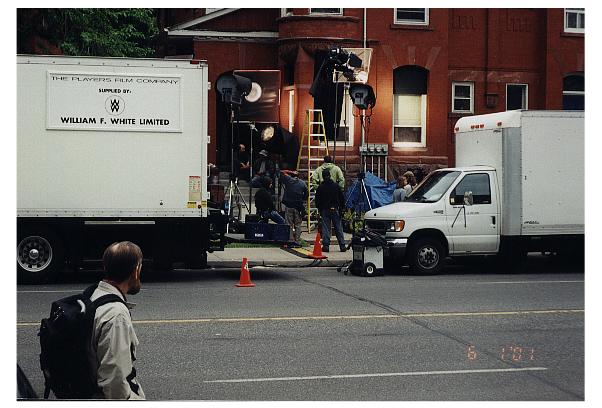 Seeing movie sets on Toronto streets is nothing new to Tom, but Kitty finds it fascinating everytime we come across one - and this set was right across the street from the front of our apartment building.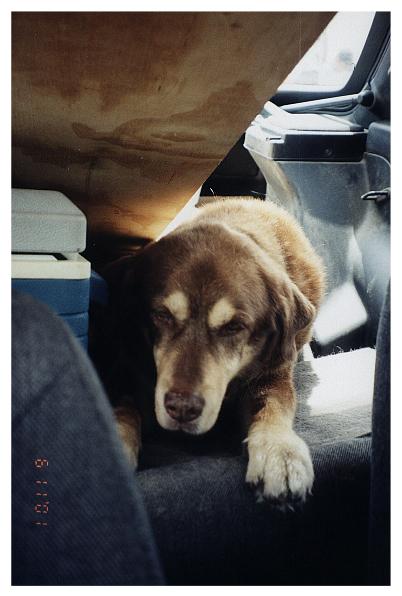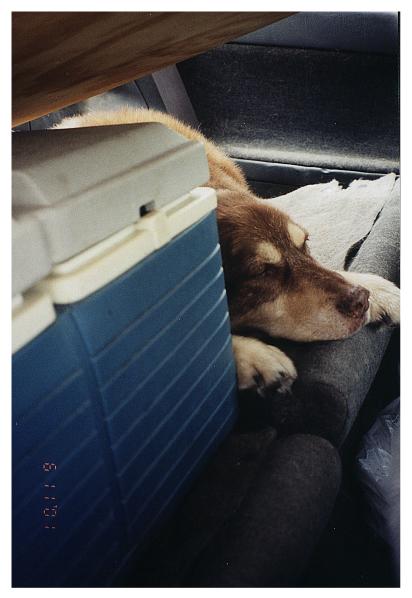 Packing our hatchback for trips to the cottage is an art which Tom takes quite seriously, since adequate room must always be provided for Moose.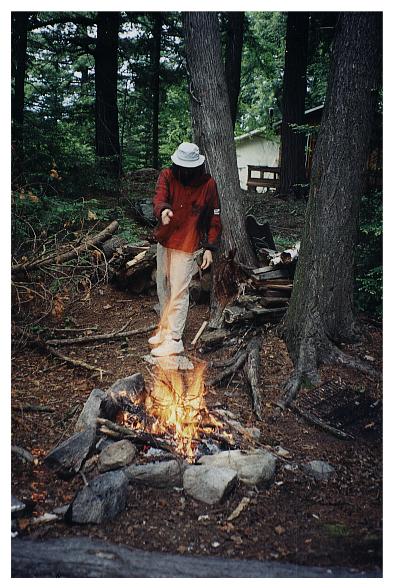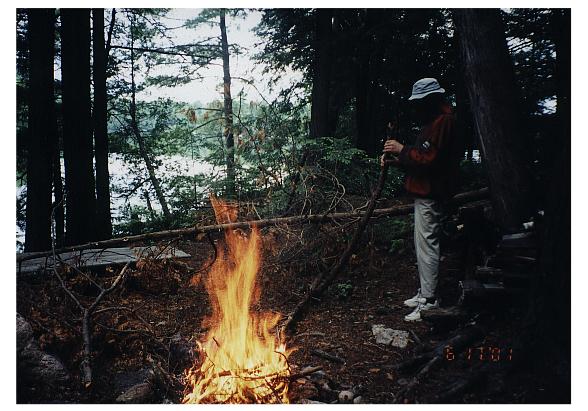 June is notoriously buggy in Ontario cottage country requiring bug gear for almost all outdoor activities. Tom and Kitty (the latter doing the photo work) donned bug net jackets in early June as one of the measures to keep bites to a minimum. Even with the smoke produced here, those critters were persistant enough to get through socks to Kitty's ankles.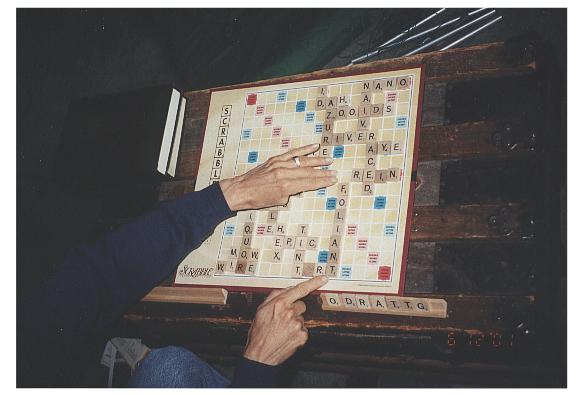 These cool muggy buggy days were excellent for Scrabble playing between tasks. Kitty made "foliant" out of all 7 of her tiles after much deliberation with Tom on best use of the letters. Such is the fun of cooperative Scrabble. If you don't find "foliant" in some dictionaries, remember that it's the opposite of "defoliant" ;>)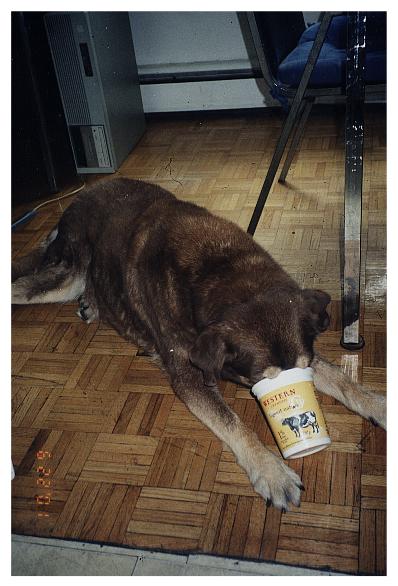 Another example of Moose's eclectic eating tastes - yogurt. We let him lick out the empty containers of everything, a task which he relishes. It's amusing to see the little dab of yogurt that often clings to his fur between his eyes from such "in depth work".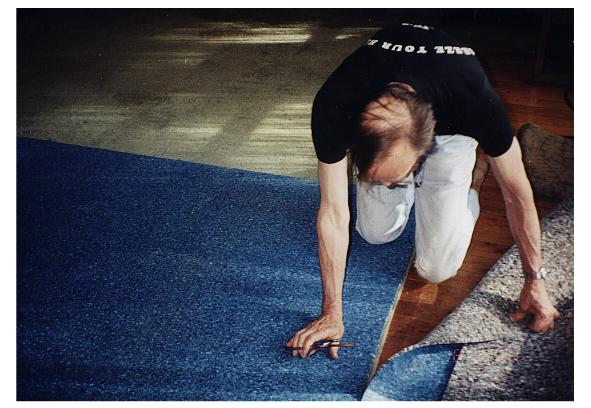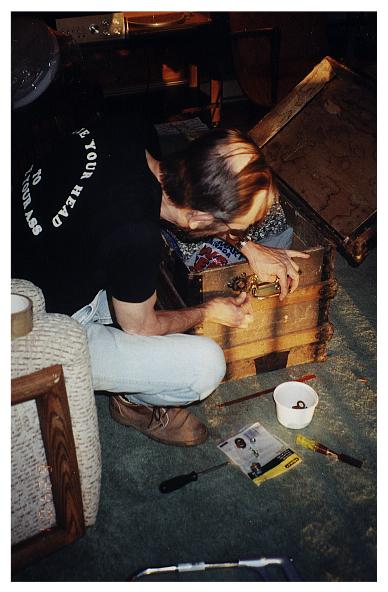 The long list of cottage tasks got plenty of attention on the last weekend in June.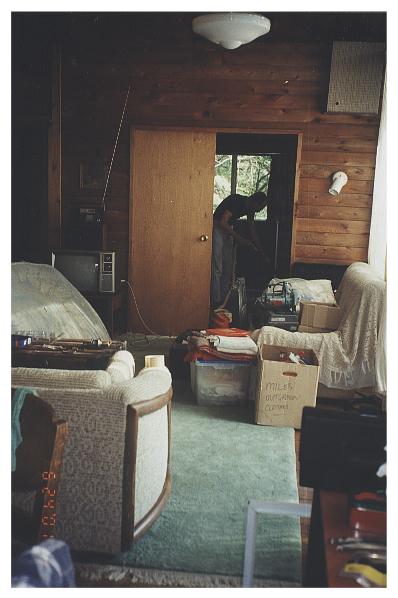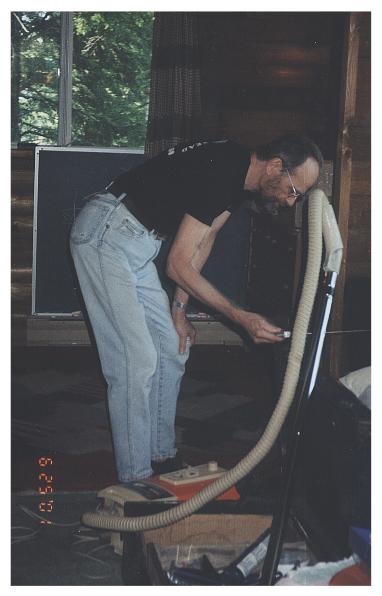 The den, which granddaughter Lauren uses as a bedroom when she visits, presented an "onion" of layered tasks when we decided to put down an area rug we had brought from our Toronto apartment.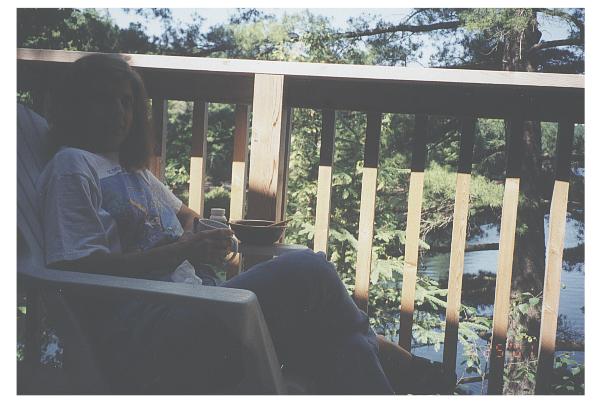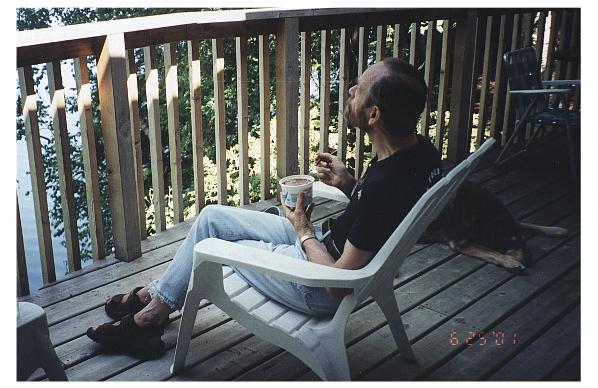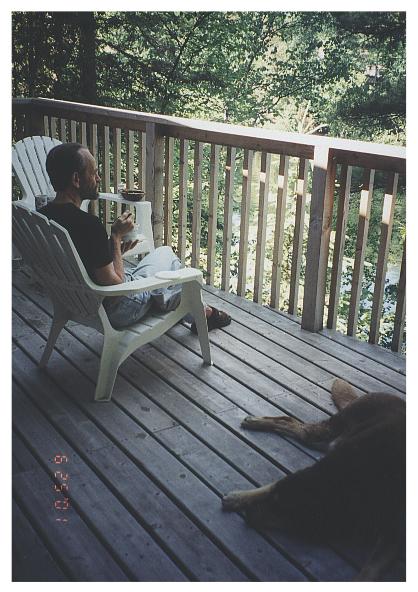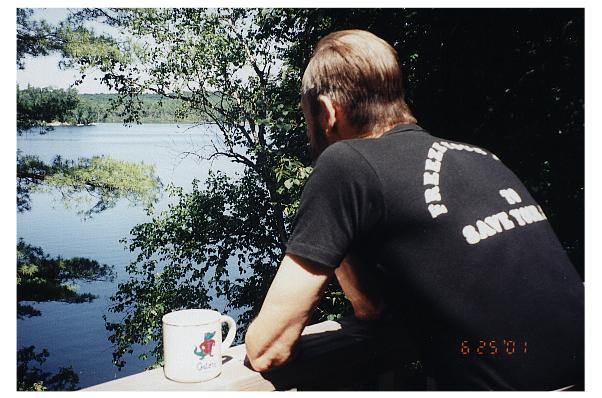 The mornings at the cottage in the last of June were just delightful; no humidity or bugs to disturb our enjoyment of the beautiful peaceful scenery.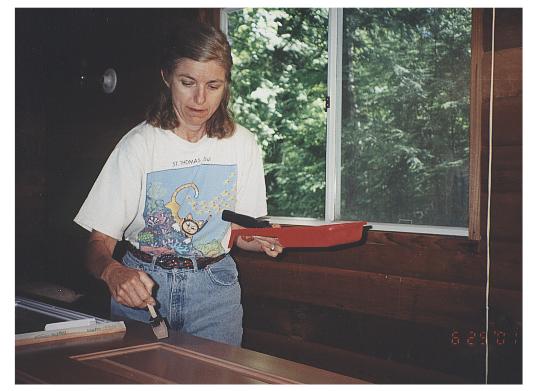 Kitty painted the new steel clad vented door we bought to replace the 35 year "temporary" back door. More pics next roll.
Beauty is in the eye of the beholder. Tom represents the well nourished, calorie restriced mature male with low body fat over his lean body mass. Muscular development is sufficient for Tom to perform all the activities in which he regularly engages. Work at the cottage every 2 weeks is noticeably adding to his upper body strength. Of course Tom looks even better when he's eaten breakfast and had his first cup of coffee. ;>) More Revealing; Physical Statistics


---

---
This website is not copyright because its creators do not agree with government copyright laws. Readers are welcome to copy and distribute any text within the site as long as they do not modify the text and they provide a link to this website as its clear source.
---
MoreLife is Always "Under Construction"
Webpage last updated 12/31/02
If you have questions, comments or suggestions contact Kitty Antonik Wakfer