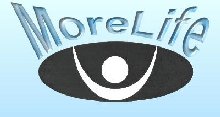 August & September 2005 Summer in Ontario
---
Getting back to Ontario from Arizona in mid-July was a pleasure for Paul and Kitty Antonik Wakfer. Kitty had spent 25 years in Arizona all year round before joining up with Paul in 2000; she immediately found the cooler summer temperatures in Toronto (except when it rose to the 90F level with equally high humidity) a pleasant change. Now in rural eastern Ontario (just south of Algonquin Provincial Park), the summer temperatures are even milder and the air is delightfully clean - free of city smog and soot.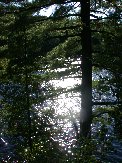 Enjoying the view from our dining room table while eating our second meal of the day in the late afternoon in late August. The fan on the far left is used on breezeless warm days - otherwise, just opening the door and windows is sufficient.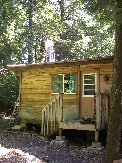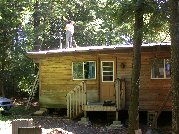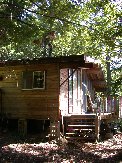 Plenty of rain had fallen since our move from Toronto at the end of May and the roof gutters needed cleaning out plus removal of dead branches from the roof itself. Paul's agility and ease at this task (at age 67) is easily apparent. We pulled the CD player and Bose radio used as amplifier/speakers onto the porch for some energizing music while Paul cleaned roof and Kitty hand mulched between picture taking.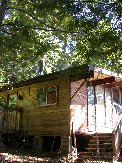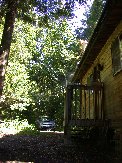 Once Paul was ready to start washing out the gutters, the music equipment was put safely inside the back hallway and the car pulled back up the driveway.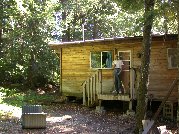 Roof and gutter are cleared of debris. And back porch and steps are clean now too. Paul decided not to put back onto the porch the railing he removed for bringing in the furniture when we moved from Toronto. Someday we may enlarge the porch itself, which is really quite small.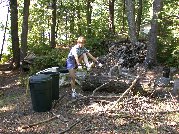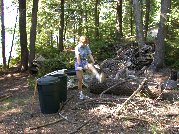 Kitty had been manually mulching while Paul did the roof. Paul caught this action shot of a "foot" rather than "hand" maneuver on slightly larger branches.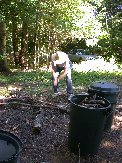 Branches too thick for either of us to break manually receive the axe - Paul gets that job most of the time.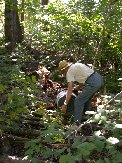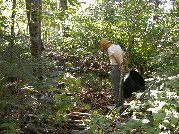 A low spot at the edge of and adjoining our property is filled in with all the manual mulching product. This way over time the area which is very swampy all spring from the melted snow and rain will eventually become soil. A definite improvement we look forward to seeing!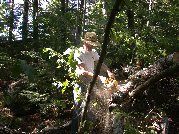 A fallen birch from about 2 years ago in an area near the road finally was sawed up; the better logs put aside for use in a planned wood stove in the living room. In addition, many broken branches in this area also were mulched and used for fill in other low spots or the large one shown above.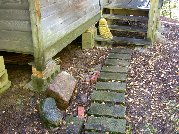 As we neared the back door from the picture taking at the mulch dump spot above near the road, Kitty spied a chipmunk. Look carefully. It always amazes us that we don't see nearly as many chipmunks and squirrels in this heavily wooded area as we do ground squirrels in our desert home in Arizona.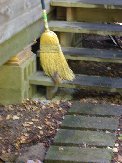 The broom held some momentary fascination for the chipmunk - though he didn't climb it. We stood very still and just waited to see what he'd do next and Kitty tried to capture him on her digital camera. In two shots, he's just a blur - faster than her camera shutter speed setting. And in the last she didn't steady herself before clicking the shutter - anticipating that he'd move again.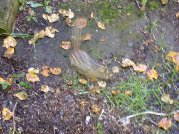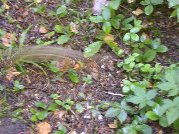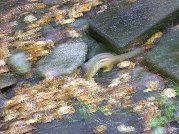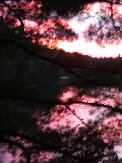 Sunset view with its refection on Little Straggle Lake through the very large pine tree in first pic above - 2 days later.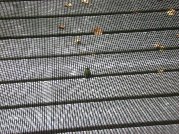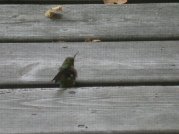 Our large glass windows and the sliding door periodically are the unintended target of birds. This time we saw it was a hummingbird when we hurried from working in the office upon hearing the sound. With its beak down between the cracks not stirring, we thought it was dead. Paul quietly ventured out and gently turned it over, in case it was just unconscious. Sure enough about 5 minutes later the bird stood up and Kitty took these two pictures - first from inside and second about 2 minutes later with the screen and door opened. But it was probably another 20 minutes before it flew away. The previous bird to make this error appeared to be a finch; he was not so lucky. The first time we saw a bird do this was in May 2001 - he recovered too.
Birds fly into the 2 largest windows in our Arizona house also, but it's always a dove - never a hummingbird - and most of these die on impact.
---

---
---
MoreLife is Always "Under Construction"
Initially posted 4/15/06
Page last updated 12/2/07
Any questions, comments or suggestions regarding the content of this website
should be addressed at MoreLife Yahoo.
For comments on webpage format, contact Kitty Antonik Wakfer