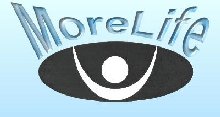 April 2006 Hike at Table Top Mountain Preserve
---
The hiking that Kitty and Paul Antonik Wakfer had done in Sedona and on the Grand Canyon south rim with Oli (Olafur Pall Olafsson) early in his visit from Iceland, resulted in plans being made to do more of it again with David/Jack Jackemeyer, Lindsey Sherman and this time also with Jack's sister, Emily Jackemeyer. Jack, Lindsey and Emily came down to Casa Grande from the Phoenix area Friday night, April 7 and after a leisurely late breakfast the next day, we all six rode in Jack's van the approximately 50 miles to the west just over the mountain edge of the greater Casa Grande valley. Then there was the 15 miles of (sometimes rough) dirt road to the trail head itself. Kitty and Paul's first trip to this area was in the winter of 2003/2004, which included photos.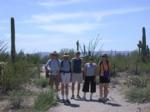 Kitty requested a group pose before we started off in earnest, expecting that there might not be a better opportunity to get everyone together at the same time. It was 1:37pm at this point with less than 4 hours remaining of good sunlight for desert hiking.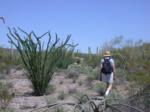 Paul went scouting around for some very juvenile ocotillo, which should be visible in an area with as many mature plants as seen here. Kitty has been mystified for years as to why she has seen so few "baby" ocotillo in the wilds.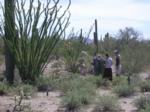 Lindsey and Jack wanted a closer look at a saguaro that "refused to die" - branches have budded despite the main trunk having been completely severed/broken in some manner.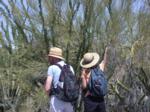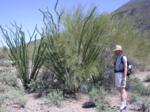 Ocotillo very frequently grow in close proximity to another desert plant, one larger that affords it some protection in its very early years. This ocotillo and palo verde (green stick in Spanish - literally "stick green") tree are the main members of a dense grouping, made up of a small saguaro (just visible behind Paul), another smaller ocotillo and a cholla between it and the larger one.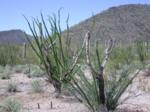 These 2 ocotillos began their lives in the protection of cholla cactus which are now just skeletons. (Small pieces of the dried woody interior have been used for decorations, sometimes even gold coated.) The foreground ocotillo is also joined by a sparse creosote bush that likely was the earliest of the 3 plants.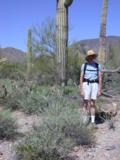 Paul takes a pause to gaze further along - and let Kitty take another picture ;>)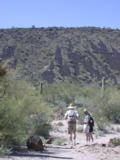 Oli catches up to Paul and Emily at the foot of hills showing much volcanic activity.
We'd been on the move for about 50 minutes with the temperature in the high-80s. The sunlight was continuous and there was almost no breeze. It was definitely warm and with our exertion now uphill, everyone (especially Oli not being used to these temperatures) was feeling it.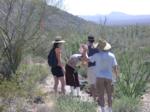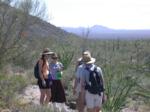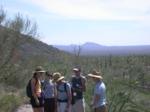 Jack had a spray bottle filled with water and upon request here gave out refreshing sprays. We each also had containers of water and made us of them too.
Fairly soon after this, Jack decided he wanted to go at a faster pace - in fact actually run. Oli decided to join him and they took off up the trail. The rest of us figured we'd catch up with them some place further along on the trail, wherever Jack and Oli decided to stop and take in the views while waiting for us.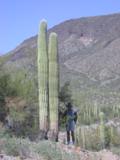 Paul took advantage of these 2 closely situated saguaros and small palo verde to take off his backpack and get some water during a pause after mostly uphill on the rough path since the the "spray down" 15 minutes previously. He occasionally expressed his strong preference that the sky be well scattered with clouds as is the common in Ontario.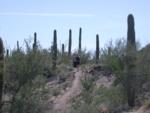 Emily and Lindsey, dwarfed by the many saguaros, converse as they walk behind Kitty and Paul up and down arroyos, but generally uphill.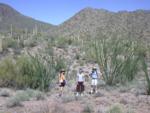 Kitty thought this stand of flowering ocotillo on a level area in our climb provided a nice backdrop for a photo of the remainder of our group. Paul thought it a good opportunity to clown around with a super jolly laugh.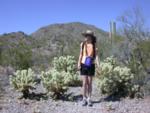 Emily let us all know that she liked Teddy Bear Chollas, but here in a stand of several, she shows a definite degree of uneasiness. Likely it's the thought of the discomfort that would result from any piece of the branches, which easily break off on all chollas, wedging itself in any part of her.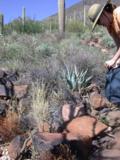 See if you can pick out the item of real interest to Kitty in this picture taken about 30 minutes further along the rough path where Emily stopped for a break. This area is much rockier, but that is no impediment to desert flora, which almost cover everywhere except the path itself.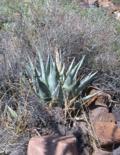 A flower stalk, resembling a giant asparagus spear, starts its rise from the center of this agave. It's a later bloomer than the Century Plant that Oli found amazing at the Arizona Sonora Desert Museum (ASDM) earlier in the week. This one will probably bloom late in the summer after rising to at least 6 feet high.
We'd been hiking steadily upward for the past 30 minutes since the flat area of ocotillos and Teddy Bear Chollas. No sight or sound of Jack and Oli, despite us calling out several times from this location. They had been gone for just under one hour.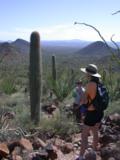 We assessed the situation which included the fact that Lindsey was feeling the heat - she'd failed to bring a hat and had consequently drunk most of her water.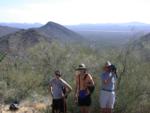 It was now almost 3:30pm and it would take an hour to get back to the van. We suspected that Jack and Oli had probably taken one of the washes (dry river beds) downward and were below us. Kitty took a last photo to mark the point of highest ascent for the 4 of us and then we headed back down - 9 minutes short of 2 hours from when we started out.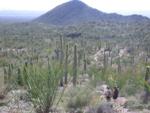 Going downhill - and back to the van where there was shade - lifted Lindsey considerably. She and Emily were far ahead of Kitty and Paul.
Paul raised the point on our exit from the ASDM 2 days earlier, that he' never seen a crested saguaro, though there were 2 of these mutations on the museum grounds itself. We'd been looking for ones with great intensity during this outing. At this point, Paul thought he spied one in the distance on the crest of a hill.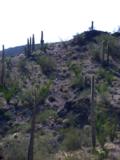 Paul wanted to be sure and decided to make his way to the group of saguaros, the smaller on the right looking very much like it is crested in Kitty's camera.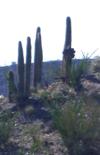 This close-up view is almost a certainty. But Paul will confirm once he arrives.

Since this saguaro is fairly short, Paul can inspect the crested top with ease.

Kitty changed her location for a better view of the crested saguaro; Paul is pleased that he's finally seen one of these mutations in the wild. Of all the saguaros we saw along the route, this was the only one we identified with such a mutation. But we'll keep looking everywhere we see saguaro, especially in great number. Next time we come here, Kitty wants to get close for better pictures.
Rather than climb back up the ridge that Kitty, Lindsey and Emily were on, Paul descended the hill and hiked along the wash towards where he thought it would cross the official path. He saw several rabbits along the way and expectedly somewhat different vegetation that benefitted from the additional water when it ran after the infrequent rains. Paul wants to include this area when he and Kitty hike to the crested saguaro on their next visit to Table Top.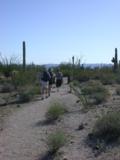 The four of us arrived back at the van just over 3 hours from our departure - just about 4:45pm. It had taken us 75 minutes to descend from our furthest point, which included the crested saguaro side venture.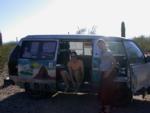 To our surprise, Jack and Oli were not at the trail head. We expected that they'd show up shortly and proceeded to use the toilet facilities (a very welcome addition to the camping area that is otherwise quite remote), and take advantage of the shade. Lindsey was able to replenish her drinking water from a container of water in the van that Jack kept for emergencies; we three had shared ours with her on the descent.
Concern by Lindsey, Emily and Kitty began to be voiced when 5:30 arrived and still no Jack and Oli. We three tried to imagine what could be the cause of the delay - verbalizing a number of possibilities including getting lost or injured. As it came closer to 6:00pm - with the sun definitely quite low in the sky - worry over the safety of the missing two was mixed with annoyance at them and concern for what we should do. We three started to discuss possible plans of action. Paul kept quiet except to say not to start worrying until 6:00pm arrived and the guys had not.
On almost the dot of 6:00pm, Jack and Oli were seen near the trail head itself beyond the parking area - and to our surprise - running side by side in our direction. We were relieved to see them, and especially uninjured, followed almost immediately with questions of "where have you been??!" Jack and Oli had climbed all the way to the top of Table Top itself and read the messages left by previous hikers. The most interesting things they saw were a very large lizard and several soaring apparent vultures. From their description, Kitty concluded that the lizard was a Gila Monster which is native in that area. Both Jack and Oli had exhausted their water before they had even reached the top. Despite that, they decided to run most of the way back, just to get there sooner. Kitty's not sure that Jack (and to a lesser degree Oli) fully understood the degree and basis for the concern and even some annoyance that we 3 females experienced and expressed at the time - it wasn't immediately dissipated with their arrival. Later conversations though did go a long way towards getting everyone's thoughts verbalized and mutual understanding was accomplished.
The ride back in the van - with the conversations on the matters just described - was halted within a couple miles of the 15 to Interstate 8. Jack stopped when he felt the steering wheel acting oddly. Sure enough when he looked out his window, the driver's tire was flat. We all emptied out of the van...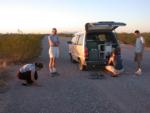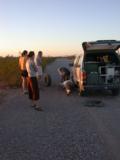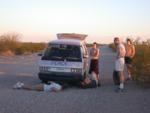 Jack, with assistance from Oli, got the flat tire replaced with the spare in less than 10 minutes as the sun sank below the horizon. This portion of the road was well maintained and made the job fairly easy.
The plans were from the start that we would eat supper (our second meal of the day) at Filiberto's in Casa Grande. It was even later than originally expected, so when our food was ready everyone was ravenously hungry. The Mexican food here is very good as well as generous, but Kitty and Paul who usually share one dinner plate had no trouble finishing that plus a single burrito. Kitty was hungry enough to take Emily up on her offer to sample her Chilles Rellenos.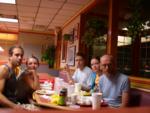 Kitty snapped this one accidentally while setting up the camera for a delayed shot.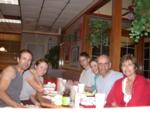 Kitty got in on this one that shows 6 tired, post-hike dirty, but now mostly satiated.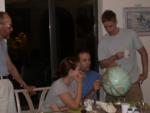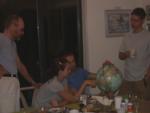 Once we got back to the house, we were ready for some mixed green-rooibos tea and ice cream over brownies. These last were made the night before by Jack and Emily for a belated celebration of Kitty's 61st birthday. After dessert, Jack made use of the globe to get a better perspective of the geographical relationship - distance and latitude - between Arizona and Iceland, where Oli lives.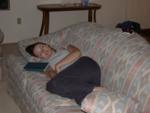 After dessert, many of us showered and changed; it was good to get the sweaty dirt off. Lindsey had laid down on the couch to read and was found soundly asleep a few minutes later - near on to 10:30pm. Since Emily had volunteered for an event the next day, and Jack and Lindsey had studies awaiting attention, Lindsey was roused within half an hour and the three were off after a very full day. It wasn't too long afterward that Oli, Paul and Kitty called it a day too.
---

---
---
MoreLife is Always "Under Construction"
Initially posted 9/6/06
Page last updated 4/16/09
Any questions, comments or suggestions regarding the content of this website
should be addressed at MoreLife Yahoo.
For comments on webpage format, contact Kitty Antonik Wakfer