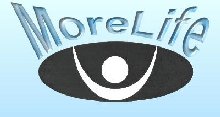 Mostly Sensation - April 21 2007 Arizona
---
In December 2006 Kitty and Paul Antonik Wakfer attended their first rave, Unity 6 in Phoenix. Long time high energy dancers, both of us are always interested in places to dance where the music is good, there's sufficient room to dance and (at least most of) the people are interested in doing just that. Kitty became acquainted with an online Arizona forum of mostly trance/techno fans and local DJs, investigating the various events and parties including some downloads of locals' tracks. The event entitled Unity 6 sounded like a good first exposure to a multi-stage in-town rave. It was definitely somewhat different from dancing in a club - the Ice House in downtown Phoenix is the remains of a once actual concrete ice house that is used for indoor-outdoor events and has a mix of low ceilinged rooms, one with no ceiling at all, a couple of patios and 2 flat open dirt areas. The 5 stages changed DJs about every hour or two and the music varied from drum & bass to various kinds of trance and techno. We only stayed about 3 hours - dancing almost the entire time - and so didn't hear but a small number of all the DJs scheduled. Some of what we heard we wouldn't pay to hear but most of it was good and lots of fun for dancing. We definitely stood out as the atypical raver, but we got several hearty welcomes, especially when I offered the information that this was our first rave. Most of the attendees were courteous to those dancing - by sitting along the walls instead of just standing in the middle of the dance area - though this decreased noticeably after midnight as the crowd increased significantly in number. Although the event was scheduled to run until 5am, we had only planned to stay until about 1am and didn't find any reason to deviate from this. It was an interesting 3 hours, and provided us with a sufficiently positive experience for trying more rave events/parties. (Web page of some photos taken at Unity 6 by professional photographer and older raver, Jonathan Steele, who goes by the pseudonym, Steele Scorpion.)
On the first Friday in January 2007, we drove out to the desert NW of Phoenix to a smaller open-air rave event - PLUR City. (PLUR is short for Peace, Love, Unity and Respect - though we think Responsibility is a better choice for the last.) Kitty took a few photos but mostly danced - carefully since small loose rocks and her style don't mix too well.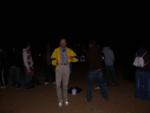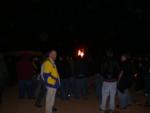 Dancing near the DJ just wasn't possible when the fire dancers got out their equipment and did their thing, so Paul just took a break.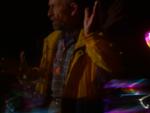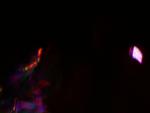 We soon both got back to dancing, but Kitty paused and caught Paul in the midst of his wild gesticulating to the music. Someone loaned him glow sticks which became mostly a blur when used with the music. The desert is cold at night in January, so fire pits are a must at these outdoor events when not dancing. However we danced almost the entire time and kept ourselves warm during the 2 hours we were there.
Two of the DJs who played at Unity 6 were Nick Synergy and Hahn the Barbarian - they were at the stage in the west courtyard and we enjoyed dancing to their offerings the most. This was, first, because the music was both energetic and melodic - consistently more than most of what we heard at the other stages - and because it was outdoors in the cooler air. (Even though it was early December, the temperature became uncomfortable when dancing in the main room with its low ceiling and many people.) Kitty discovered via the online forum that Nick and Hahn are part of a loose organization called OverMind Works that hosted a monthly dance event (called Aura) in Tempe and also some outdoor events in the nearby desert or mountain areas. (Desert raves have been going on for years in the southwest - back in NJ when Kitty was in highschool and nursing school in the early and mid 60s, they were called beach parties with music, dancing and often with what most older folks didn't want younger folks doing ;>) Kitty and Paul were very pleased with their first attendance at Aura - chuckling at having to show ID to verify being over 18 - enjoying music and the wood floor (the best for dancing that we have found in the Phoenix area) of the middle eastern dance studio where it takes place. (A few photos taken by Jonathan Steele at Aura on January 13 2007, probably the first time that we went.)
Overmind Works hosted a party, Duality - the 3rd in a projected series of 8, in the Superstition Mountains in late February (2 days before Paul's 69th birthday) that we attended on just the Saturday afternoon and evening of an entire weekend. As we explained to the group, we just didn't find camping out that much fun and preferred sleeping in a nice comfortable bed. We had a great time doing a little hiking around before sunset, dancing to the good music, and getting in a little conversation. Although Kitty took her camera that Saturday, she forgot to make use of it until after dark and then decided not to bother. We didn't attend the Overmind Works March event because the temperatures forecast for the area was to be around freezing; we'd gone to another desert rave on a very cold night and found how much of a damper really low temperatures can put on our dancing.
The photos that follow are ones Kitty took when she and Paul attended Overmind Works event Sensation, the 5th in the series, this one held north of Phoenix about 20 miles south of Payson on the Mogollon Rim, where it's still cold at the end of April.
Paul and Kitty like to explore an area - especially one we've never been to before - and so while the sun was still high (though hidden behind a heavy cloud cover), we climbed the nearby hill. Kitty took distant shots of the camping and dancing area for Sensation while always on the lookout for something interesting nearby on our hike.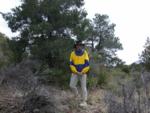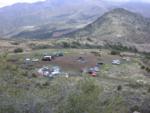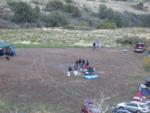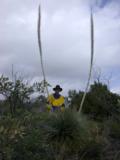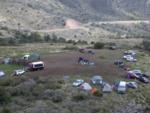 Paul calls Kitty's attention to something near his feet nestled beside tall grasses.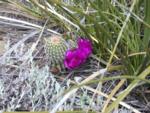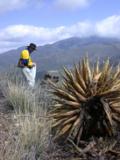 Dead uprooted agave in the foreground presents stark contrast to Paul placing a piece of trash from a previous hiker in one of the bags we always carry for this purpose. (For those who want more information on agaves and yuccas.)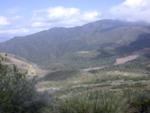 The highway (AZ 87) in the distance leads to Phoenix traveling to the right (south) and Payson to the left (north).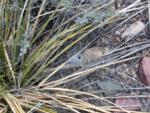 Someone walking quickly through the area can miss interesting items, like this one near the rocky ground.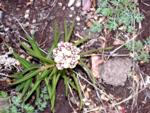 Kitty came across this very interesting looking plant near the end of the hike on the north east side of the hill as we headed back to the event site.


She had never seen one like it and has still not been able to identify it. Anyone know what this plant is??
Our hike was only a little over 1 hour but it was good to get back and do some dancing - we could hear the music again as we neared the site and were within the range of the speakers.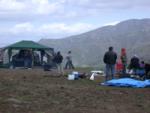 For those not dancing the air was definitely cool and staying bundled up was a necessity. The DJ tent in the background - with a generator for power - provided some cover for the DJs taking turns in keeping the music going all the time we were there, and planned for all night into Sunday mid-day. Rain the night before resulted in a delayed music start until mid-day Saturday.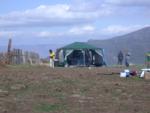 Paul found the music at this point a bit on the low energy side but that's actually not bad typically for getting warmed up.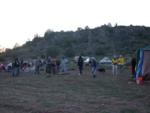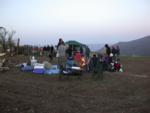 Paul and some others had no difficulty keeping warm by dancing to the good trance on this gloomy early evening as the sun fell behind the nearby hill. The rest huddled by the fire or kept themselves tightly bundled - saving their energy for later?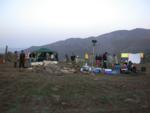 Paul was really getting into the music as the DJ taking his turn at this point picked up the energy level.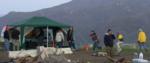 A closer look.
Kitty put away her camera at this point and concentrated on her dancing. We had begun our single daily meal on return from the hike having brought the several courses with us, including trail mix which she shared with many. Several of the attendees having seen us return from our hike told Kitty they planned to do similarly the next morning and others hoped the site would be used again in the future for a trance event when they would come earlier in the day to roam around before getting down to dancing.
Quite a few more vehicles arrived as the sun disappeared and even later. All the time that we were there, the music was good, people pleasant and mindful of others and the site, the scenery nice, acceptable temperatures, no rain despite heavy overcast - altogether a really nice trance event. We packed it in about 10pm, having been there since before 3pm, passed a couple cars on the winding road before getting to Highway 87 and then drove the 2 hours back to Casa Grande. Sensation was a success in our estimation and from the online discussion afterwards, other attendees thought likewise. We look forward to more events by Overmind Works while we're in Arizona.
A gallery of photos (169) of Sensation April 20-22 2007 are available for viewing at Psyndicate.com. If a person looks carefully, s/he can find 1 photo each containing a shot of Kitty and Paul, separately. Maybe there are more, but these 2 are all Kitty could see, and unfortunately none of her dancing.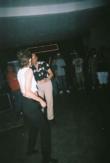 We attended several other trance/techno/rave events/parties (whatever label the producers might give them) in the winter and early spring of 2006-2007, including one on Kitty's 62'd birthday. When we left for Ontario we knew we'd miss these dancing opportunities. Unfortunately, all of the parties/events/clubs related to the types of music we like to dance to (great exercise) are currently in the greater Toronto area - a trip of at least 3 hours worth of driving. Kitty periodically searches various online groups to learn if anything is scheduled for our part of Ontario. But for now it looks like most of our public dancing will be done when we're in Arizona.
---

---
---
MoreLife is Always "Under Construction"
Initially posted 10/6/07
Page last updated 11/24/2007
Any questions, comments or suggestions regarding the content of this website
should be addressed at MoreLife Yahoo.
For comments on webpage format, contact Kitty Antonik Wakfer