Updated 6/5/10 Dancing on our stay of winter 2002/2003 was pretty much limited to what we did around the house to music either on the Phoenix smooth jazz station or our CDs. (Kitty more frequently dances spontaneously, doing much of the same type of improvisation that she enjoys in our Toronto apartment.) We had not located any acceptable dance clubs locally or even in the greater Phoenix or Tucson areas. But in December 2003, we discovered CBNC (formerly known as Coyote Bay Night Club) in the Papago Plaza in Scottsdale where on Thursday nights the music played was live from KNRJ - Energy Arizona. This FM station was a surprise find on our drive from Toronto as we headed south from Flagstaff in early December 2003. Paul spent a considerable amount of time adjusting a new FM antenna on our roof, which for a time improved our reception; now, however, we can't receive it decently in the house at all and can only receive it in the car. We miss the music at home, though, since it is a very high percentage of good high energy that was letting us get off the floor and have a good time. We had been looking forward to Thursdays, not even minding 45 minute drive to CBNC. But as is often the case in the dance club business, the attendance did not meet the owners' desires and their contract with KNRJ for live-to-air DJs was not renewed after 26 weeks; our short run of dancing there was over in early January. (Kitty commented on CBNC and dancing in response to a Morelife Yahoo post.)
To our delight we found during our 2 week check-in of the AZ house in July 2004 that KNRJ had instituted "Flux" at Sky Lounge in downtown Phoenix on Thursday nights. The music was generally more progressive (fewer vocals, a bit less melodic and without as much emotional uplift) than played during other hours of the day, but it's still all more than 120 beats per minute (bpm) and often at the 140-160 level that we prefer. We really enjoyed the 2 nights we got to join the small but enthusiastic group at this smallish club in a mostly quiet late night area. (Phoenix, like many other cities, does not have a nightclub area like Toronto - several square blocks of club after club! Unfortunately most of them are currently playing large quantities of hip/hop, reggae and a energy-less R&B.) We then had some good dancing to look forward to on our trips to Arizona. The staff and clientele at Sky Lounge on Flux nights (which we found switched to Saturday nights in October 2004) were particularly friendly and never did we see any tendency towards violence that frequently accompanies the urban genre dance clubs everywhere. In fact, Paul's 67th birthday night February 26, 2005 was spent at "Flux" and host Pistol Pete gave us a great "shout-out" on air noting the event and DJ Justin Dohman played "Heart Attack" just for us since Kitty had let it be known on the station's forum (no longer exists, unfortunately) that this was a favorite partnering dance piece for us. It would be *great* to have the local Arizona dance music fans support the station's live-to-air sufficiently so that they get other nights at clubs in the area.
The past tense "was" is used now because it was a great disappointment when we returned to Arizona in mid-October 2005 and found not only that Flux nights had disappeared from Sky Lounge, but also there were no trance Wednesday nights at NEXT in Scottsdale. We made the 45-60 minute drive to Phoenix area twice to try out a club during the last 2 months of 2005, but both were only moderate on energy. On the last Tuesday of January 2006, we tried E4 on Drinkwater in Scottsdale where one of KNRJ's (Energy Arizona's) resident DJs was playing house mixes. Unfortunately the dance floor was extremely small and the DJ's mix, which had started off fairly good, became very drum and base after about 40 minutes. Many patrons left and we too didn't find the music worth continuing to dance to. And as of Fall 2009, this club too has entered into history.
During our 6 month 2005/2006 stay in Arizona, Kitty frequently checked out the Phoenix New Times online for clubs where DJs were playing high energy dance music, there was actually room to dance and the locations were within an hour's drive. This last is not trivial since dancing at home takes no preparation/travel time and doesn't cost anything. :>) Only a few clubs were found worth trying out and none worth the time and money in our estimation for a return - until the genre played changes. So we did almost all our dancing at home those 6 months as well.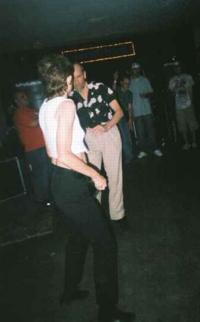 In mid November 2006 after our return from Ontario for the cold months, Kitty found a source of energy dance locations, (now defunct) forums at EDMNEX.us, based in Arizona. She now uses AZEDM.com to check on general dance events and also Phoenix NewTimes online for clubs. Since then we attended our first rave (Unity 6 held at the IceHouse in Phoenix) our first desert party (PLUR City, northwest of Phoenix with a great view of the city lights), a couple more of each since and an original monthly then quarterly event (Aura at Mystic Jewell in Tempe). All of these were full of fine energetic music, nice young people and fun. Kitty keeps up to date on regular events and special happenings; we decide based on location and type of music. As we become more familiar with the local DJs and their mixing styles, we'll know about which clubs/events we'll likely enjoy more. We have definitely looked forward to each upcoming Aura event - the music and atmosphere is super, plus the smooth wood floor is terrific for dancing. And to top it off, Mystic Jewell is only a 30 minute drive for us! While the previous owner decided not to renew her agreement with the OverMind Works (OMW) and the events ceased temporarily in early 2008, they have been back again since Fall 2008 at the (newly named) Plaza de Anaya Dance Studio in Tempe.
Despite the setback of having no Aura (and at that time no prospects for its return), the OMW crew had more desert parties planned like the one we attended in April 2007 and shown on the separate photo and description page of trance events we went to in the first half of 2007. Another photo page of dance events for Spring 2008. (There always some we miss while we are in Ontario for the summer.) A really super event in early February 2008 was Karuna in Tucson - the best music and environment for energetic dancing we had had since KNRJ stopped its Flux nights. We've also been to trance house parties and all-ages outdoor dance music events in various parks in the general Phoenix area and look forward to at least one more desert event before we leave for Ontario in late April.
Since the Fall of 2007, we've found a few clubs for dancing - ranging from OK to good - and hope to become acquainted with more. For a few months we found BarSmith and Burn on Washington in central Phoenix with their moderately energetic music on Saturdays - house in the former and pop dance in the latter - to be worth the 50 minute drive. Homme Lounge (both downstairs and upstairs) up on Camelback was sometimes a good stop when we were dancing in Central Phoenix. But by January 2008 we found that we got more energetic dancing more often on Wednesdays at a Latin club on McDowell & 16th St, Karamba, followed by Switch Wednesdays at Cafe Carumba in Scottsdale (mostly house but sometimes break beats). We'll note other clubs in the future we find to be good. Of course, clubs change managers and/or music genre so a venue can't be counted on to remain good in our view. And even ones that weren't worth it at one time may improve - in our estimation. Even good ones disappear as general popularity changes, clubs "disappear, or DJs "retire"/"move-on". As of Spring 2010, only Karamba in Phoenix remains (after more than 5 years!) with its good disco-era dance music on Wednesday. Switch Wednesdays with DJ Tanzit too, unfortunately, has gone into history - maybe someday to be resurrected.
High energy dancing - at home and/or in clubs/parties/raves - is great for the body and the spirit; we recommend it for all ages!