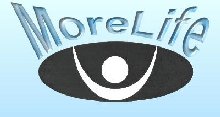 November 8 2008 - Harmonic ConcorDance2 (Psytrance)
---
We (Kitty and Paul Antonik Wakfer) really looked forward to this event taking place the weekend after our arrival back in Arizona. Our 6 months in rural NE Ontario are devoid of any public dance opportunities, and we'd been disappointed to still being north when a September event occurred.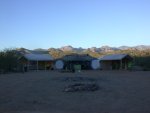 There's no sound on this page - and Kitty's camera has no audio pick-up - but there was a DJ playing during this early hour of about 4:50pm, as the sun falls behind some of the peaks in the Superstition Mountains, site of Harmonic ConcorDance 2 put on by OverMindWorks. At this hour, attendees who had arrived were mostly setting up tents further beyond among the mesquite trees, exploring the area, getting some food and/or naps. There were some like us who were one-afternoon/night attendees only, not campers for the weekend, and would be leaving after how ever many hours we individually could manage ;>)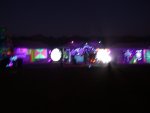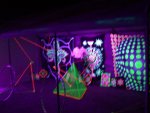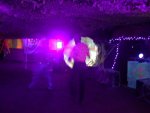 The visual effects of black lighting and video by "visual navigators" adds a great deal to the dancing enjoyment if the music is good - and it was!.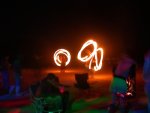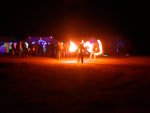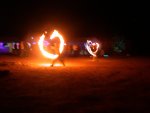 Fire dancing is a big favorite at desert dance parties/events - both by the dancers and the viewers. Some of the dancers are still new at the art and get lots of encouragement from the veterans as well as their viewing-only friends who are not tempted to take up the flame.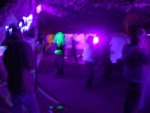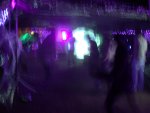 Close into the DJ booth things get a little busy at times with dancers and those who want a close look at the DJ "at work" or to signal "good job".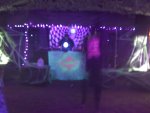 But Kitty managed this one of Paul in front of the unobstructed DJ booth, about 11:40pm and of Spyder, doing his thing. And he is among the very best - we really enjoy his selections for musicality and energy.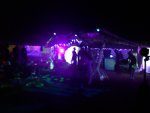 Plenty of dancing with Spyder putting out the music.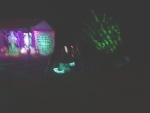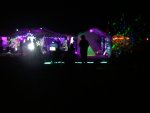 The video jockeys (VJs or video navigators) had their own "booth" - off to the side where they operated their computers for selections of (mostly) their own creations to accompany the music in a visually pleasing manner. And it works very nicely too, when the visual artist is accomplished at hir craft.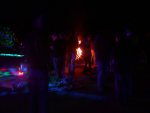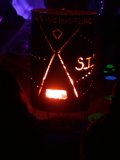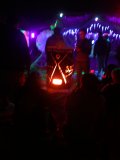 When not dancing, the only way to keep warm on a late Fall night in the desert is to be near a fire. This event had decorative fire barrels (torch-cut 55 gal drums), courtesy of Yardz and Stage 6 Productions.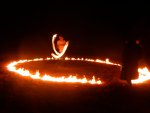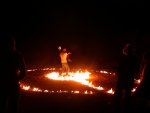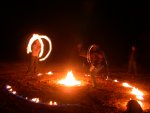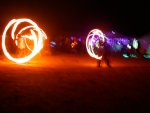 More fire dancing - with a bit of ringed showmanship for more "oohs" and "aahs". The Stage-6 Productions crew really know how to do it - and here they're only practicing!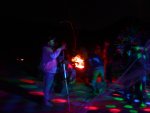 Attendee Mitch took great pleasure in capturing much of the event on pictures. While noting Mitch's tripod, Kitty was reminded (once again) that she really needs to locate one since taking delayed shutter photos without one is prone to the jitters.... But Mitch didn't get the shot of the ember flying out of the burn barrel beyond him, that Kitty got here.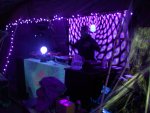 Spyder is nearing his 2 hour set - a great one. Kitty did get in plenty of dancing too between photo shots - scenes that just begged to be recorded...;>) And she didn't get all of them - like the hula hoopers, several great ones among the attendees.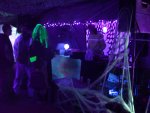 Nick Synergy provides the music as Spyder (on far left) manages to chat some with attendees. And there are those locks again on Nyogen - just love them...;>)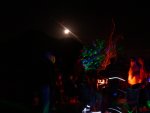 Last of the photos Kitty took - which was at 1:47am. That made it the latest desert event we'd stayed at to date. Hated to leave when Nick was doing a great follow-up to Spyder's set. But we'd been there since about 3:00pm and we still had just over a 50 minute drive home. So about 2:30am we left the die-hards who would be there till after sun-up, most having taken naps at some time during the night and then breaking camp around noon. Great event! As usual, we look forward to the next one ;>)
Video taken by another attendee at Harmonic ConcorDance2.
---

---
---
MoreLife is Always "Under Construction"
Initially posted 3/20/2009
Page last updated 3/20/2009
Any questions, comments or suggestions regarding the content of this website
should be addressed at MoreLife Yahoo.
For comments on webpage format, contact Kitty Antonik Wakfer