Paul & Kitty's Dinner Course
---
5/15/10 Note: This page contains the information regarding dinner when Kitty and Paul Antonik Wakfer were consuming 2 meals, and before that 3 meals, daily. Kitty is gradually making changes in various places to bring the information up to date in the sense of present and past. However, for more on the current meal practice of 1 meal daily on 2 out of 3 sequential days, please see our Diet Regimen page.
---
We originally said that we eat "Sunday Dinner" every day, but for many people this means lots of meat and potatoes. The "main/dinner course" for us consists of fish, meat, beans, eggs or cheese (and sometimes a combination) and 3 or more vegetables. When we reverted to 24-hour days in May 2005 and were consuming 3 meals, the sizes of our dinners decreased noticeably from many of the portions shown below which were photographed previous to that time. This decrease was made because otherwise we found that we were not hungry for a 3rd meal with its accompanying set of supplements/chemicals. However, in January 2006 with our change to 2 meals daily, and the dinner 7 to 9 hours after breakfast, the serving sizes shown became pretty accurate. With our current practice of eating only 2 days in every 3 - and earlier with only 1 meal daily - some of the portion sizes shown in the photographs are actually smaller than what we consume in this course of our extended meal.
Typical meals:
Using Salmon
Poached Chili Peppered Salmon with onions, garlic slivers, green/red/orange/gold peppers, zucchini, mushrooms, and yam all topped with fresh chopped cilantro and tomatoes (canned if no fresh). For convenience and reducing heat, the yams are cut in pieces and added to the lightly browned salmon covered with slivered garlic, along with the onions and peppers; lastly with zucchini, mushrooms, cilantro, and chopped tomatoes. Sometimes we add bean sprouts for the last few minutes. While in AZ we tried adding tomatillos (green tomato-like) and/or nopalitos (young prickly pear cactus pieces) and found both to be very tasty. This particular salmon dinner included cauliflower and cooked fresh spinach which were heavily sprinkled with lemon. (Click on photos to enlarge.)

The salmon fillet below is sufficient for only 2 meals for both of us and is shown before being covered with peppers, zucchini, mushrooms, cilantro, and tomatoes. In late December 2002, we started purchasing fillets cut from just in front of the dorsal fin because of the higher lipid content there as opposed to the tail region seen in these photos.R


A variation of the poached salmon we found to be delicious utilizes tomatillos and nopalitos to all or most of the vegetables in the above recipes.

The first meal is as we've always had

but the leftovers have sometimes been treated a bit differently since our stay in AZ. At those times we eat them as a fish chowder with a smaller amount of the salmon augmented with beans, typically over broccoli. Sometimes the beans may be garbanzos (chick peas) - which we like in various dishes and just plain - or more recently, pinto beans which are the makings of refried beans. Kitty likes to add salsa to her chowder, while Paul enjoys the flavor without any additional seasonings.



Kitty's cousin Joanne in Maine shared her recipe for marinated salmon which we had the pleasure of enjoying during a visit in early November 2003. We modified the ingredients slightly to fit what we had on hand (and Kitty's preference for acid tastes) and found it to be delicious.
1T olive oil, 2T wine vinegar, 1/2 t each of rosemary and thyme, 1T diced garlic; pour over salmon fillets (or steak) and refrigerate for at least 4 hours. Sometimes Kitty just spreads garlic paste directly over the salmon before putting it into the marinade, minus the diced garlic. Fry steaks on moderate heat till just done - flakes easily. We prepare and cook enough for 2 meals (total 1 lb). The photo is Paul's serving at ~.3lb of salmon. We've enjoyed this taste of salmon so much that we used it exclusively during our winter 2003/2004 AZ stay.



Another version of poached salmon we have been having even more of since Fall of 2004 is done using "achiote". Kitty found in Toronto's Kensington Market a source of "achiote" - a spice she was introduced to way back in the early 1970s by a co-worker who's husband was Puerto Rican. This red seed produces a very pleasant flavor to oil when a dozen or so are heated in a source like coconut and then used in rice and bean dishes. (Achiote is also used as a "natural" coloring agent in many commercially sold foods.) In Kensington Market (and later in Casa Grande AZ), we purchased a pressed condiment paste that is chiefly achiote (also called annatto) and liquify it with olive oil and vinegar, marinading salmon before browning. Peppers, onions and mushrooms also take on a same delicious flavor when added to the meat. Achiote is mild, not hot spicy, and a very nice change from other spices. (Kitty strongly recommends using an apron when cooking with achiote since its red color will stain fabrics.) An online source for achiote paste.
This series of photos gives a view of the preparation of a variation of salmon fillets using achiote for seasoning.

After about 25 minutes on low simmer, our servings of salmon (Paul's in the foreground next to the stove) are done; the skillet holding still enough for another meal has also saved considerable cooking time.



Poached salmon can be varied numerous ways. Kitty almost always starts with lightly sauteing onions, garlic and sliced carrots. Any number of various fresh vegetables can be added depending on availability. We always have cabbage (often both purple and green) in the refrigerator because it keeps so well. Mushrooms are frequently plentiful on our property or within a short walk and add great flavor to salmon - and everything. (Foraging mushrooms) This main course salmon was accompanied with additional onions and mushrooms, steamed swiss chard, and quinoa with garbonzos, green peppers and slivered beets.
Later the same month a different variation of poached salmon, again with some red cabbage added and the regular carrots (onions, garlic, wild mushrooms, bell peppers too), includes rye noodles boiled partially first. Coincidentally, red chard was also part of this meal - it's available in good fresh supply.
Paul gave a high score on this meal too ;>)



Kitty decided to try something different with salmon in the Fall of 2008, when we were back in Arizona and had Lee Lee's Oriental Market available where, in addition to being the location for buying wild salmon cut in half (lengthwise) and frozen - a very economonical purchase - it has some very interesting unusual ingredients readily available. A marinade was concocted from ideas Kitty found in recipes on the Internet:


~2 tsp tamarind paste
~2 tsp olive oil
1 cube frozen finely chopped cilantro (sold in Trader Joe's)
~1 tsp frozen chopped lemongrass

The meal size portions are marinated in the above overnight (though as little as 4 hours has worked too when Kitty forgot :) Once the onions, garlic, peppers, mushrooms and any other additional vegetables desired are lightly sauteed, they are removed from the frying pan. While the salmon is being lightly sauteed, the vegetables are added to the marinade and stirred around for full covering. When the salmon has been lightly sauteed on all sides the vegetables are poured over the pieces, the pan covered and temperature turned to just above warm to complete cooking at a low temperature - 20 mins is generally sufficient. The flavor is just delicious and is currently (as of date of this page) our favorite way to have salmon.


Roaster pan baked salmon fillets worked out very well, as Kitty discovered in November 2008. We regulary purchase enough salmon fillet (with skin of course) to make 6 meals. And a quinoa stuffed acorn squash baked in the pan at the same time - economical and time-saving.



Canned salmon can be used in a variety of ways and is of comparable nutrient value. A variation of lasagna was created using rye noodles, flaked canned salmon, parboiled red & green pepper, caulifower and brussels sprouts, and cottage cheese in 2 layers with sauce over each. Store-bought spaghetti sauce (one without added sugar and with extra virgin olive oil - recommended: Private Selection brand Tomato and Basil marketed by Fry's for its also low cost) works very well; after about 20 minutes in a medium oven, a topping of sliced cheese is added and a bit more heating till melted. This size makes at least 6 servings for us.



Canned salmon was added to sauteed onions, garlic, bell peppers, broccoli and then our recommended store-bought spaghetti sauce store brands (no sugar added, contains olive oil and is inexpensive.)This time we had it over rye noodles but on other occasions we eat it atop spaghetti squash (cooking directions). Paul did the cooking of this sauce.



Using Other Nutrient-dense Fish





Paul's serving along with julienned beets and beet greens.



In 2008 we began trying frozen fillets of other fish just for a bit of a change. Poaching fillets of haddock (after thawing the 400 gram package) is simple. Onions, garlic, carrots and green peppers are lightly sauteed in olive oil, the fish then added with any previous vegetable water, liquefied dehydrated onion broth, or even water used to hydrate dried shitake mushrooms. (We use virtually everything! :) Everything was delightfully done about 20 minutes later (during which time we were eating our smoothie and cocoa yogurt course) and the course completed with red chard and salad.

Another method of preparing frozen fillets is to bake them covered at very low temperature (200F). 400 grams of cod fillets (still frozen - a bit of the white fish visible at front of glass dish) are covered with sliced onions, garlic, carrots, zucchini, and peppers then smothered in foraged wild puffballs. Everything was well sprinkled with rosemary, thyme and sage before placing in the oven.
All was done in about an hour. Freshly cooked beets, and steamed broccoli and cauliflower completed this dinner course (Paul's serving shown). About 100 grams of fish and portion of vegetables were saved to be part of a leftover meal.






Other Seafood
While cold water fish are the most nutritious because of their high levels of omega-3 oils, seafood in general is a good alternate protein source from land-based animals.
Seafood Stir-Fry (low temperature) is one of our favorite non-meat meals. The standard seafood is always shrimp and scallops, but we have also included mussel meat, fake crab, and even squid (though Kitty is not fond of this last). A wide selection of vegetables is used, and sauteed first in olive oil along with mushrooms; soy sauce is used moderately. The vegetables are removed and the seafood very lightly sauteed with soy sauce. The crunchy vegetables are then returned to frying pan and any greens (kung or bok choy - even spinach - are good ones, cut into strips) are then added along with bean sprouts for few minutes. The preparation of the vegetables (and shrimp if needing deshelling) takes longer than the cooking itself. But the amount prepared is for 2 meals for both of us; the uneaten half goes into the freezer for about 3 weeks later.
Using Legumes (Beans) and Grains
Updated 5/15/10 With our 2010 emphasis on low methionine as part of our already low protein, low calorie dietary regimen, we have been making even more use of various legumes - especially those that are lower in methionine.
Shredded Baked Spaghetti Squash (cooking instructions) topped with marinara (tomato) spaghetti sauce containing pre-cooked beans (or leftover meat), sauteed onions, peppers, and mushrooms, topped with generous amount of shredded parmesan or other cheese; broccoli crowns.



Skillet Vegetable Bean Lasagna - layers of thinly sliced raw eggplant, cooked remaining buckwheat pasta (~2 oz), zucchini, onions, peppers, cooked spaghetti squash, tomatoes, mushrooms, tomatillos, cooked pinto beans, prepared spaghetti sauce, cottage cheese, Manchego cheese (Mexican), and grated Parmesan cheese. This was an invention with only the foresight needed to purchase the eggplant and spaghetti squash. It was simply delicious - good enough for company dinner :>)



Also see soup recipes provided under Supper. These (or variations) have been "turned into" main meals by serving over quinoa, sprinkling generously with parsley and accompanied by baby greens and/or another highly colored vegetable.
To the left, black bean vegetable stew over quinoa is accompanied by leftover cooked beet greens and fresh baby greens.



Another variation of vegetable stew is done in the skillet and includes precooked garbanzos topped with cheese and parsley. A shared bowl of baby greens are typically a regular dinner accompaniment, sometimes dipped in humus on the way to our individual mouths.



And still another non-meat stew is lentil-black bean vegetable accompanied by avocado and baby greens.



New 5/13/10 Legumes can be delicious too as a cold main dish. We took advantage of a sale on canned chickpeas (garbonzos) and lentils - stocked up on several of each as well as black beans.
About 1/2 can of each was added to chopped onion, red & green peppers, zuchinni. A garlic & dill yogurt sauce was prepared separately and then added to the legume/vegetable mix.
The combination was placed on a bed of romaine, purple cabbage, parsley and brocolli, surrounded with cold asparagus, cucumber slices and avocado. A shared slice of Dimplfmeier sourdough rye bread accmpanied the legumes to make a complete protein.
Paul was anxious to get started on it but held off till Kitty took photos.



New 5/13/10 A few days after the immediately above meal, we used up the started cans of chickpeas and lentils in another salad.
Using Poultry
Chicken (free-range) whole legs with slivers of garlic and/or lemon slices under the skin of the chicken pieces before lightly browning and then poached in a large frying pan with quinoa, slices of onion, pieces of yam (or squash or turnips), and fresh mushrooms. Cumin is the dominant spice used in this meal but a combination of thyme and rosemary is good too. (Click on photos to enlarge.)
Kitty really likes heavily "lemoned" chicken and eats most of the cooked lemon slices - sometimes rind and all. Cauliflower greens and broccoli were the accompanying vegetables at this meal with a bit of quinoa a regular, instead of rice, white potatoes or pasta. Our home-made cranberry-raisin sauce was added at the table. This plate was Paul's; Kitty only eats the thigh at dinner and saves the leg for a "supper protein".



Chicken thighs and stuffed mushrooms topped with peppers and tomatoes fill this skillet and is a delicious meal. The very large mushroom caps are filled with chopped onions, zucchini, mushroom stems and parmesan cheese.




Another way of cooking the chicken legs we enjoy is without the lemon and quinoa; instead using peppers, tomatoes and cilantro instead. Delicious!
In any version of skillet chicken, Kitty recommends adding about 1/4 cup of water (increase to 3:1 if using quinoa), sprinkle with what spices you favor, cover and let simmer for about 45 minutes or till no blood runs when meaty part is pierced. This is really delicious no matter which variation is chosen.



Turkey is definitely a favorite and especially when we have a whole bird since Kitty loves stuffing. See recipe. Using a covered roasting pan ensures a moist but still browned turkey with scrumptious flavor.



New 5/15/10 Utility turkeys (ones that are less than "perfect", missing a wing or possibly a leg) are occasionally sold in supermarkets in Bancroft Ontario and if it's not too late in our 6 month stay, we buy one around 10 to 12 lbs. A very economical way to enjoy turkey which is a good buy most any time. The entire tukey was baked in the roasting pan, as others previously, and on one of the frequently cool days in the summer up north.
September 2009 we were having one of the last of the meals from a buy in July. A large quantity of wild mushrooms with onions and peppers accompanied the turkey, stuffing, peas and yam - an early Canadian Thanksgiving (celebrated in mid-October).



Several whole chicken legs or 2 to 4 turkey thighs are easily done in a covered roasting pan. Smearing the meat with miso prior to cooking results in it being deliciously flavorful and tender. We typically add whole carrots and onions to the roasting pan and serve with green vegetables cooked and/or raw. Instead of miso, the use of a thin paste of achiote makes for another delicious roasting pan chicken dinner

With the abundance of wild mushrooms in Ontario, we forage often and use them generously in most main courses. The chicken quarters (spread with miso) are not even visible under a multitude chanterelles along with onions, garlic and green peppers prior to slow covered roasting in the oven (~220F for ~ 4 hours). Kitty's serving of chicken (smaller quarter), carrots, onions and wild mushrooms is accompanied by kale; and she is very fond of Paul's cranberry-raisin sauce.


When we changed to 24-hour days in May 2005 we also reduced our meal sizes (still for many months 3 per day). Dinners then sometimes became a large salad with leftover chicken or turkey even during the cooler months. This one the day after Thanksgiving in 2005 was perfect!



Leftover chicken and hardboiled eggs with lots of vegetable variety and good selection of greens, or at least romaine lettuce, makes for a delicious main course in our single meal daily.
Paul helps himself to generous portion of his own salad dressing creation which uses a plentiful amount of extra virgin olive oil.


Using Other Meat Including Organ Meats

We find pork much more flavorful than beef and enjoy it as chops, roast or stew meat. We typically cook with onions, garlic, green (sometimes red) cabbage slices, sauerkraut, and yam or squash pieces. To the left, tomatoes were also used with the stew meat and is served with broccoli crowns, cauliflower, and unsweetened applesauce. With this frying pan method, after first searing the pork to generate a bit more flavor, we poach the meat/cabbage/sauerkraut combination on low heat using a small amount of water (no cooking water is ever discarded).

When we use oven cooking in the cooler months, we reduce acrylamideR1, R2, R3 formation potential (and produce deliciously tender pork roasts) by using covered roasting with slow low temperature (300F). (We used aluminum foil for the pumpkin-ringed roast in this photo but purchased a covered roasting pan soon afterwards for use in AZ.)

The more typical roast pork dinner cooks up deliciously at the cottage - and warms the rooms at the same time in late Fall. Kitty's plate of pork, sweet potato, cabbage, sauerkraut, carrot, mushrooms, onions, green beans and broccoli - applesauce was added later.

Pork chops on sale were braised in frying pan with onions and peppers. The yam was baked foil-wrapped in the toaster oven resulting in a mouthwatering treat. Details for getting the perfect baked sweet potato ("yam").



Organ meats are included in our diet on an irregular basis - more like when we're in the mood for liver (beef or pork), kidneys (beef) or beef heart, or the chicken hearts described further below.This beef liver meal was delicious - Paul does it just right. And it was very inexpensive - the 1/2 pound of liver had been marked down by a CN$1 so that it cost only 34 cents! The yam, spinach, bean sprouts, peppers, onions and mushrooms brought the total cost to less than CN$3.00 for both of us. There was so much food that Kitty could only eat 3/4 of what was on her plate, putting the rest away for a supper meal a few days later.


A "find" in the Casa Grande Arizona local Food City has been packages of solely chicken hearts - something we never see in the supermarkets in which we shop in Toronto. (USDA report - chicken hearts) We purchase enough for 3 meals (~0.6 lb per meal for both of us, since they do cook down a bit) and saute all of them (sometimes cut in half) with onions and garlic. Sometimes in the initial cooking we add one meal's worth of quinoa and leave it in the mixture for that day's meal. After removing 2/3 of the chicken hearts (plus onions and juices) which we package separately in the freezer for later meals, we then add other vegetables and spices depending on our mood and availability. We choose from the vegetables used in the above meals and have found that generous use of thyme with the combination is just delicious.
Two vegetable items easy to find in many Arizona supermarkets, but not quite so in other places Kitty has looked, are tomatillos and nopalitos. The former look much like small green tomatoes and add a bit of sour taste to a recipe. They are typically sold with a natural paper-like covering that is removed either at the store - to ensure that the fruit/vegetable is ripe but not spoiled - or just before washing prior to chopping and cooking. Tomatillos are also the basis of green (verde) chile salsa. Nopalitos are the young pads of prickly pears with their needles removed and ready for cooking. They can be bought already cleaned, chopped and in bags but are a bit pricey this way. The inexpensive route is to buy - or even cheaper, to pick - young pads and remove the needles yourself. Kitty tried this many years ago, doing it over a flame as she was instructed by a "veteran"; she's really not keen on doing this again despite having many plants in the yard.


Using Eggs

Eggs are periodically a main meal for us. Paul makes a mean omelette with various vegetables and cheese. This one has 5 eggs, onions, garlic, zucchini, bean sprouts and spinach. No attempt is made to brown this thick omelette on both sides - just cover and cook on medium heat till egg white is firmly done.



This 4 egg omelette contains a lot of spinach, small amount of bacon and fair amount of cheese (cheddar, swiss and also some shredded parmesan). Onions, garlic, red pepper and mushrooms are included too. This meal was rounded out with a shared sprouted grain tortilla, salad, pomegranate/pineapple juice and our supplements (pills and "cocktail") of course.


Another egg main dish we found during our winter 2003/2004 stay in AZ to be really good was a fritata - a sort of baked scrambled egg with vegetables. The one pictured has layered partially cooked eggplant, zucchini, onions and peppers and was heavily covered with cheese. We added broccoli and refried beans to complete the meal.



A variation on the fritata can be done in the frying pan. All the vegetables (eggplant, red chard stems, peppers, broccoli, foraged mushrooms, onions and garlic) are gently sauteed till slightly tender - thyme, rosemary and turmeric added.
4 beaten eggs were then added and the mixture stirred just a bit to distribute. The contents cooked covered on low setting (2) until egg could be seen as set, then cheese and thick slices of field tomatoes (aka beefsteak) were added and allowed to warm. It was delicious and this full amount made for a partial leftover meal too. The main course included red chard and our much enjoyed tomato kimchee.
Another fritata meal with the cheese, cut into small cubes, cooked in with beaten egg gives it a slightly different taste.



In early 2008 we decided to eliminate most omelettes and instead cook the eggs and vegetables as scrambled. This reduces the formation of advanced glycation endproducts (AGEs) that we ingest because the cooking is done at a lower temperature - the eggs do not brown. (For more on cooking temperatures.) This particular dinner, was especially colorful due to the shredded raw beets and spinach that were included in addition to 2 slices bacon (chopped), onions, garlic, peppers, broccoli and cauliflower.



A pleasant variation on scrambled eggs is the addition of scallops (in this case) or shrimp as we have done other times.
Among the vegetables can be seen the shiny small white scallops.The full main course consisted of beet greens, salad and rye toast in addition to the scrambled eggs with scallops and vegetables. We very much enjoy eggs with some tomatoed kimchee (in container above knife and fork), which we produce ourselves using both spicy and regular purchased kimchee and adding tomatoes stewed with zucchini and greeen pepper.



As part of our practice to cook eggs in ways that minimizes formation of AGEs, we've been poaching instead of frying them. (We also occasionally soft and hard boil them too, in addition to lightly scrambling.) This main course we enjoyed the poached eggs over grilled cheese with tomato open faced sandwich accompanied by refried black beans, sauteed wild mushrooms, onions and green and a multi-vegetable salad. Paul adds some tomatoed kimchee to his eggs. We've found an easy to poach eggs is to use small (sold as disposable) aluminum cups in a frying pan of water. This method allow us to get 5 eggs done when poachers we saw are only for 4 eggs.


Using Cheese

There is plenty of protein in our entire multi-course meal (and we have purposely reduced it), so that simply the amount in approximately 40 and 30 grams of cheese, Paul and Kitty respectively, plus the smaller amount in the barley is sufficient for this course. Quinoa is also a good replacement for the commonly used rice and wheat pasta.



Cheese is often used as an addition to leftovers to make them a complete main course - ie. cheese melted over leftover creamed tuna, originally over steamed vegetables, now on a bed of rye noodles, sometimes with tomatoes stewed with zuchinni and green peppers.
---
2005 Thanksgiving Turkey (free-range) Stuffing
We ordered a free-range turkey at Sprouts Market in Chandler Arizona where we do much of our bulk food and produce shopping. All the giblets in the 14 lb bird were present and Kitty cooked them as follows:
giblets and neck, reserving liver till later
1 medium onion chopped in large pieces
2 medium carrots chopped in large pieces
1 stalk celery cut in half
~ 1/2 tsp each rosemary and thyme


Place in pressure cooker with 3 Cups water. Cook at 10 lb pressure for 20 mins. then remove from heat and reduce pressure slowly for 5 mins., followed by rapid pressure reduction under water. Remove lid only when pressure has been reduced. At this point, neck is easily falling apart and gizzard is easily pierced with fork. Return pot to stove, add liver and cook approximately 20 mins or until liver is done. Put broth with giblets aside.
1 lb loaf of European sour dough 100% rye bread, cut into small cubes
~1/2 C assorted nuts (pine, filberts, walnuts) ground
~1/4 C hemp flour (could have used ground extrusions but wanted to use older flour)
Place in bowl or soup pot large enough for mixing.
Saute the following in 1T olive oil over low heat:
1 med onion, finely chopped
1 clove garlic minced
1 large stalk celery, finely chopped
6 med mushrooms chopped
1 t ground rosemary
1 t ground thyme
1/2 t ground sage
1/8 t pepper
Mix sauteed items well with bread cubes, nuts, flour.

Put cooked giblets and vegetables, and meat from neck through a fine meat grinder and into bread cube mixture. (We put a piece of bread to the grinder at the end to help get all the meat out.) Stir till well combined adding additional broth as needed for desired degree of moisture.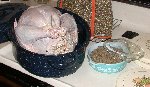 This stuffing was definitely different than any Kitty had made in the past but it was also definitely delicious. There was enough to fill the cavities of the 14 lb turkey and "overflowed" into a small casserole dish.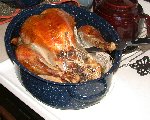 The stuffing and meat freeze well and tasted just as good when thawed and warmed. We made several freezer bag packets containing white and dark meat, stuffing and cooked yam for later meals. In addition Kitty skillfully removed the entire untouched breast and thigh which she placed in a freezer bag along with a generous amount of stuffing. All was thawed for the main course of our 2006 New Year's Day dinner enjoyed with two friends - they liked it very much and we thought the stuffing was even better than at Thanksgiving.
We modified the above recipe for Thanksgiving 2006 by using cooked barley in place of all but 2 slices of rye bread. The only rye bread we had was the 2 pounds of delicious Rudolph's brand we had brought from Ontario and didn't want to use it as stuffing. The barley based stuffing was so good that we'll likely do it again as regularly instead of using just bread.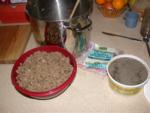 Our 2007 Thanksgiving turkey stuffing was only slightly modified from the recipe for 2006 (which was a slight variation on the 2005). This time all but 1 slice of 100% sour dough rye was used along with 1/2 C cooked barley. All the same spices and ground giblets (Kitty wouldn't think of making stuffing without giblets) and the vegetables that were cooked along with them. The stuffing in bowl in photo has just been completed - mixed in the large soup pot - and was refrigerated until the next morning when stuffed into the turkey cavities just prior to placing the turkey in the covered roasting pan. About half was used in the turkey and the remainder baked in a covered dish moistened with some of the giblet broth (in photo at right). The 13.8 lb turkey was done in 5 hours with temp at 300F and looked just as beautiful as previous photos. All the turkey and stuffing leftovers (except 1 serving given to our guest for an additional meal) were separated into meal size for the 2 of us and then into freezer bags with some pan drippings. The remaining combined pan drippings and giblet/vegetable broth was frozen and will be the base for a turkey vegetable barley soup - all the bones from the carcass were also frozen away and with the meat left on them will make for a great soup. There's very little that we throw out. ;>)
---
2001 Christmas Capon (free-range) Stuffing
The free range chickens we buy from our butcher do not generally come with giblets, the very basis of the stuffings both of us enjoyed since our childhoods. Therefore, Kitty looked in our neighborhood grocery store and quickly found a package of turkey livers and hearts (3 each!). When she examined the capon (6.5 lbs), she found that the neck was intact - so she cut it off - and that there was a plastic bag containing a liver inside the cavity. She now had more than enough, though she would have liked to have been able to include a gizzard. The recipe:
3 turkey hearts
1 capon neck
1 small onion chopped
1 carrot chopped
1 stalk celery chopped
Enough water to cover the above
Add the following when the hearts can be pierced easily with a fork. Cook another 5 min and turn off heat.
1 capon liver
3 turkey livers
Put broth with giblets aside.
2 slices each of 2 different 100% rye breads, 1 being a mix with flaxseed
3 slices of white sourdough bread
Cube the bread and place in bowl large enough for mixing.

Saute the following in 1T butter:
1 med onion
1 large stalk celery
3 med mushrooms chopped
approx. 2T parsley chopped
1/2 t ground rosemary
1/2 t ground thyme
1/2 t Turmeric
Mix sauteed items with bread cubes.

Put cooked giblets and vegetables, and meat from neck through a fine meat grinder and into bread cube mixture. (We put a piece of bread to the grinder at the end to help get all the meat out.) Stir till well combined. We estimate that this made enough to stuff a 10 pound turkey since there was a small casserole dish full in addition to that in the cavities of our 6 1/2 pound capon. This stuffing has a more liver to bread ratio than any of ones eaten in the past and a result is much higher in protein.
---
Cranberry-Raisin Sauce - easy as can be!
Paul's been making this no sugar added cranberry sauce since long before Kitty came along, but now it's a staple with all our poultry. And it's yummy!
300g bag of frozen cranberries (~1.5C) - but we use fresh when they're available
1/3 C water
Bring to boil and then simmer gently until all are "popped", which takes longer when they're frozen of course ;>)
150g dark raisins (~1C) added to "popped" cranberries
Mix well and add a little more water if necessary to keep sauce consistency; dryness of the raisins will greatly determine the amount needed. Simmer on low for ~1/2 hour; this allows the sugar to "come out" of the raisins and mix with the cranberries.
This sauce is on the tart side, but that's the way we like it. Even if someone still has a "sweet tooth", he/she can learn to shed it when the non-value of even moderate amounts of processed sugar is understood and alternatives like this one are used.
This sauce makes a terrific topping for vanilla ice cream. Absolutely delicious! So enjoy an occasional ice cream sundae with a minimum of sugar and no artificial sugar substitutes either.
---
Some More Nutritious Main Meal Ideas
See the comparison table of Nutrient Dense Fish to help make informative choices.
---
Meats and fish are cooked with a small amount of water and the juices used instead of any flour or corn starch based gravy.
Fresh lemon is squeezed over fish at the table - no tartar sauce is used.
Miso is a delicious fermented soy product (we prefer one made also using barley) that can be added to the meat drippings or earlier in the cooking stage for a delicious flavor. We made a point to bring it with us to Arizona in January 2005 and have been enjoying it immensely with chicken and pork.
Another spice option with a bit of pep is chipolte sauce - a type of barbecue sauce used by some latin cooks; it's especially good on chicken but would likely be very tasty on pork or beef.
Achiote is a real favorite spice for our salmon - see description on salmon; it also works well with chicken and we imagine it would flavor pork and beef nicely also.
---
Rice and wheat pasta are never eaten at home and white potatoes extremely rarely - only with the once or twice per year (beef) steak (sometimes accompanied by eggs, a taste pleasure for Paul). Quinoa (containing more protein and vitamins) is a great tasting substitute for rice. We simply add 1/3 C under the browned chicken, add 1 C water and let it cook along with the skillet contents - tastes great! Alternative pastas made from quinoa, kamut, buckwheat groats and hulled barley are much more nutritious. Hulled, but not pearl, barley (pearl barley has been polished thereby removing the valuable bran) is also an acceptable substitute for rice or potatoes and can be cooked in plain water or bouillon in a ratio of 2:1, water to barley. Kitty finds that a ratio of 3:1 is necessary for the unpolished barley which has more nutrients and is therefore a better nutritive choice. We find barley a very tasty side dish with poultry and a must for most soups.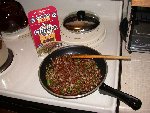 A variation on the white quinoa is the red or "ancient" which has a slightly different taste and constituency and also slightly higher protein content. The nutrient breakdown of grains for comparison. Ancient Harvest is a readily available source of quinoa products and can be found in the health or even rice/pasta sections of major grocery stores. In early March 2008 at a party we enjoyed a taste of this quinoa to which raw green pepper and red onion had been added - it was very good and Saundra gets a thumbs up for it!
---
When living in Toronto during hot weather, on the rare occasions when we used our toaster oven, we moved it out to the balcony to avoid heating up the kitchen. Even when cooking whole meals in a frying pan, if the day is truly too uncomfortable to eat a hot meal during the daylight hours, we switched dinner and supper, eating the salad meal in the warmer hours. However, when it was *really* hot we sometimes did not even feel like eating a typical meal at all. On those days, we often ate an array of cold raw vegetables with cheese or cold meat or cold fish, similar to what we sometimes ate for supper.
---
---
---
---
---
---
---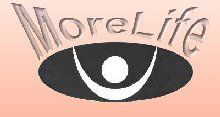 ---
MoreLife is Always "Under Construction"
Page last updated 6/4/10
Any questions, comments or suggestions regarding the content of this website
should be addressed at MoreLife Yahoo.
For comments on webpage format, contact Kitty Antonik Wakfer