More Dietary Ideas
from Our Diet Regimen
---
Breakfast (Breakfast Meals)
Using buckwheat has been an education.
Six flavonoids isolated and identified in buckwheat are rutin, orientin, vitexin, quercetin, isovitexin, and isoorientin. Rutin and isovitexin are the only flavonoid components of buckwheat seeds while hulls contain all six identified compounds.R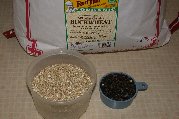 Most unground buckwheat that is available for purchase in health food stores is hulled. That is, the black hulls have been milled away from the "berries" leaving a light cream colored kernel, referred to as groats. When the groats have been roasted (toasted) they take on a pale reddish-brown color and are often called kasha.
Of significant importance is that experiments, both with animal models and with human beings, have revealed that buckwheat flour can improve diabetes, obesity, hypertension, hypercholesterolemia and constipation.R (And the flour is from the unhulled "berries" which gives it that easily recognized beige with black flecks appearance.) Additionally, buckwheat has the great advantage of giving one the "full" feeling sooner than wheat.R Even before reading about the high satiety level of buckwheat, Kitty had noticed that she could never finish my hot cereal with buckwheat, but often had no difficulty with all the same ingredients, except the buckwheat, uncooked in just milk or even added to yogurt or kefir. However, buckwheat has trypsin inhibitors that can cause poor digestion if not sufficiently cookedR. Therefore buckwheat is now only used in cooked form.
Following the only recipe Kitty could find online using whole buckwheat, she first tried soaking a half cup of whole buckwheat for a couple hours and then gently boiled them to for use in a porridge as she had successfully done for many months with groats. Unfortunately, the hulls did not appreciably soften and the cereal was too chewy for her taste. (When re-examining the recipe - actually for bread - Kitty saw from the photographs that the buckwheat used was *not* unhulled but rather simply groats.)

Paul suggested that since we use our coffee mill to grind flax and sesame seeds, why not try doing the same for the buckwheat. The hulls are cut up fairly well with the blade and the flour produced is used in making a porridge with Kitty's morning powders. Since the Spring of 2005 we have used whole ground buckwheat in pancakes and even muffins - see below for a super pancake recipe.
With 25 pounds of buckwheat though, we needed to find some more ways of using it and can now see that using it up will not take "forever". Paul acknowledged after the bag arrived by UPS that he didn't realize how large a volume it would be. But the containers are tightly sealed and being kept in dark dry locations in both Arizona and Ontario.
The first source of our unhulled buckwheat - Bob's Red Mill - stopped showing unhulled buckwheat on their website as of December 2005. Kitty investigated other websites and we purchased from Paul's Grains. A look at their Whole Grains price list shows a lower price than our original purchase. We were very pleased with the service and shipment and having been using the Paul's Grains unhulled buckwheat since November 2007. When we run out of the unhulled buckwheat (that we take north with us) in Ontario, we substitute whole buckwheat flour, obtainable in Bancroft healthfood stores.
When we had only buckwheat groats available, Kitty cooked a scant 1/4 C for a few minutes in water and then added it to her other powders/nuts/prunes which had been cooked in the microwave as described for her Breakfast. The buckwheat has a really nice aroma when cooking and tastes good too, with a pleasurable chewiness to it. However, be warned that toasted buckwheat groats (kasha) do *not* cook up well for this purpose and do not even taste good (IMO) in this application. (We are using up the supply of toasted groats in soups.)
---
Adding hemp seed to our breakfasts.
During the summer of 2004, we came across a few references to the beneficial essential fatty acid content and high protein levels of hemp seed. While the USDA completely ignores this politically incorrect food seed (there is currently no entry in their database), there are a few sources of nutritional information online. (Nutiva and Manitoba Harvest, to name just two.) The limited amount of detailed scientific information online about this nutritional seed is a tragic loss regarding what was for many years a major product in North America and extends far back in Asian use.R
Since the Fall 2004 we have replaced the toasted hemp seed with the extrusions (seed cake) from the first pressing of fresh hemp seeds. This was originally obtained from Hempola and which sold it primarily as animal snacks, but we found them to be an interesting nutty flavor enjoyed plain, with dried fruit (especially prunes by Kitty) and in Paul's smoothie. Since Spring of 2005 Kitty has included them also in her breakfast (hot or cold), grinding them up with the flax, sesame seeds and whole buckwheat for cooked cereal. She simply breaks the extrusions into small pieces for inclusion in her muesli, which adds to the pleasant crunchiness of that cereal.
When we were close to exhausting our supply in the summer of 2006, Kitty contacted Hempola to verify availability and was told that they now use all their extrusions for sifting to flour and protein powder. She received the same message when contacting several other hemp companies in Canada. She had almost given up getting the hemp extrusions (and we'd meanwhile run out), when she happened to find reference to seed cake available in bulk from a supplier she'd not yet contacted. We now have another large amount and can continue to enjoy this nutritionally valuable food - see thread at MoreLife Yahoo. (Kitty also uses it in homemade trailmix - very nice!).
Shelled hemp seeds can substitute for broken hemp extrusions in cereals, but lack the nice crunch; Hemp Hearts is a brand we have seen in Bancroft healthfood stores. However, the shelled hemp seed contains only alpha linolenic acid, the poorer form of omega-3, and therefore should not be considered a "wonder food", despite its often high hype marketing. Hemp flour, which is becoming more available in many locations, would work well where we have used ground extrusions.
---
Super Nutritious Blueberry Pancakes featuring Whole Ground Buckwheat and Hemp (with Pumpkin Puree too)
Dry Ingredients:
1C rye flour
4T soy protein powder
1t ground ginger
2t ground cinnamon
3T baking powder
3/4C whey powder

Items to be ground (coffee mill works great):

4T whole flax
2T sesame seeds (unhulled)
1/3C whole buckwheat
1/3C hemp extrusions (as described above)
1/3C Lecithin
2T each of almonds and filberts (hazelnuts) - walnuts and brazilnuts are good too
Buckwheat and hemp flours can be substituted for the whole and extrusions listed above. Mix all dry ingredients thoroughly in a large bowl.

In a separate bowl mix:
2 eggs
2T olive oil (extra virgin)
1 1/2C sour milk (if we have none that has soured, we use ~ 3/4 of total fresh and the remainder kefir or yogurt)
Highly Recommended OPTION: Replace half of milk with equal amount of cooked pumpkin puree.
Add to liquid:
1/2C currants (black are best)

Let currants soak a bit and then stir liquid into mixed dry ingredients adding more milk if needed, though batter should be thick.
Add with last of mixing:
1C blueberries (fresh or frozen)
Add a bit more milk if batter is overly thick. The quantity of ingredients above are never exactly the same every time we make these delicious pancakes. We've not found that being exact is a necessity.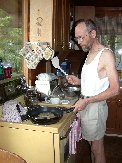 Fry in a good fat (we use chicken fat when we've cooked chicken recently - the reasons why are discussed in a MoreLife Yahoo post and oil olive other times) over moderate heat until bubbles appear and just begin to break. Flip over and fry other side - color should be only moderately brown.
We have decided that the addition of cooked pumpkin is now a permanent item for us. It - and maybe the kefir too - make the pancakes fluffier and more moist. They were good before, but now they're just scrumptious!
Great toppings are buckwheat honey and *more* blueberries or any fresh fruit. Peanut butter spread over the pancakes topped with slices of banana is one of Kitty's favorite, but so is yogurt. We also have used no sugar added strawberry or guava pulp purchased under the brand F-Diaz. All of these are just yummy ;>) This recipe makes enough for two full breakfasts for both of us - 10 ~5" diameter pancakes. We freeze the second five between separate sheets of wax paper and in a ziplock plastic bag, putting them in the toaster oven the next time. Still yummy!
We have also taken these pancakes on our drive between Ontario and Arizona for snacking - right from the freezer and into our coldbox. They're very good tasting, even when a microwave is not available to warm them, accompanied by hot coffee, tea or coffee-cocoa combo. Our plans to try a muffin variation of this recipe took place in mid-August 2006... below
Super Nutritious Blueberry Muffins

Use ingredients for pancakes above with following addition:
2T blackstrap molasses (better nutritionally than regular)
2T barley malt extract (in better baking stores and where beer making supplies sold)
Dilute the thick molasses and (especially) barley malt in approximately 1/4 C of warm water. Add this to a reduced amount of milk - about 3/4 C.
Add additional milk if needed, keeping the batter a cake-like consistency. Pour into greased muffin pan, about 2/3 full.

Bake at 350F for 20 minutes or until muffins pull away from sides and toothpick inserted into near center of a muffin is clean. Remove from pan immediately. Eat cooled or warm plain or with small amount of butter, jam, preserves, etc.



These muffins freeze very well, which is what we did with the 15 remaining after a couple days when we made this recipe the first time in mid-August 2006.
Super Nutritious Pumpkin Cranberry Muffins
Use ingredients for pancakes above with following modifications:
Add to the dry ingredients:
3/4 t allspice
3/4 t nutmeg
Add to liquid ingredients:
1 1/4 C pumpkin puree
3/4 C cranberries (frozen or fresh) cut into small pieces
2T barley malt extract (in better baking stores and where beer making supplies sold)
Reduce milk to approximately 1C and eliminate blueberries and currants. Dilute the barley malt in some of the milk, warmed slightly. Batter should be cake-like in consistency. Pour into greased muffin pan, about 3/4 full.

Bake at 350F for 20 minutes or until muffins pull away from sides and toothpick inserted into near center of a muffin is clean. Remove from pan immediately. These are great warm and plain on a cold day or with small amount of butter, jam, preserves, etc. This recipe made 21 nice size muffins, 12 of which we froze. 8 made it to a tight tin after cooling - we ate one while it was still hot. Definitely yummy and more moist than the blueberry version.

The pumpkin we used was approximately 5 lbs, one being given away - "free to good home", read the sign in one of the health food stores in Bancroft that we frequent. It was not one of the typical Jack-'o-Lantern varieties, bright orange. Instead it was a reddish orange with a slightly rough skin. We scrubbed the skin, cut it in half, scooped out all the seeds and pulp (reserved for Paul's smoothies, 2/3 stored in the freezer) and then cut into quarters. They were baked in the old faithful baking pan, with a very small amount of water, at 300F for approximately 1 hour - until a fork pierced the skin easily. Once the pumpkin was cool enough to handle, large spoonfuls were scraped from the skin and pureed in our blender. We tasted as we pureed it; finding it *very* good, we decided to reserve one of the 1/4's for use as a vegetable.
---
Mighty Muesli
Dry Ingredients (volume amounts are approximate):
1C each of rye, oats, barley and spelt flakes (gram weights: 88, 94, 135, 95)
1 C raisins (155 grams)
2 dried apricots, cut into small pieces (22 grams)
3 dried figs, cut into small pieces (34 grams)
1C pumpkin seeds (135 grams)
1/3C each of filberts, almonds, brazil nuts, and walnuts (gram weights: 39, 50, 50, 36), cut into slivers or small pieces
1/2C hemp extrusions (76 grams), broken into small pieces
1/4C raw cacao nibs (30 grams)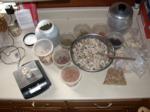 Kitty uses a serving size of 2 large (there are 2 sizes) LEF whey scoops, which weighs approximately 80grams. The total amount above provides approximately 14 servings of this size. Those without easy access to hemp extrusions may want to try shelled hemp seeds, but because the fiber has been removed Kitty finds them a mediocre substitute.
---
Meal Main Course (Our Main Meal Course Itself)
Update 5/15/10 Economizing on Meat Selections
While we live on a limited income we have found that purchasing good protein sources, which is important, can be done without sacrificing pleasure. The recipe ideas on our regimen page show that we get plenty of visually appealing main meals - and we assure readers that they taste as good as they look. We rarely buy beef for home meals because it is much higher in price than pork or chicken and also because, on a regular basis, we prefer the taste of these lesser priced meats. When we lived in Toronto, the local Dominion chain grocery store regularly marked down its meats each weekday morning when the precut packages are generally 2 days from labeled expiration. We often took advantage of these reduced prices, generally on pork but sometimes when we were in the mood for beef liver or kidney. Now that we are living full-time in the summers at our cottage in rural Ontario, our purchase of pork, poultry and fish is what is available in nearby Wilberforce or further off Bancroft. Previously in Toronto, much of the chicken we ate was free-range, first experienced in early November 2001, and enjoyed it immensely. See Kitty's post on LEF Forums. We would buy whole legs (our favorite cut) from Max the Butcher on Baldwin in Toronto's Kensington Market, or at the city's only Whole Foods, a high end supermarket chain in Canada and the US. Surprisingly, the price we were paying was comparable with the Dominion grocery store's ordinary chicken, except when on sale. However, we considered it a wise use of our money to frequently purchase the free-range and forgo the cheaper option. (However, we usually waited until the Dominion marked down their turkey thighs before making the rare purchases of these.)
Here's a link to directory for the US and Canada of grass-fed animal products including chickens. Where we are located now in Ontario south of Algonquin Provincial Park, we have not seen free-range chicken marketed, but are on the look-out.
Salmon purchases, when we lived in Toronto, were almost exclusively at the fish markets in Kensington Market. By the time we moved, we were using the third shop since we started; while all have been operated by Portuguese and charge relatively similar prices, this one was cleaner and had some more knowledgeable staff. Sometimes, in order to be more assured of the feed quality being fed the farmed salmon that we were eating, we alternated our Kensington Market purchases with ones of Atlantic farmed salmon at Whole Foods, though the price is $4/lb more for steaks than what we payed for fillets at the fish markets. This grocery chain has its own aquaculture facility off Massachusetts and from what we read, puts great emphasis on quality. The local Dominion grocery chain had a fresh fish section which we also used when the Whole Foods price was just too much to bear.
When we first moved to the cottage in late May 2005, we made use of the frozen salmon available in the local supermarkets. Unfortunately the first purchase turned out to be skinned (we didn't see this mentioned on the opaque bag), so we won't use that item again. In mid-summer we noticed that a meat store at the north end of Bancroft also carries fresh fish and seafood, and freezes large quantities of it also. We purchased fresh salmon fillets there several times until October (when we left for Arizona), of the same quality and only modestly higher in price than what we paid at the fish stores in Toronto. This experience showed us that it pays to look around a new area - and on foot rather than just while driving - to determine or improve full food purchasing. In the interim though, we ate more sardines. Unfortunately, in the summer of 2006, the owner/manager of this store switched to carrying only skinless salmon. Her reason, when Kitty asked, was that "it moves faster". Kitty's reply was that it was only because so many people do not realize that the value is in the fat just under the skin, removed when sold skinless. So until Fall of 2007 our salmon while in Ontario was mainly canned.
Since Fall 2007, our salmon purchases in both Arizona and Ontario are of wild pacific variety, frozen as a half fish fillet (with skin still on it). In the Bancroft Food Chopper, frozen filleted halves of wild chum salmon selling for about $12/kg ($5.40/lb). Paul cuts the frozen whole in half and each one is cooked on a separate occasion yielding 3 meals for both of us. This has been a very good buy, one we hope to have available to us for a long time. In Arizona we purchase salmon this same way in Lee Lee's Oriental SuperMart in Chandler for about the same price as in rural Ontario - a better buy on a regular basis than in any other supermarket currently. Ideas for salmon main meals

Another inexpensive way to get most of the nutritional value of salmon is in the can. We often keep a can of it on hand for those times when we've been unable to purchase any fresh and don't want to eat sardines or mackerel. See meal ideas for canned salmon, tuna, sardines and mackerel.

Lastly, we began to economize even more on meat in 2009 by just eating less of it, specifically for the purpose of ingesting less methionine. Legumes, which are lower in methionine than most meat and fish make up more of our diet than prior to late 2009.
---
Updated 5/14/10 Vegetables - Nutritious doesn't mean without flavor
We purchase fresh vegetables and fruit (except for frozen mixed berries and blueberries used in Paul's smoothie) all year round, doing so when we lived in Toronto at the produce stands on Bloor Avenue between Spadina and Bathurst or more often at Kensington Market west of Spadina south of College. There were numerous produce vendors at this large market on the edge of Toronto's Chinatown, and many more scattered through this large oriental section itself. There is considerable variation in selection, price and quality from one produce market to another and we make the rounds, also purchasing dried fruits, nuts, cheese, salmon, kefir, teas, eggs and spices at other shops while there. (There are 5 fish stores alone in 1 block and 3 cheese stores in another.) One produce vendor we do not recommend is located at the SW corner of Baldwin and Kensington Ave; the owner has a practice of frequently not marking prices on the bins but worse, has been known to change his price when a person takes a marked item to the cash register. Interestingly, the owner of this particular produce market does not have a name on his building - the only one in Kensington Market that is anonymous to our knowledge. (See MoreLife Yahoo post for a description of "The Cantaloupe Incident" and a positive experience regarding brazil nuts at Mexican Dry Food, just a few doors further west on Baldwin in Kensington Market.)
Since moving to our cottage at the end of May 2005 for full-time residence when in Canada, our shopping has been limited to what is available in the nearby small town of Wilberforce or a bit further in Bancroft. The selection is not as varied as we had in Toronto and the price per lb (or kg) is typically more, but the nutritional value and taste has not suffered. And since our other expenses are much less (there is no mortgage), the somewhat higher food expense is easily offset. Even in a small town grocery store, fresh fruits and vegetables are available all year round. And yearly starting in July, the local Ontario farmers make fruits (including berries) and vegetables available in roadside stands and weekly markets. We look forward to these - especially the delicious Ontario strawberries. To supplement the selection, we do make use of frozen peas and beans, the former rarely available fresh and the latter very expensive or not fresh except in the middle of the summer.
When in Arizona, we make ourselves aware of the supermarket specials on fresh vegetables and fruit, and we can always get some that are acceptable though typically not with as wide a selection as was available in Toronto and often not as economically. Prior to 2008 we found the prices in Food City (an Hispanic targeted chain in Arizona owned by Basha's) the lowest, the produce quite good though not as varied as in some other chains. Since then, however, we have made weekly drives to the Phoenix area (on Wednesday to correspond with our dancing) to shop in Sprouts and Sunflower Markets, which have a large selection at reasonable prices, and also in Lee Lee's Oriental SuperMart, which has a wide selection of oriental greens and unusual (to us) Asian vegetable along with more the traditional items at very reasonable prices. (Typically our stop at Trader Joe's does not include vegetables.)
Our use of canned vegetables is limited to sauerkraut and tomatoes, although we also eat cabbage and tomatoes raw and use both in cooking too.
Two vegetable items that we make use of when in Arizona (because they are much cheaper there) and found to be very tasty are tomatillos (green tomato-like; USDA report on raw only) and nopalitos (young prickly pear cactus pieces; USDA report on raw only).
Raw vegetables, whether mixed as a salad or eaten singly like appetizers, are enhanced with a nutritious salad dressing that can be easily made at home.
Cooking Collards and Kales
We have finally found a way to prepare kale and collard greens (which are among the most economical cooking greens) so that we find them palatable and enjoy eating them with some regularity.
A bunch of either is always enough for 2 meals, and often more.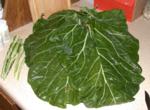 Even so, to save time overall, Kitty cooks all of the bunch after washing thoroughly. (Initially she only cooked half the collards at a time, but found that occasionally she forgot about them and parts of leaves started to yellow.)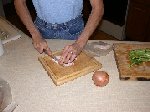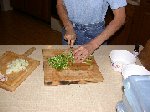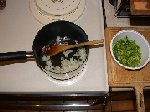 Bacon, which is kept frozen primarily for this purpose, is chopped small - about 1/2 slice, at most, is sufficient for fat and taste. (However, using only olive oil produces a quite acceptable vegetarian version.) About 1/3 to 1/2 cup of chopped onion is also used.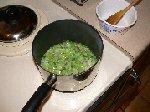 The chopped bacon gets the heat first until moderately well done and the onion is then given a head start before the stems. Once the stems have been added, this is the point at which I add several shakes of ground cumin (occasionally I forget but it can be added later too). Approximately 1/2 cup of water is added to the pot and brought to boil; then reduce heat to medium low, cover and cook 5 to 10 minutes - enough time to cut up the leaves.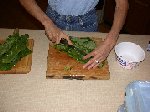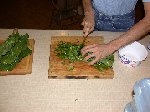 The leaves are cut into short thin strips, by first cutting a stack of leaves length-wise and then cross-wise.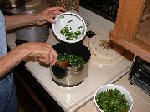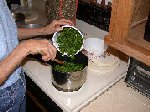 The leaves are stirred into the sauteed stems, so as to thoroughly mix. Adding another ~1/4 to 1/2 C of water may be necessary to ensure that there is sufficient liquid for cooking. The heat is adjusted so that the mixture gently boils.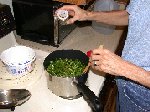 More water may be needed, as these greens need a fair amount of water rather than to simply be steamed as is sufficient for the brief cooking of spinach. Stirring the mixture periodically is necessary to get the leaves fully wet and to distribute the onions and bacon. Adding more cumin to taste (or initially here if forgotten earlier) can be done at this point.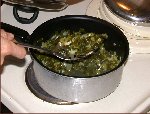 Initially we found that actually tasting the greens was necessary to determine if the leaves were properly tender, but going by the much darkened color and general very wilted appearance is enough now. A time of about 20 minutes of simmering (with occasional stirring) after adding the chopped leaves is sufficient.

A variation on the above method of seasoning for collards and kale is sauteing the onions along with a generous amount of fresh minced garlic in olive oil. Instead of cumin, ginger (1/4 to 1/2 tsp depending on the amount of greens) is used and the flavor is noticeably different and delicious. We don't know which we version we like better. At this point we just "trade off" now and then and have even most recently tried adding a bit of apple cider vinegar to already cooked collards and found it very tasty.
Both the collards and kale taste quite good this way, and we have used the remaining liquid as the base of old and newly devised bean-vegetable soups. We can now have the advantage of the higher carotenoid content of kale and collard greens (compared to everything else but spinach) without gritting our teeth as we eat them. No longer do we avoid those greens - usually less expensive per meal than spinach - in the markets or produce section of the grocery stores.
A great way to use collards or kale as part of a main dish is to add some of it cooked as above to bean stew or simply mix with a generous amount of cottage cheese. Both are delicious.
---
Fresh lemon is squeezed over many of our vegetables as well as fish. Kitty likes some vegetables, such as beets, plain while Paul enjoys them, especially beets, with a tiny amount of butter. (Fresh beets bought with their tops are unique in that all parts - root, stems, and leaves are delicious. Bring to boil, then simmer beets themselves unpeeled and whole till fork pierces easily; usually about 1 hour for medium sized though large ones can take up to two hours from our experience. Stems need a few minutes extra simmering before adding chopped leaves; cook till tender. These last are great with lemon juice.)
---
Updated 5/13/10 Two delicious side vegetable dishes that we have been using fairly regularly, are ones we found in oriental markets. The first is kimchee (or kimchi), a Korean fermented dish usually of cabbage and radish, has been increasingly available in both Arizona and Toronto. It was in the latter that we first tried it and found it to be very good. We now have regular supply of several brands in the 2 large oriental markets known to us in the greater Phoenix area - Ranch 99 and Lee Lee's Supermart, a huge international market with an amazing selection.

We have found by experimentation that using half red kimchee, made with peppers and is spicy, with 1/2 plain (white) and then mixed with an equal quantity of Kitty's prepared cooked tomato, green peppers and zucchini is just delicious! We don't know what Koreans would have to say about the bastardization of their national fermented vegetable dish, but we love it. It is a slightly spicy alternative to ketchup which is almost always found to include sugar (Lots more on kimchee)
In Spring 2009 we started using our blender for combining the red and white kimchees, taking a combined 32 oz jar with us to the cottage for the summer.
The second item, pickled mustard greens, we happened to come across in Lee Lee's SuperMart just by chance in Spring 2008. It comes in 13 oz clear plastic bags and was so cheap at $0.49 (up to $0.69 in Spring 2010) that we just had to try some. We were delighted that it tastes so good - Paul thinks even better than the kimchee/tomato combination. Goodbye to pickles (cucumbers) and hello to pickled mustard greens!
In Fall 2009 we realized (after our experience with the kimchee above) that we could save time from cutting these coarsely by hand with scissors by using the blender. We empty 3 bags at a time into our 64oz blender (one of the 2 brands for sale is "Double Horse Brand", but both look and say the same in English), cutting the pieces up a bit first (reserving the water for salad dressing making) and chop finely. The chopped mustard greens store well in the refrigerator, though we go through a 32 oz container in little over a month! Using the blender this way produces a great consistency for applying the pickled mustard greens on top of items. Our favorite is on cheddar cheese - a great taste combination! And though it sounds strange, we also find a great taste combination to be rye bread spread with peanut butter, topped with slices of sharp cheddar cheese and then topped with the ground pickled mustard greens - super!
BTW, we have shared the blenderized combined kimchees and the blenderized pickled mustard greens with the owner of Lee Lee's. She told us they were great! Maybe we'll see them both for sale there this way in the future :>)
---

Vegetable cooking waters have been added in the past to our "meal cocktail" which we use to swallow our pills. However, more recently, we've been reusing the vegetable water, refrigerating it in-between uses. We add additional water if necessary when cooking a larger amount of broccoli at "low" heat (~70C). Occasionally we will use some of this vegetable "stock" for the meat or fish cooking. We modified our cooking of broccoli back in 2005 based on press release of a conference report at the American Chemical Society in March 2003. The study was published in May 2004.R
This method of cooking broccoli requires close watching to keep the heat low and we sometimes got distracted. Therefore we obtained a triple pot set in the Fall of 2006 which includes steaming as one of its purposes. We were pleased to learn later that the moderately firm and still green steamed broccoli that we obtain this way is keeping the amount of the anticarcinogen sulforaphane very high. More recent studies than done in 2004 has resulted in slightly higher temperature cooking being best. "As scientists, we learned that sulforaphane is maximized when broccoli has been heated 10 minutes at 140 degrees Fahrenheit," said Jeffery. "For the consumer, who cannot readily hold the temperature as low as 140 degrees, that means the best way to prepare broccoli is to steam it lightly about 3 or 4 minutes--until the broccoli is tough-tender." Steaming as we do "heat[s] the broccoli just enough to destroy the sulfur-grabbing protein, but not enough to harm the enzyme that releases sulforaphane from the sugar."
Cooking Spaghetti Squash
Instead of using pasta, wheat-based or other grains, the spaghetti squash is a wonderful alternative under a good marinara (tomato based sauce - always used because of its great source of lycopene). A squash of about 2 pounds is sufficient for Paul and me for 1 meal each plus leftovers.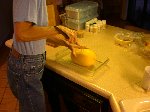 After scrubbing the outside of the squash with a vegetable brush under running water, the skin is pierced with a long tinged fork in 3 locations around the middle.
For microwave baking it is placed in a shallow dish with about 1/2 inch of water. 15 to 20 minutes at 100% turning every 5 to 7 is usually sufficient. (Baking in regular oven works very well when done in a covered roasting pan at 350F for ~20 to 30 min or till "done", again with about 1/2 inch of water in the pan. We've done this when 2 or more spaghetti squashes are needed for a larger group of people.)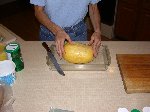 Testing for doneness - the outside of the squash should be soft and yield to press of finger.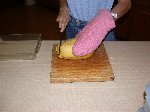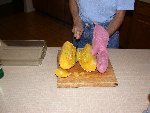 Cut the stem off the end of the spaghetti squash and then cut again lengthwise to open the squash fully. Kitty does this while the squash is still quite hot and gloves are often needed to handle it comfortably.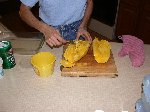 The seeds in the center of the squash are removed using the tines of a fork so as to retain the squash pulp itself. These are set aside in Paul's smoothie "refuse" container and used with his next making. (When we cook multiple squashes, some of the seeds go into the freezer for future smoothies.)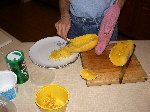 The inner part of the squash (pulp) is "forked" out in strings which give it that "spaghetti" appearance for which it gets its name.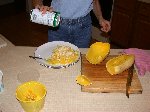 Grated parmesan cheese is generously sprinkled over the still quite hot squash. It can be eaten like this as a side dish. In fact some people simply fork-up the squash "in the shell", after the seeds are removed, and serve as-is with lots of cheese.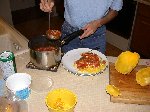 We like our spaghetti squash (after sprinkling with parmesan cheese) under a generous amount of nutritious sauce - tomato based for lots of lycopene.
Mouthwatering Sweet Potatoes ("Yam")
Paul and Kitty agree that the most delicious way to eat sweet potato (also marketed as yam, but there is a difference. USDA nutrient breakdown comparison can be made also.) is baked. And when it's done right no butter or sugar or marshmallows are needed - it will be sweet on it's own.


This sweet potato whole at left exceeds the 400g limit of our scale (0.88lb). The two quarters totaling 209g, weighed approximately 100 and 109 grams, respectively left to right on the scale. Paul's is of course the larger of the two ;>) at this particular meal; the serving sizes have since early Spring 2005 been even smaller - ranging between 40 and 80grams.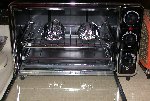 The individual servings, packaged up neatly in aluminum foil are baked this time in the toaster oven set at 350F. When we oven roast a whole meal in a roasting pan we do so slowly at typically about 250F and put the same aluminum foil wrapped sweet potatoes outside the pan or place unwrapped pieces in with the meat.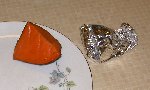 When the sweet potato ("yam")is felt through the aluminum foil to be soft, it is done. The unwrapped piece can be seen to be moist. The "syrup" that is exuded, some of which left on the inside of the foil, is just delicious. We pour off what collects in the foil onto the food and then wipe the foil clean directly with finger (or tongue :>) for a delicious pre-meal treat. We heartily recommend eating sweet potatoes this way; anyone truly wanting to keep their calorie intake low will agree that adding sugar items actually masks the natural sweetness of this vegetable.
---
Comments on Cooking Temperatures
It is difficult not to wax longingly for a moment at the aroma of broiling steaks or other typical meats coming from backyards or restaurants in the warm months. In years past Kitty would have readily prepared such a weekend dinner or ordered one of the Grill offerings from a menu. However, over the past two years she has learned, as Paul (Tom) had done earlier, that numerous studies have linked high temperature cooking of meats to the production of heterocyclic amines (HAs or HCAs)R1, R2, R3 pp1846-1847 and polycyclic aromatic hydrocarbons (PAHs) R1, R2, R3 pp1846-1847, which have been shown to be carcinogenic to the target organs in animal models R1, R2, R3 and linked epidemiologically to various human cancers R1, R2, R3. All of these substances - and more recently, acrylamidesR1, R2, R3 and AGEs (Advanced Glycation End-Products)R - continue to be subjects of numerous studies to identify predisposing factors in various human populations and methods by which to reduce mutagenicity and other harmful effects of various food preparation methods.
For now, we consider it less risky to keep our dietary intake of these substances as low as possible. Therefore, we rarely eat US-style bacon (highly smoked & fried; Canadian style is far less smoked and we cook it at low temp, but still eat it rarely), discard any burnt foods, we rarely toast bread and then only lightly, and we cook most of our foods by poaching (temperature just above 100C). We "treat" ourselves to a grilled hamburger (medium cooked) and french fries or smoked meats only every couple of months. When we pass the hot dog vendors on the street with their various sausages dripping hot fat into the flames below (or just on a sizzling grill) heavily browning the meat, we know that the purchasers are ingesting significant amounts of PAHs and HAs (grilled smoked meat!!). It is not difficult to lose desire for such foods -- or to limit indulgence to rare occasions - when one considers the ramifications of making them a regular part of the diet.
---
Reducing Time Expenditures
Cooking More at a Time
We try to use as little time as possible by cooking enough quantity for two meals (or more). This means that we buy twice (or even a little more) the amount of salmon fillet (preferred) or steaks for 1 meal and poach or lightly fry with double the vegetables, storing half for the next fish meal two days hence. The small amount extra is saved to be eaten cold - just delicious when it is from the marinated recipe.
We treat the chicken similarly, typically cooking 4 whole legs (with thighs) and sometimes even 6 in our oversized frying pan. Pork chops, 4 to 6 depending on size are also cooked in the frying pan with yams or squash, and sauerkraut, made even more delicious by adding canned tomatoes. In cooler months, we occasionally bake a larger amount of poultry or pork (with yam or squash and sauerkraut with the pork) in our conventional oven (though poaching is still preferable because of the lower cooking temperature) and either freeze or just refrigerate for a later non-fish meal.
Wonders of Roasting Pans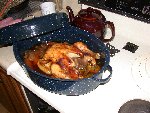 A roasting pan reduces the time spent Kitty actually uses in cooking by allowing us to even cook while we sleep. This six pound chicken stuffed with onions and generously smeared with miso and minced garlic was put into a 220F oven and allowed to "roast" for about 7 hours. We awoke to the delicious aroma of roast chicken. This amount of chicken supplied 5 meals for both Kitty and Paul and the basis of chicken vegetable soup. It was also a sale item ($0.59 per pound - although not range fed item this time).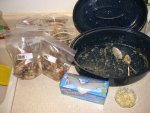 Using a roasting pan is also great for large numbers of poultry pieces and pork chops or a roast (with added onions and carrots as a minimum) - and a whole turkey of course. All turn out beautifully tender and with lots of delicious juices for gravy and/or soup stock.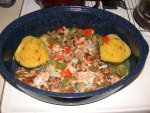 In November 2008 Kitty tried slow baking a large salmon fillet (with skin), which we had cut into 6 pieces, along with a quinoa-stuffed acorn squash. We ate 2 of the pieces and 2/3 of the squash that day. The remainder with the accompanying onions, peppers, carrots and mushrooms was put into 2 containers and frozen for the future. (See buying salmon.) Paul's portions will be 60% of the total being cooked and Kitty's 40%. Usually for the size salmon purchased this means that 3 meals are being cooked at a time, no matter the method.

Kitty's mother never used a roasting pan, but rather employed aluminum foil and Kitty did the same, thinking it was the more modern way. Now having had the wonderful meals that can be made in a roasting pan, she wouldn't consider anything but for oven roasting. We took advantage of a sale on "utility" turkeys (ones less than perfect - ours had a broken wing) in Bancroft in mid-August 2006 along with the coolish Ontario temperatures and had a delicious 11.3lb roast turkey - complete with dressing (reduced by about 1/4), baked sweet potato, peas and cranberry-raisin sauce. Just delicious! And with enough leftovers for another 6 meals plus soup makings.
---
Update 5/14/10 Reducing Money Expenditures
Monthly Food Costs
More than a couple times Paul and I have been asked how much money we spend on food. We couldn't give an exact number but could easily relate our buying practices, such as above under Meat Selection, similarly for Vegetables and in various places on our main Diet Regimen page.
As an exercise, Kitty kept track of all food purchases for 30 days beginning on 2/23/06; the total was $354.83 (excluding taxes) and included one eat-out meal - on Paul's birthday. That comes out to about $5.91 for each of us daily. During this period we made more purchases of longterm items (2-3 month quantities, ie. canned fish and flours), but less on eating out than other months. However, the total is about typical for when we are in Arizona. A similar tally - including longterm items - done on our return to Ontario for 30 days beginning on 5/4/06 totalled CN$393.38; all meals during this period were eaten at home. On 6/11/06 when adding this information here, this amount converted to US$354.04, almost exactly the same as just over 2 months previously in Arizona. This US$ amount in years past would have been noticeably less except that the US dollar has been falling in value against Canadian and other currencies for many months. Also, had we still been living in Toronto, the food expenditures would have been considerably less and the choices greater; transportation costs are far greater for merchants in rural Ontario than in or close to major cities.
For a similar period in February and March 2008, a total again of 30 days, the total food expenditure (in Arizona) was $365.77. This excluded taxes except for dining out on 3 occasions, 1 of which was Paul's birthday. This comes to $6.10 per person per day. If we had not decided to consume wine daily, the daily expense per person would be less than last year, even though we ate out 2 more times during the period. The reason for this is our purposeful reduction of protein, much of which had been from meat and more frequent fresh salmon. For more detail, the spreadsheet that Kitty used for both 2006 and 2008 Arizona food purchases is available.
Our further modification of low calorie to lower methionine has meant less meat being eaten, which translates into further cost savings. Legumes, which are lower in methionine than most meat and fish make up more of our diet than prior to late 2009, another way we keep our monthly food costs low.
We purchase very few prepared foods because for the most part, much of the nutrient content is less than in fresh foods prepared at home. One of the exceptions is spaghetti sauce. We have found good sauces available at inexpensive prices in both Arizona and rural Ontario - Private Selection Tomato and Basil, marketed by Fry's in the former and President's Choice Tomato and Basil plus the Vegetarian Bolognese varieties sold in No Frills and Loblaw's in the latter. These specific varieties under these brands have no sugar added and do contain olive oil, making them superior to other higher priced spaghetti sauce products.
Kitty always "doctors" up the sauce by adding sauteed (in olive oil) onions, garlic and mushrooms and sometimes additional items depending on her planned menus.
Using What's Available in the Yard or Nearby
The benefits of aloe vera have been the subject of numerous papers, although the gel of the inner leaves has not received until lately as much attention despite being used internally for many years by various population groups. (See Comprehensive Nutrient Review: Aloe Vera Overview at Life Extension Foundation and also University of Maryland Medical Center Alternative/Complementary Medicine - Aloe.) Additionally, studies have shown definite benefit for the use of aloe gel in streptozotocin (STZ)-induced diabetic rats, thereby giving scientific rationale for its use as an antidiabetic agent.R1, R2
Until very recently, the gel only of aloe vera we have seen was all costly, as anyone who has priced it can verify. It was a pleasant surprise in January 2007 to find a gallon of pure aloe vera juice (no water or sugar added) being sold at Trader Joe's for $6.99. We bought a gallon and many evenings add an ounce to 3 ounces of a combination of cherry and aronia juices. With this product available, Kitty does not plan to go through the work of harvesting the gel from our own many plant. However, the process information is being retained for those who cannot find an good economical source and do have plants worth using for this purpose.
Simply grinding or blending the entire leaf is relatively simple, but includes the latex or yellow exudate from just under the outer green layer which contain anthraquinones that stimulate the activity of the gastrointestinal tract - and is thus responsible for the laxative effect of the plant. Since we have numerous plants on our property in Arizona that often need weeding from around trees, Kitty decided to try harvesting some of the leaves for the gel alone.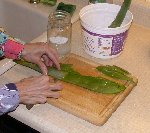 After doing lots of reading, Kitty ventured out into the yard in January 2006 to cut off 3 aloe vera leaves and had Paul take a few pics of the first gel harvesting procedure. She knew it would be like filleting a fish so approached the task in that manner, putting the inner gel freed from the outer leaf into a small jar for later blending.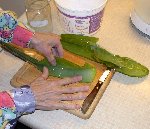 By the third leaf, she had made improvements in her separation technique. Care was taken to not include any of the green and to minimize the amount of yellow exudate.


Paul operated the blender in this cooperative effort; lots of foam developed at high speed but settled out within a few minutes. Unfortunately we found that many of the larger pieces of gel were not well broken apart in the blender. This just meant that our pre-dinner aloe vera, pomegranate, aronia, pineapple juice cocktail was a little chewy. The technique is now to finely cut up the "fillets" after removing from the leaf. More photos in the future of improved methods.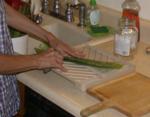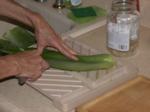 In mid-April 2006, Kitty requested that Paul take some photos of her preparing the last batch of aloe vera gel for juice before their return to Ontario. She had improved her technique by that time and the process went more quickly, even though she was doing more leaves - 8 this particular time.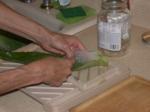 Using the microwavable bacon cooking tray on which to cut the aloe vera leaves made it possible to contain the liquid gel, thereby avoiding much of the mess that occurred the first few times. The amount collected in the pint blender jar lasts the two of us 6 days used as described above.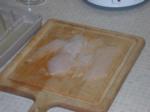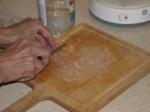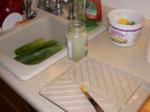 Spring in rural Ontario brings with it a number of edible plants that most people just ignore. Paul and his first wife, Dagny Vidinsh, did some local foraging when Paul first built the cottage and several books on wild plants are part of the resident library, including a few by famed naturalist Euell Gibbons and his Ontario counterpart, Erika Gaertner. Kitty found the books fascinating and in May of 2006 she and Paul tried some different harvesting of plants they hadn't planted - we'd already picked plenty of berries and mushrooms when still in Toronto and only using the cottage for occasional visits.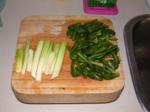 A moderate walk from the house in May 2006, we found an old stand of cat tails from last year just sending up new shoots. Paul managed to get a few small shoots without completely soaking his feet. Next we checked out another area where we suspected that the particular ferns called fiddleheads were located. Sure enough, we found quite a few (and even more the following week) poking their heads out of the ground. Once home we trimmed the cat tail shoots of their tough outer leaves down to the inner tender portion (left in photo) and cooked them in water till tender. The fiddleheads took more time to clean but cooked up easily in water. The cattail shoots have a mild pleasant taste while the fiddleheads are reminiscent of asparagus in flavor. We repeated this foraging again following years, and froze some parboiled fiddleheads for the summer - they actually taste better, in Kitty's estimation, when added to seafood stirfry. Interestingly, many Torontonians will pay $6 and $7 per pound for fiddleheads in the city markets when these tasty ferns start to break ground in rural Ontario in mid and late May.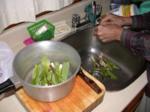 Milkweeds are a common site along rural Ontario roads and different parts are edible at various stages. In the photo are very young shoots that were pulled free of the large rhizome from which they sprout. They were boiled for approximately 4 minutes, the water discarded and then boiled again till tender. The asparagus-like flavor is very nice (Paul actually preferred the young leaves) and we picked more until early June.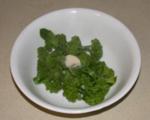 Unopened flower buds appeared on nearby plants after mid-June and we found them quite good when boiled once till just tender. Sometime we'll try the young pods.
A good site for photographs of some of the many wild edible plants - ForagingPictures.com
Berries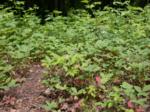 The wild strawberry plants in our yard have increased in number as a result of the considerable pruning we did of low tree branches done early Fall 2006. The strawberry sizes themselves are also larger, and we take delight in them plus ones from a good-sized area just a short walk down the road at the end of June and all of July.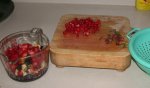 After being washed and detopped, the wild strawberries picked in our yard on June 27 2008 were added to our mostly (store-bought) berries combined with other fruit that we eat daily. Typically we eat the nicest (or ripest) locally foraged fruit separately over Cheerios or vanilla ice cream in order to really experience the flavor. (The strawberry tops all go into Paul's smoothie.)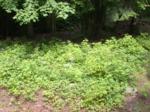 There are actually more raspberry canes present since the branch pruning, low bush blackberry too; these share the same area with the strawberries which are beginning to be overrun. The raspberries are very enjoyable beginning in July and the blackberries are delicious starting in August; there are some late raspberries even into the end of August which we delight in finding in our yard and on our out-and-about foraging.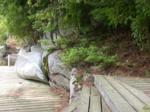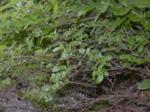 Best of all, was the sight of increased blueberry plant growth near the shoreline of our property, again from increased sunshine resulting from pine branch and cedar spread removal.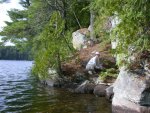 Beyond a shallow rocky area off the end of our dock is another spot - reached by careful walk down from above - with some blueberry bushes which Kitty has begun to prune.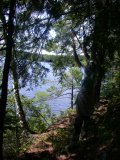 Additional scattered areas on parts of the cliff on our property overlooking the lake have been opened for more sunlight to the blueberry bushes that were already there. The blueberry production hasn't been bountiful in 2008, but while the few dozen berries from these small somewhat scrawny plants are still just a modest handful, they are far more than last year. We are nurturing all of these plants (increasing sunlight and pruning dead wood) with the hopes that the berries will be even more over the coming years.
Not only is it fun to have fresh berries for picking right outside our door, but all four of these berries rank at the top of a list of over 1100 foods analyzed, based on typical serving size, for antioxidant content.R1

In addition to these berry plants in our own yard, there are numerous locations along the roads (especially the tree-cleared land under power lines) and in open areas of the hundreds of common-use acres of Harcourt Park. Certain spots have numerous raspberry and blackberry canes, and we have found some of the latter that this year had very large berries indeed. The pickings beginning the last 2 weeks in August have been so big that we have frozen enough to last us until we leave for Arizona near the end of October. Summer 2008 was a very good one for raspberries - so many that we froze containers for later in the year (something we hadn't done in previous years for this berry) and also reduced our purchase of frozen mixed berries. And at the end of August 2008 we had already begun freezing blackberries since we could not eat them fast enough and far more were yet to ripen. We had also discovered a new (to us) location just filled with plentiful producing blackberry canes.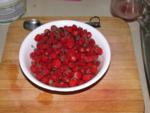 We expect to continue to use the berry plants beyond our yard to supplement our own plant yield as needed to keep our anti-oxidant intake high - and just for the fun and exercise it adds to a walk. People living in rural areas of Ontario and the northeast portions of the United States (and much of Europe) likely have these same wild berry bushes all around just waiting to be picked and enjoyed. I wouldn't be surprised if there are places even in the greater Toronto area where berry bushes are growing on common-use land and available for picking. When visiting in Toledo Ohio in June 2008, we walked through 4 large city preserve parks and saw several locations in each with large numbers of strawberry plants and either or both raspberry and blackberry canes. We helped ourselves to many ripe strawberries and hope that residents or visitors made use of the plentiful other berries when they ripened.


Multi-item foraging on 2 days in our own yard in late July 2008 yielded raspberries and blueberries with a nice quantity of edible mushrooms too.
Apples in the Commons
We first did this together in Harcourt Park way back in September 2000 and used the apples to make apple-raisin sauce. We've often noted trees laden with apples (regular and crab) in yards in Wilberforce. So we were delighted when on a trip to Peterborough (about 80 miles southwest of our Harcourt Park home) we realized that a crabapple tree full of fruit - and falling to the ground - was right in front of our car parked in the NoFrills Supermarket lot facing the sidewalk. Paul removed apples from the tree in groups into a medium sized cardboard box and Kitty removed leaves. While most people who passed by either ignored us or appeared to be puzzled by our efforts, one woman walking her dog stopped to chat and told us she'd done the same thing a few days earlier. She went on to say that she'd made crabapple jelly with her pickings; Kitty related that our plans were for apple raisin sauce similar to our cranberry-raisin sauce, which she found interesting since we don't put in any sugar.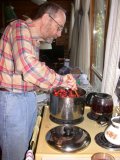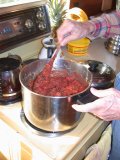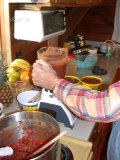 When Paul was convinced to stop we had a shopping bag very full (estimated 7 to 8 lbs) - and a bit of work ahead of us. Paul and Kitty both did the washing, cutting in half and stem removal, though Paul was tempted to leave just as we did the cores. Kitty cut up about 8 oz of prunes which along with an equal amount of raisins went into the pot with the halved crabapples. Just 2 cups of water to this large pot which was nearly full as we began. Two generous tablespoons of barley malt were added (for additional sweetening) and 3 teaspoons of cinnamon during the cooking. Our original plans were to use the foley food mill after putting batches through the blender but considered the blender output smooth enough. However later when we actually ate some - this preparation work was done on our fasting day - we found that small amounts of remaining fiber detracted from the eating pleasure. So our plans now are to foley mill process each of the 3 containers in the freezer after thawing before using. We did that to the one that we did not freeze and the resulting consistency is very smooth. The taste is distinctly tart but a very nice accompaniment to pork (we had some with leftovers the next day) and delicious on ice cream or along with kefir or yogurt. We plan to try it out on many different items.
So this is to show that foraging is not just a country activity - keep an eye out for common usage fruit trees in parks and along sidewalks.
We've been back recently to that area of Harcourt Park that once was Leeson Farms and where a few remaining old apple trees still bear some fruit. It looks like we can pick enough to eliminate our need for purchasing any while we're still in Ontario to the very end of October.
Mushroom Foraging Updated 5/15/10
This was a new experience for Kitty when she and Paul began doing this in 2005 after moving from Toronto to Harcourt Park, although he had done it since building the cottage there 40 years previously. Paul and his previous wife, Dagny Vidinsh, had studied up on the subject (their main mushroom guide is still part of our library) and picked for consumption only what they could easily determine was edible. Two very good resources on the Internet for learning about mushrooms including identification: Rogers Mushrooms and MushroomExpert.com
2008 has been an especially good year for edible mushrooms in Harcourt Park, largely because of the heavy rains during the spring and into mid-summer, but also likely because we spent more time doing it and both of us have become more proficient at spotting the numerous edible variety that grow here.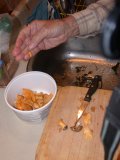 We were pleased in July when on many foraging walks along the road on which we live, we came home with several edible bolete varieties and some chanterelles, like these that Paul cleaned afterwards on July 24th.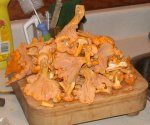 Then on August 5 when we were out for a fast walk around the lake, we happened onto an enormous number of chanterelles just off the road - all in beautiful condition. We filled Paul's light weight jacket pockets and carried it, so as to keep the mushrooms from being damaged. There were numerous ripe raspberries we had to forego because we hadn't brought any containers with us. We learned our lesson that day not to go out on any kind of walk without at least several bags for possible found goodies - you just don't know what you might find unexpectedly.

We were pleasantly surprised on September 25, when investigating a trail off the main road that Kitty had seen when on a solitary walk, to see a tree stump heavily filled on the top with puffballs at a perfect stage for eating. Paul had never seen so many puffballs in one location. We carefully removed all of them and Kitty cleaned them upon our return. They made for a very pleasant meal.
Early research using mushrooms in place of meat in meals has shown that those meals received ratings from test subjects not significantly different in palatability and satiation from those meals that did contain meat, suggesting that mushrooms can play a part in reducing calorie/energy intake. For those who haven't already discovered the taste pleasure of mushrooms as part of a meal, these results may provide an added incentive to include them.(PMID 18221822 and Science Daily article)
Every spring when we return to Harcourt Park from Ontario we look forward to the mushroom gathering that will begin when the several edible varieties begin to make an appearance.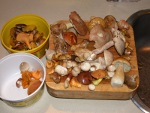 2009 was another great season with so many picked during the near 5 months they were available that we had more than we could use while resident and therefore froze numerous bags after cooking to take to Arizona for use there.
---
Pet & Food Experience
With the death of our beloved dog, Moose, we lost not only a special canine but also a meal companion. Starting about early October 2001 there were a number of changes in Moose's digestion and eating preferences. For years he would eat all Paul's cooked table scraps (which were and still are very few) in addition to his nutritious meat/fish with vegetable meals. Diarrhea began and did not respond to modifications of his previous diet until we made dry dog food the vast majority of the total. After a month solely eating dry dog food, we reintroduced small amounts of meats (cooked), vegetables, and fruit. Up until about a week before his sudden deterioration, Moose (12 years old) appeared to have no digestion problems on 2 meals a day as described - and occasional small treats of "street pizza".
---
Dessert or "After Meal Snack" (Our Previous Snacks - Now Part of Meal or Dessert)
Update 5/14/10 Terrific Trail Mix
In the summer of 2007, Kitty finally put down in writing a general list of the ingredients that go into the trailmix we have been enjoying since the Fall of 2006 on travels (car and on foot), at parties (dance kinds of course) and part of dessert just because it tastes good. Starting in late March 2008, we started adding gogi or wolfberries, which we have found being carried in our favorite oriental market, Lee Lee's SuperMart, in Chandler Arizona. (It is sold with the botanical name, fructus lycii.) This fruit of the Lycium barbarum plant has been used in Chinese medicine for many generations and more recently has been written about in Western medical journals describing its hepatic, opthalmic and anti-aging benefits.R
In the Fall of 2008 we saw dried red dragon fruit (Hylocereus undatus) in Trader Joe's, decided to try it and found it a pleasant sour taste. (Research on it in regards to human health potential is sparse but wounds on diabetic rats showed facilitated healing with its topical usage.)
In April 2008, before returning to Ontario, we decided to try freeze-dried (peel & seeded) rambutan sold in Trader Joe's. It tastes like cotton candy - naturally high in sugar and far too sweet to eat alone for our taste. However, we found that only a very small amount is plenty to give our trail mix a pleasant slightly sweet taste for some handfuls ;>) For this fruit human health related research publications are also few: polyphenol comparison with other tropical fruits and persimmon and a comparison of postprandial glucose and insulin responses in non-insulin dependent diabetics.
As so very often is the case with Trader Joe's, they no longer as of Fall 2009 carry dried dragon fruit or freeze-dried rambutan. We have found that this company is only really interested in retaining products that sell in great quantities - if something does not "catch on" quickly, they eliminate it. It is a shame that they do not try to inform their customers as to the health advantage of many of the items they carry. Kitty tried in the past letting them know this about aronia juice but received only the explanation that "it did not sell sufficiently well"; no interest demonstrated in truly informing their customers as to its advantages.
The following items, which no longer include barley and oat flakes due to our reduction in total grain intake, are listed in the order of greatest quantity, but there is no fixed requirement:
pumpkin seeds, raw unsalted
redskin peanuts, roasted unsalted
dark raisins
walnuts
almonds
filberts/hazelnuts
hemp extrusions, broken into small pieces
gogi berries (wolfberries/fructus lycii), raw
dried apricots, cut small
dried figs, cut small
dried cherries
Mix well and store in air tight container in the refrigerator when not dipping into it ;>) This can be mixed in conjunction with muesli since so many of the ingredients are common.
---
NonDecadent Chocolate
In Paul's never-ending search for a "better" chocolate he has tried several ways to acquire the nutritional value as well as the delightful taste of this high flavonoid food, not necessarily decadent despite what many have thought in years past. R1 R2 Cocoa powder is rich in polyphenols (which includes flavonoids) and, thus, may contribute to the reduction of lipid peroxidation.R In addition, dark, but not white, chocolate has been found to decrease blood pressure and improves insulin sensitivity in healthy persons.R "Dark chocolate induces coronary vasodilation, improves coronary vascular function, and decreases platelet adhesion 2 hours after consumption."R Unsweetened baking chocolate, which has no sugar added in the processing and consequently does taste bitter, is among the highest on a list of antioxidant content by typical serving size of the tested 1113 food items from the USDA National Food and Nutrient Analysis Program.R
We used to buy chocolate chips, but the sugar content is somewhat higher than what is in the Ghirardelli dark chocolate that we are able to buy at a reasonable price at Trader Joe's in the US - 18g out of 40g total chocolate wgt (45%).
However, Paul would still like to have chocolate with a sugar content in the 20% range, and so he experimented using unsweetened chocolate (from a bulk food store), cocoa and honey.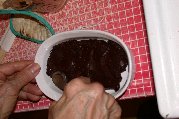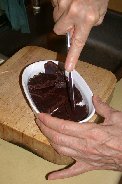 (Purchase of a lower sugar content chocolate is quite possible but found to be expensive from our searches.) The first experiment produced a grainy but still OK chocolate-tasting result - but measurements were not taken so the sugar content was unknown.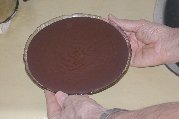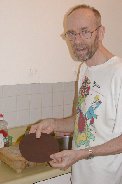 In late 2004 Paul used a combination of 221g of the Ghirardelli Dark Chocolate (45% sugar) and 142g of unsweetened chocolate - which produces a chocolate with only 27% sugar. (Reminded Kitty of those algebra mixture problems in high school.) The results were nice and smooth and poured quite easily after the two chocolates were thoroughly mixed.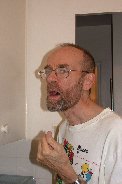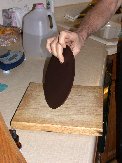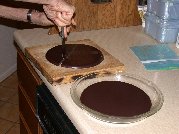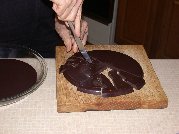 In January 2005, Paul's batch of "better chocolate" was 336g of the Ghirardelli Dark Chocolate (45% sugar) and 402 grams of unsweetened.
We thought that this last would be as low as we would go in sugar content, but in early March 2005 Paul did another batch which was 15% sugar upon completion. Initially, he thought he had "overdone" it, but after a couple of days he found it quite acceptable. Kitty enjoyed the 15% level immediately and now this will probably be the "lower limit" ;>) We eat only a very small amount after each meal with tea - Kitty originally selected the smaller pieces (typically 2 to 3 grams) compared to Paul's pieces are a bit larger (5 to 6 grams) - and let it melt in our mouths. Delicious!!
Blending a precise low sugar content chocolate became difficult in early 2006 when Trader Joe's stopped carrying the Ghirardelli Dark Chocolate (45% sugar) in the locations we frequent. The dark chocolate in the bulk food stores in Bancroft is sold without a sugar content and the employees/owners do not know it and would not/could not obtain it. Therefore it was a pleasure when Trader Joe's began in Spring 2006 to carry PoundPlus 72% Dark Chocolate (17.6 oz/500g; 34.2% sugar). While it is twice the sugar content of the lowest Paul was blending, it is still quite low in this respect, it tastes very nice and is definitely convenient. Just no more chocolate to clean out of the warming pot....:-( With the change to eating 1 extended meal 2 days out 3 (and fasting on the 3rd) we increased our amount of Trader Joe's Pound Plus 72% Dark Chocolate taken near the end of our meal to approximately 5 grams for Kitty and 10 for Paul.
We are also searching for sources of chocolate that are higher in flavonols since cocoa bean processing and even growing location are factors in the content in the end chocolate. Good general source of chocolate information.
In addition to the daily piece of very low-sugar chocolate we each consume (with our first after meal cup of tea), we began in late April 2007 to add cocoa powder to Paul's smoothie, and then found that 2 rounded tsp (~7 grams) of cocoa in 1/2 cup of plain yogurt is quite pleasant. This was increased gradually to 2 Tbs (~14 grams) in about 3/4 C of yogurt by September 2007. With our change to intermittent fasting in early July 2008, Kitty increased the cocoa, in about 1 C of yogurt, to 3 slightly rounded T (~20 grams) since we are eating only 2 extended meals every 3 days. Cocoa is a very good source of protein (19.6g/100g) and dietary fiber (33.2g/100g); see USDA - Cocoa, dry powder, unsweetened. Additionally, non-alkalized (unDutched) cocoa is an excellent source of polyphenols.R Another source of cocoa that we use on an irregular basis is raw cacao nibs that Kitty includes in trailmix and, more recently, in muesli. We have continued to experiment with ways to increase our meal intake of cocoa to a desirable level of 50 grams daily. Paul continues to add ~100 grams to his same 4 meal mix of smoothies that we consume in 3 meals, and Kitty has modified her hot cereal by adding ~50 grams to the quantity that we previously ate over 4 days but now do so in 3 meals. Our total typical extended meal intake (2 days out of 3) of cocoa, minus the post meal low fat chocolate, is (as of date of this page) about 38 grams for Paul and 32 for Kitty. We've run out of ways to reasonably increase this amount and we don't want cocoa to be the dominant flavor in all parts of our one meal. The thought of cocoa-stir fried vegetables doesn't appeal to either of us ;>)
---
Getting Enough Iron
Paul and Kitty Wakfer do not eat the Standard (North)American Diet (SAD) and therefore consume far less red meat than most, resulting in ingestion of far less iron from animal products (heme iron) than is typical. We also do not use wheat flour (routinely iron fortified) in meal preparation, nor eat pasta and wheat bread, which are routinely enriched including iron fortification. We found in our blood work results of July 2005 (Kitty and Paul) that we were both borderline anemic, likely resulting from insufficient iron stores. To improve this situation quickly, in addition to making the added effort to obtain liver in the local rural Ontario supermarkets (which was plentifully available when we lived in Toronto), we added black strap molasses to our daily intake - 1 tablespoon daily, either all at once or a teaspoon at each meal, plain or added to some food item. (Nutrient values.) Paul tried it in his smoothie and we both find it acceptable taste-wise. The molasses was actually better tasting plain than our supplement "meal cocktail" and we considered simply adding it to the "cocktail" - joking that it might even improve its taste. :>) We discontinued this regular usage after our labwork in November on our return to Arizona since the results were much improved. Other good sources of iron that we are making sure we get at least weekly: sardines or a scallop/shrimp combination (both heme - ~40% of iron from animal tissues and more readily absorbed) and spinach (non-heme - all iron from plant sources and elemental components of animal tissues, less readily absorbed unless iron stores are already low). And our weekly diet consists of at least moderate amounts of foods that contain lesser amounts of heme and non-heme iron - dried fruits (especially apricots), legumes, other green vegetable, eggs and poultry.
---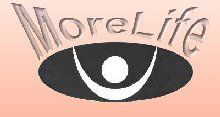 ---
MoreLife is Always "Under Construction"
Page last updated 6/4/2010
Any questions, comments or suggestions regarding the content of this website
should be addressed at MoreLife Yahoo.
For comments on webpage format, contact Kitty Antonik Wakfer