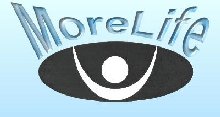 Spring & Early Summer 2008
Relaxing in Ontario
---
All was not work for us on the house - or at the computer - during these months of May through early July 2008.
May is notorious for Black Flies in Ontario in May - and this year they were early due to warm spell just before we returned at the end of April. Despite this, we donned our bug jackets on an otherwise beautiful day and headed out in the south and westerly direction around Little Straggle Lake.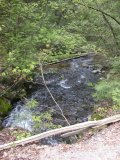 Little Straggle empties at the west end into a stream that meanders further westward via some swampy areas and then northward into Fishtail Lake (that drains via streams into the northern end of Elephant Lake to our east. (Elephant Lake and Baptiste Lake, really one single quite large lake with many bays, empties into the York River that joins into the Ottawa River and eventually into the large Saint Lawrence River that serves as the seaway for the Great Lakes.)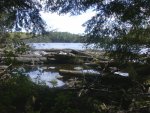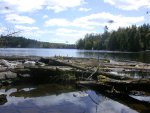 Ignoring for the moment the numerous fuzzy dark splotches visible in this view from the west end - on right, northside of the point visible from our house and also in the distant center of far eastern end of the lake that we cannot see from our house. If you haven't guessed, the splotches are just a few of the many black flies present at the time, more so where it's damp and shaded. Thank goodness for bug jackets with hoods at this time of year when outside!!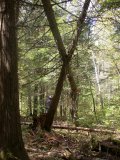 Paul investigated a tree newly broken just about 7 feet up resulting from storm damage. The limbs were still full of evergreenery making it clear that the break occurred only a relatively short while before .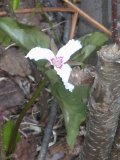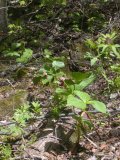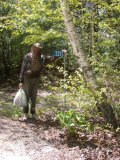 A lot of our walk was spent noting the locations and sizes of the red trilliums (trillium erectum) along the route. Ontario's provincial flower is the white trillium (trillium grandiflorum). Up until the day of this walk, Paul had never seen any but red ones in Harcourt Park, although the pure white ones are very plentiful in May in much of rural Ontario. Therefore we were quite surprised to see this mostly white one - technically, Trillium undulatum (painted trillium) - and actually a couple more before we got home. There Kitty photographed Paul beside the 3 red trilliums that have come up regularly for years at the entrance to our driveway. (Brief but good trillium information. Lots of trillium info. )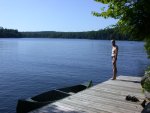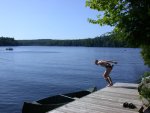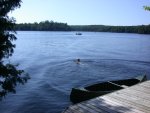 It wasn't until July 6 that Paul felt that the air temperature was warm enough to get in a swim, though he admitted once in that the water was chilly. Kitty put her hand in the water and declined, though she did take a swim a few weeks later. The water in this lake warms up to cool, and then gets down right chilly - and of course freezing. Very Canadian.
A little over a week later, Kitty took these shots before and after we took another canoe outing. We thought it best not to take the camera along in the canoe with us, just in case we might have a mishap. The scenery Kitty missed out on photographing was lovely, especially down at the outlet end of the lake - plants that don't grow other places we frequent.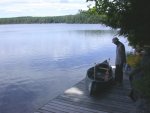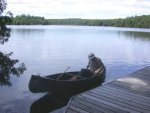 On this trip Paul was getting his first try at a seat he fashioned to make the trips more comfortable on his lean rear. After this trip he added a layer of cushioning (an old mouse pad) and seat now gets his bottom comfortably through 90 minutes of canoeing.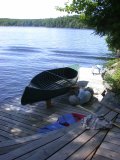 Afterwards, Paul checked again on the sealing job he'd done earlier on this 40+ year old canoe. A bit more application after this at the bolts for the keel attachment reduced the leaks on later trips to a mere dribble over an hour or two.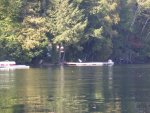 Just before heading out in the canoe after Labor Day - and on a weekday when few cottagers were around - we spied a crane on a nearby dock. S/he is likely the "resident crane" that we've seen other times in various locations and even flying low over the water. This time s/he walked slowly to the next dock off to the left and eventually flew to the other end of the lake.
---

---
---
MoreLife is Always "Under Construction"
Initially posted 3/3/2009
Page last updated 3/3/2009
Any questions, comments or suggestions regarding the content of this website
should be addressed at MoreLife Yahoo.
For comments on webpage format, contact Kitty Antonik Wakfer