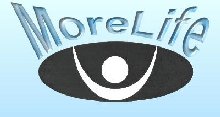 March 2009
Another Hike at Table Top Preserve
---
The first week in March we (Paul and Kitty Antonik Wakfer) decided that it was time to get out and do some scenic desert hiking, unrelated to a dance event and away from crowds. The nicest place not too far distant from us is Table Top Mountain Preserve that we've hiked twice before. So we planned on Monday March 9th. The weather would be just right - a temperature high forecast for only in the 70s and enough puffy white clouds to bring some periodic shade.
We had just left our car at the designated small parking area, visited the primitive toilet facilites (actually pretty nice for way out in nowhere) and were headed for the beginning of the lower path when something caught our eyes that we'd not seen on the previous trips.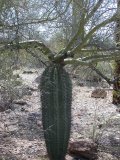 No, this is not some new type of cactus nor a cross between saguaro and palo verde. Saguaros most often take root in the protection of bushes or trees, but this one was positioned so that it grew right into an overhanging branch of the palo verde nearby. In the first 10 years of a saguaro's life it only gets to about 1 inch in height - and the vast numbers of seeds from the fruit of a mature saguaro never even get to that point. Kitty's guess is that this saguaro is about 30 years old based on studies that report a height of 6.5 feet at 70 years. (For more saguaro info)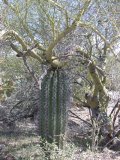 Since this saguaro is about 3.5 ft high and the palo verde is well established, it will be interesting to watch these two over the next 10 years. The branch already appears slightly pushed up by the young saguaro. How will the two plants continue to respond to this interference situation? We plan to keep an eye on them.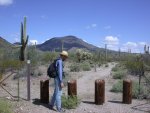 The low flat part of the trail, before the official trailhead, begins with these markers reminding visitors of the major rules - horseback riders permitted on trails, dogs only if on leash, no campfires, and hiking (of course :).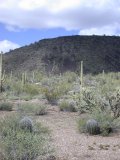 It's amazing to see the amount of growth on the lava hill in the background, including mature saguaros. Somehow there is enough soil for the seeds to have taken root and sustain them as they grow. In comparison the 3 small saguaros in the foreground have a lush beginning.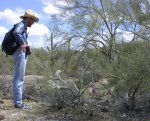 Just a few minutes down the trail (we were purposely walking slowly to observe the spring blooming), we spied flowers identical to ones we have in our yard -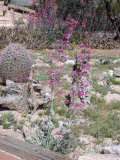 ones Kitty had planted many years before from a nursery purchase. She had not up until now seen any in the wild. A bit of searching on the Web turns up this site that labels these as "Parry's Beardtongue" or formally, Penstemon parryi - Kitty had not remembered either name.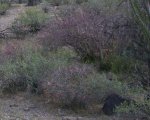 These are sizable bushes of Fairydusters - which caught Kitty by surprise since these are not seen in the wild in the lower desert near our house. The color appears duller than the one bush we have at our house (cut back this year to improve overall growth and not currently blooming); a closeup flower shot seen at the same website (below Parry's Beardtongue) as above.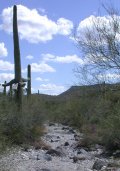 Many fairydusters were seen on our excursion, like these along the right side of a moderate size wash.
We had come to the official trail head before we had reached the wash in the previous picture. When Kitty signed us into the "log" she noted that 2 search and rescue workers had done so less than an hour before us (the only ones on the sheet for that day). This tied into the 2 individuals we came upon about halfway on the unpaved drive from Interstate-8, apparently searching for someone(s) with binoculars while standing on the roof of a truck.

As we head up the rocky hill, the trail is "bordered" with bountiful blooming brittle bush - just as the ones on our property are doing at this time of year.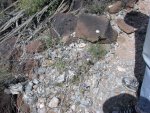 This very small area just beyond Paul's feet contains 5 different kinds of blooming wildflowers - 3 purple colored (Kitty has tentatively identified left to right as: Cleftleaf Wildheliotrope AKA Scorpionweed, Wild Heliotrope, Miniature Woolystar), 1 yellow (tentatively identified as California Suncup AKA Mustard Evening Primrose), and 1 white (tentatively identified as White Tackstem).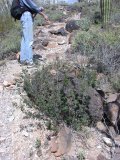 A really nice fairyduster with lots of leaves, though the small dull pink flowers do not stand out very well against the lava rock.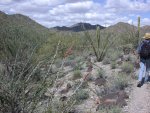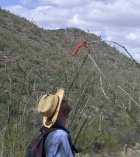 Climbing just a couple dozen feet in elevation and we were among numerous ocotillo, most of which had just begun to bloom.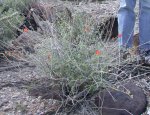 This is a prevalent perenial that usually has nice blooms every year even in our lower desert location NE of Casa Grande. Kitty has tentatively identified it as Desert Mariposa Lily or Caliche Globemallow (the latter blooming through spring and summer when rainfall is at least average). If this one were in our yard, Kitty would have trimmed away the dead stems from previous years thereby making it look "neater" - something she does with our brittlebush.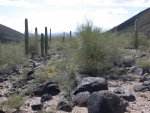 We had been walking (and viewing) for just under and hour, and climbing for about half of that time, when Kitty decided to look back towards the valley floor.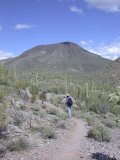 We had no definite plans for how far to walk and getting to the top is not a necessity at all. We were much more interested in observing what is in this area.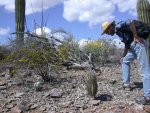 This small saguaro caught our attention because of the kink in its side. Noting the dead and down palo verde beyond it, we wondered if there had been an interference between this saguaro and one of the tree's low branches before it succumbed to whatever.
About 75 minutes into our exploratory trek we decided to take a tea break - the area we'd reached had many large lava rocks, some suitably flat on the top surface for sitting.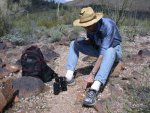 While sipping on his tea (we'd brought a thermos he'd been carrying in the backpack), Paul noticed a minute purple flower between the small rocks between his feet.


Although this little flower is the same color and has 5 petals Southwestern Mock Vervain (AKA Goodding's Verbena), it is only about half the 1/2" width of the linked item, its petals are pointed and the leaves are not the same shade of green. So if someone knows what this little wild flower is, send Kitty a note.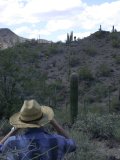 Before we finished our tea and prepared to set off again, Paul noticed a crested saguaro on the hillside in the distance. Kitty was sure that it was the one that we'd seen on our previous Table Top trip and which Paul had actually hiked over to get a close look. (A later look at the old photos confirms this - TableTop Hike 2006, about 3/5 down page)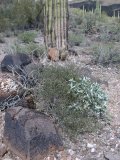 Before leaving this area of lava rocks, Kitty noticed these two bushy plants growing together. Both of us are very familiar with brittlebush on the right - even without any blooms. While Kitty has previously seen the bush with the scant number of very small purple flowers, she couldn't identify it after looking online. It's a perennial for sure.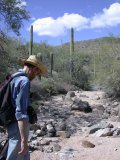 The plan developed as we walked along to do some investigating in a major wash, preferably the one that Paul had walked down 3 years previously when he had hiked over to examine the crested saguaro. This one looked promising.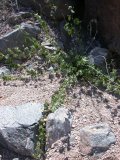 Just a short distance up the wash (we were headed uphill), Kitty spied this lovely trailing plant with light yellow orange centered flowers.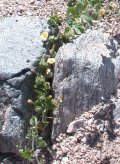 Later Kitty looked online and is fairly confident that this is Buffpetal (aka Tuberous Sida). Now this would be a very nice plant to have on the slopes of the one wash on our property. Wonder if it grows at that lower altitude... We will look around washes in open desert areas in our area.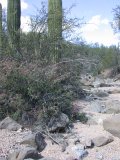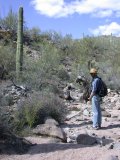 More fairydusters! And they are so big and full compared to the straggly one in our yard. Maybe ours is getting too much water...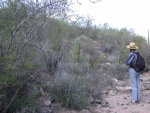 The entire hillside along a wash like this one is filled with growth - the acaia in the left foreground will likely become a fair sized shrubby tree. (It blooms with yellow flowers in the summer.)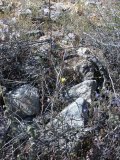 The single bright yellow bloom amid a mix of green leaves and rock caught Kitty's attention - she did not remember seeing one like it before.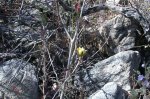 After looking online, it appears likely that this is a Shrubby Deervetch (aka Wiry Lotus). The bluish purple flowers look to be Distant Phacelia (aka Wild Heliotrope and Blue Phacelia).
Not everything we saw on this excursion was beautiful or even of scenic interest. Soon after we started up this wash, we observed refuse that obviously had been left by some one or more persons traveling through in the wash (not a casual hiker), and fairly recently since there were ants partaking of remains in 2 tuna cans. The labels on the items were in Spanish - it looked very much like this is a route being used by illegal immigrants on their way to the Phoenix area.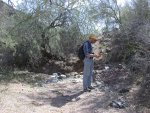 A few hundred yards up the wash we came across what appeared to be an abandoned campsite with even more refuse including empty food cans (labels in Spanish), water bottles, and backpacks. Several places further along we saw similar items plus blankets and even jackets. We speculated that the individuals had abandoned items once they were no longer anticipated to be needed - likely as they neared Interstate-8 (to the north once they left the wash and crossed over some higher land) where they expected to find transportation.
Plants in the desert growing alongside a wash have the advantage of more water for longer periods of time than do plants growing on slopes of hills and mountains.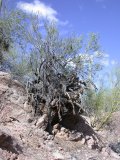 However it is not at all uncommon to see trees with major parts of their root structures free of soil, washed away over time by the flowing water. And the water runs very quickly in these washes at their height - not a place to be at the time, especially where the walls are steep and high. This ironwood will almost surely never get to be magestic in size as many of them do, though it probably still blooms in May.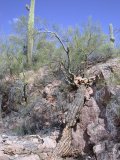 This saguaro likely succumbed to loss of root structure here at the edge of rock faced wash wall, part of which probably crumbled.
A dry waterfall was our next major encounter - something that doesn't exist in any of the washes near our low desert property. There needs to be some major rocky terrain of course, and this area has plenty of that.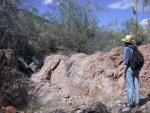 A lot of the water probably comes down this way since the rocky surface is fairly smooth.

But climbing up the rough rocks like stairs is easier.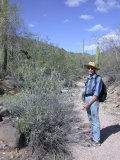 In looking back at this photo, Kitty suspects that Paul wanted to make a little more progress while she was spending a lot of time photographing.


But here was another very interesting plant and it was growing in what could be thought of as a large container. It is one Kitty didn't recall and is still not sure... White Ratany? Maybe this is a Perennial Rockcress (aka Stiffarm Rock Cress) which has 4 petal flowers. Unfortunately Kitty did not take a sufficiently close view of an individual flower ....
Saguaros are fascinating plants - their size alone sets them apart in the desert.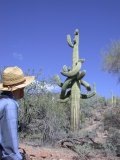 But then there are the ones that make you want to smile ... or wonder. Actually frost damage is the cause for the drooping and twisting of saguaro arms that normally grow out and up with the flowers developing in April at the ends of the arms and the main trunk. (Pictures of ones taken on a hike in 2003 in desert near our house. Scroll about 1/3 down the page.)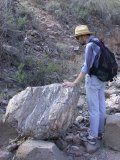 The rocks in this area are interesting too - their size, color, inclusions, and all sorts of geological formations.

There are times when it would be nice if one of us knew a bit more geology; then we would wonder less at what we find on this type of outing.
It was now after 2:30 - 2 hours since we set out from the car. We wanted to get further up towards the summit itself, and the sun sets fairly early at this latitude in early March. We had no desire to drive the long dirt road (down into many washes, most small but some good size) 13 miles back to I-8 in the dark.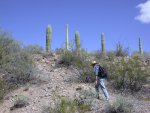 So we climbed up out of the wash.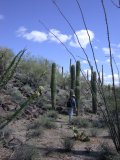 And then we proceeded in the direction that we (mostly Paul) estimated that the trail was located.
About this time we noted a helicopter flying around and fairly low, not simply straight towards some destination.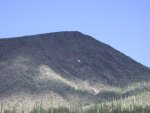 Maybe it had something to do with the 2 search and rescue workers on the ground, who had signed the log book less than an hour before Kitty.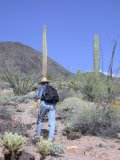 We kept on going, all the while being aware of the helicopter manuvering around up ahead.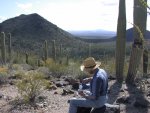 It had been a little over an hour since our last tea - we did have water more easily available in side pockets of a waist pack Kitty was wearing if either of us wanted any - so we stopped and made use of some "comfortable" rocks. Somewhere down in the nearer portion of low spot beyond the darkly shadowed area in the distance is where we started off and where our car is parked.
It was well over 10 minutes that this same helicopter was scouting the area. It flew over the peak and back always to the same general location.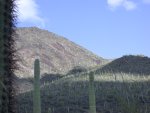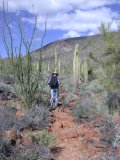 While a nearby helicopter is a distraction of sorts, we were not about to let this one's presence keep us from our excursion. So we continued upward.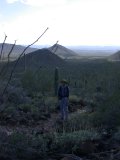 Paul was glad to see this long cloudy period and Kitty "captured" him with the now more distant valley in the background.
Kitty spied some interesting pinkish flowers tucked in along two large lava rocks.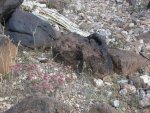 Unfortunately she did not take a close-up of a portion of either of the 2 plants so that she would have a good photo image for trying to identify using other photos online. Well, looks like we just have to take another hike here, maybe next year...
As we proceeded upward, agave became noticeable and then even plentiful.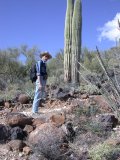 This one behind Paul and immediately alongside the path (and barrel cactus) will become large enough in future years that its very sharp edged leaves will be a hazard to hikers with bare legs.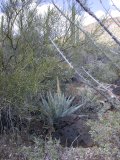 Another agave situated below overhanging palo verde limbs has a young flower stalk - looking much like a giant asparagus.


A closer look at that flower shoot.

As we round a slight curve in the path, there's another slightly further progressed agave - its flower stalk standing taller (right in front of the center smallish saguaro).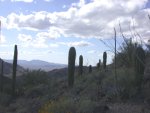 The same agave viewed from around the bend - it will look quite grand when the flowers begin to appear in a couple months.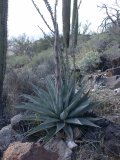 And a close view of another nearby young agave flower stalk.
All of these pictured agaves appear too small to be agave americana, which are much larger before they send up a flower stalk. Most likely these are agave deserti, which are fairly common in the high deserts of Southern California, Arizona and northern Baja, Mexico. (Additional info)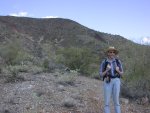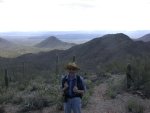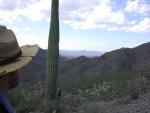 We took a pause about 3 hours and 10 mins into our hike to record what the area looked like above, below and off to the north between mountain peaks.
Another few minutes further along and we paused again to decide whether any further ascent should be made this time. We'd gone further than our last visit to the area, but it was now almost 3:45pm and the sun sinks fast in the Arizona desert in early Spring.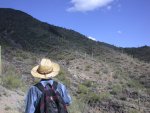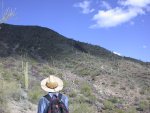 This was far enough - our purpose on these excursions is rarely to get to a specific point, but rather to investigate, experience and maybe learn some things along the way.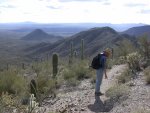 At this highest point (for us), Paul notes that the brittle bush are all without flowers - they've not even opened up yet, though they are full blooming on and just above the desert floor (see earlier photos above) and in our yard too.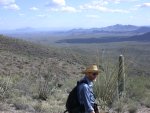 Can't leave out what the view is like from this "highest point" to the mostly south. Somewhere out just a few miles is the boundary for the large Tohono O'Odham Nation that extends all the way to Mexico, about 75 miles due south.
About 35 minutes into our descent and Paul is really moving along. Kitty requests that he pause so that she can record the scenery... again ;>)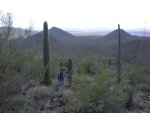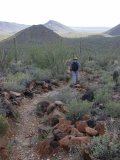 This area is a contrast in green, red and black colors on the ground and blue sky above, though cloudy at the moment.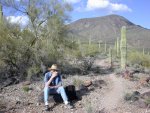 Since this was a fasting day for us, we had several stops for tea during our excursion - this one about 30 minutes after previous photos was the last before we got back to the car.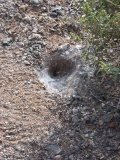 The lighting, as the sun began to sink in the west, was just right to make this intricate spider web noticeable to Kitty as she wandered about while sipping tea.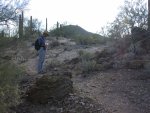 The rock formation in this area is completely different from that where the redish black ones (we surmise to be of lava origin) were located higher up on the mountain. While Paul's knowledge of geology is more than Kitty's it doesn't include details of what activity and deposition is responsible for this layering effect. Interesting too is the lichen on the rock in the foreground - not something most people would expect in the Arizona desert.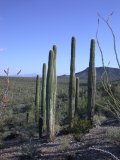 Something about a large stand of saguaros that cannot help but impress - a field of alien plants or just aliens... And this one with the ocotillos waving their flag-like flowers as would-be cheering observers.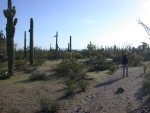 We're back on the flat desert floor - not too much further to where the car is parked.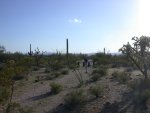 Paul approaches the wooden markers where we started off - it's been just under 5 hours and a great excursion.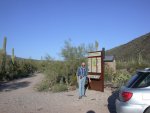 Part of spurt Paul put on at the end was a desire to use the facilities of the concrete outhouse in the background. It definitely adds to the overall pleasantness of Table Top Mountain Preserve for day hikes and likely overnight camping too in the adjacent designated area, off to the background right.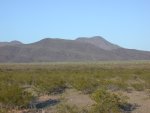 As we were driving out to I-8 (about 13 miles) a distinct line between shades of green can be seen off to the right (eastward). It is where the saguaros start to grow on the gentle bajada increasing in density with altitude (with a limit of about 4000 ft). One can imagine an army of aliens that cannot descend any further - the environment has become totally unfriendly. Or maybe just the desert version of tree lines in temperate forests, but in reverse.
Another visit in the future - there's always more to experience and much of the same again is just as enjoyable.
---

---
---
MoreLife is Always "Under Construction"
Initially posted 9/6/2009
Page last updated 9/6/2009
Any questions, comments or suggestions regarding the content of this website
should be addressed at MoreLife Yahoo.
For comments on webpage format, contact Kitty Antonik Wakfer